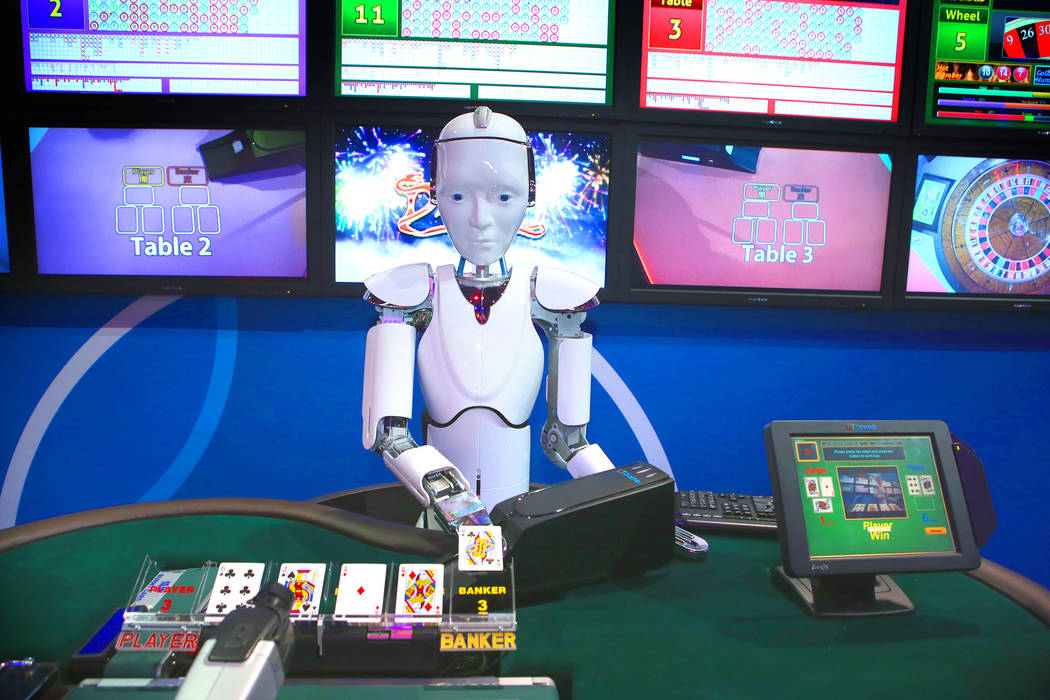 The start of the annual Global Gaming Expo kicked off Oct. 2 with a somber start in the wake of the mass shooting hours before on the Las Vegas Strip.
The American Gaming Association and its partner, Reed Exhibition, decided to move ahead with its scheduled educational conferences on Monday and the trade show portion of the event that starts today (Oct. 3). Vendors continued to set up on Monday.
Known as G2E, the show will go through Thursday at the Sands Expo and Convention Center. About 26,000 people are expected at the event that will showcase the latest technology and feature discussions on the industry's future. Former Los Angeles Laker superstar and entrepreneur Magic Johnson is a keynote speaker.
"The American Gaming Association and our Global Gaming Expo (G2E) partner, Reed Exhibitions, are closely monitoring the horrific events that took place in Las Vegas earlier this morning," said AGA President and CEO Geoff Freeman. "Our thoughts and prayers are with those that were affected, and with the people of Las Vegas and Nevada."
Freeman said the AGA and Reed will be in constant contact with local and national enforcement and its host, Las Vegas Sands. He said they will closely monitor the situation and that safety remains their priority.
"The gaming industry is a tightknit community and Las Vegas is the beating heart of our operations," Freeman said. "The AGA and Reed Exhibitions will offer our full assistance as the city recovers, and we will strive to honor the victims of this tragic event."
Meanwhile, the next installment of the James Bond franchise won't hit theaters until 2019, but the British secret agent will be the central focus at this year's Global Gaming Expo.
The trade show floor that will garner national and international attention over Bond. Earlier this year, Scientific Games Corp. announced it had reached an agreement to license the Bond franchise for its lottery games, social slots and land-based gaming.
The exclusive agreement with EON Productions Limited, Danjaq LLC and MGM Interactive Inc., a subsidiary of Metro-Goldwyn-Mayer Inc., gives Scientific Games the rights to leverage all past and future iconic Bond films, as well as the film's talent portraying Bond.
"We can't be more excited about the show," said Derik Mooberry, Scientific Games' group chief executive of the gaming division. "It's been the most sought-after brand in this industry for a long time."
Scientific Games will unveil slot games featuring the Bond movies "Casino Royale," "Goldfinger" and "Diamonds Are Forever."
"We have launched major brands based on one theme but to show three different dynamic themes on three different platforms at the same time highlights the depth and breadth of the brand in our licensing of all 24 Bond-produced movies and characters in them," Mooberry said. "We view this as a franchise that will be present on the casino floor for years to come."
The James Bond-themed slots are expected to hit the casino floors in the summer of 2018.
The buzz of Bond will be take up a notch as well when slot maker Aristocrat unveils its first Madonna slot game as part of a multigame deal with the Grammy Award-winning singer. Each Madonna slot game will be themed with its own unique game play, including Madonna's popular hit songs.
"We have been diligently working for months to create a slot game that perfectly encapsulates the essence of the Madonna brand, while also bringing an entertaining experience to players fueled by her landmark and groundbreaking music, coupled with video and exciting game play," said Rich Schneider, Aristocrat's chief product officer.
International Games Technology (IGT) will have a large presence with a 25,000-square-foot booth and delivery of market-ready cabinet content and innovation that was introduced in 2016 as essentially a prototype and since been refined, according to Phil O'Shaughnessy, senior director of marketing and communications. That includes a glasses-free 3-D experience.
"A year ago, we introduced six news cabinets that were showcases of hardware innovation," O'Shaughnessy said. "We have started to bring some of that content to market, and we are going to introduce some of it before the end of the calendar year. It's very exciting for us and reflected in our theme "Let's Play," meaning we are here and ready to go."
Konami Gaming continues a focus on skill-based gaming and also will have a new lineup of games for its core cabinets, according to Steve Walther, senior director of marketing and product management.
"I think you will see a lot of licensed-theme products, and you will see a little bit of the skilled-based gaming, and this is where Konami excels," Walther said of the trends he expects at the show. "I think skilled-based gaming is entering an evolution where last year we only had the initial concept of what skilled-based gaming could be," said Walther of his company that introduced a skilled-based Frogger to Nevada.
Freeman, who will give a state of the industry address Tuesday, said the casino gaming industry is "in the state growth and evolution as a rebounding economy and new advancement in technology push our industry forward."
Freeman said this year's G2E will serve as a platform to prepare attendees for the rapidly growing and evolving casino gaming landscape that will feature the industry's hottest topics, including the legalization of sports betting, evolution of game play and the integrated resort and casino floor or the future.
At this year's G2E, attendees will be taken to the casino floor of the future where they can explore what an esports arena will look like and what's driving customer engagement. They'll also be able to discover how to build a seamless customer experience, he said
"Whether esports becomes a widespread gambling product or not, it's argued to be a key component of the integrated resort of the future," Freeman said.
One area that's already a part of the integrated resort experience and the casino floor of the future is virtual reality and mobile technology, Freeman added. Casino games have evolved from their original designs to offer new games to the industry's next generation of players. Virtual reality and skill-based games offer new ways for players to interact with games and compete against one another, he said.
In addition, emerging technology trends make the customer experience more enjoyable and seamless will also be on display at this year's show, Freeman said. These further enhancements to slot machines and table games have been a driving force behind the industry's growth, he said.
"G2E 2017 promises to challenge our industry to think differently about the future," Freeman said. "This year's show will advance our industry by showcasing legalized sports betting, esports, skill-based gaming and other emerging trends that will grow casino gaming's footprint from a $240 billion industry today to a $300 billion industry tomorrow."
On the heels of the United States Supreme Court's decision to hear New Jersey's appeal to the federal sports betting ban, G2E will again explore the benefits of a legal, regulated sports betting market, Freeman said.
In June, AGA launched the American Sports Betting Coalition, bringing together law enforcement, state's rights advocates, mayors and others in support of an approach to sports betting that allows states to decide whether it's right for them, Freeman said.
"Of all these topics, the one that's driving the most buzz is the prospect of legalized sports betting across the country," Freeman said.