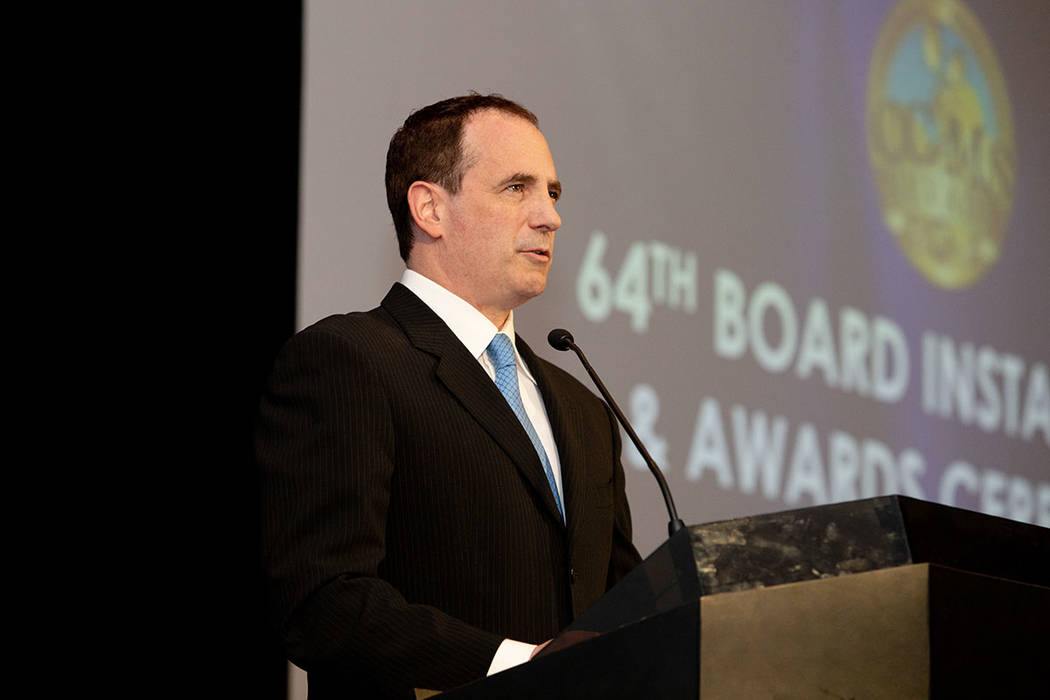 You could see it on the face on Dr. Jeffrey Roth what it meant to him to be installed as the new president of the Clark County Medical Society.
The 52-year-old plastic surgeon come to Las Vegas as a kid and is a graduate of Chaparral High School and went to the medical school at the University of Nevada, Reno.
"I'm very excited to be a local kid who went to high school and came this far and be at this place is really heady stuff for me," Roth said.
Roth was installed as president, replacing Dr. Joseph Adashek during a luncheon earlier this month at the Hard Rock Hotel.
Nevada and Las Vegas have been underserved in the number of physicians for the population, and Roth said that will be a continued push by the Medical Society to build on those numbers. He knows about that experience first-hand.
The Medical Society had a big impact on Roth's career 30 years ago when he received one of its scholarships.
"This scholarship made it possible for me to attend medical school and further my dream of becoming a physician," Roth said. "Thirty years ago the scholarship was for $1,000, and this was a significant amount as tuition then was $5,500. It's now more than five times that number and, unfortunately, our scholarship grants have not changed with the times."
Roth said after medical school, he went to Philadelphia for general surgery training and to San Francisco for plastic surgery training. He then went to Los Angeles for a fellowship in hand and microsurgery.
Roth said his colleagues were ribbing him about his interest in returning to Las Vegas to practice in 2002 at a time of a malpractice crisis in which OB/GYN's were paying more than $100,000 in insurance and doctors were leaving town.
The Clark County Medical Society and Nevada State Medical Society helped create Keep Our Doctors in Nevada that helped insurance rates stabilize, helped doctors stay and brought in other doctors like himself.
Growth of Physicians in a community directly improves the economy more than other industry, Roth said.
UNLV just finished its first year of its medical school and Roseman University will be opening the third medical school in the valley. Graduate medical education programs are expanding, and Roth said that's going to pave the way for "more homegrown doctors." Hospitals are expanding as well.
"The future of medicine is bright, but it will be influenced for years by what we do right now," Roth said.
The Medical Society will be part of job fairs and recruitment of doctors to Southern Nevada, but it's also about getting doctors who go to medical school here and do their residency here to stay in the community, Roth said.
The Medical Society will host a Resident's Day and Research Day to interact with the students who sometimes only know of Las Vegas from the inside of a hospital or a classroom, Roth said.
"We're going to reach out to students and give them a window of what is going on in Las Vegas," Roth said.
Roth tried to dispel the notion that Las Vegas doesn't have quality health care and said what happened with the Oct. 1 st shooting showed that was the case. The Medical Society makes a point that none of the 400 gunshot victims who made it to an emergency room alive were lost.
During his installation, Roth said awards given to the Children's Heart Center of Nevada and the Lou Ruvo Center for Brain Health "are shining examples that medicine can flourish in the desert."
As his first act as president, he said he wanted to make sure people how good health care is in Las Vegas.
"You may have heard the joke "if you are sick, the best place to go is McCarran (International Airport). I officially declared that joke dead," Roth said to the applause of the audience. "It is not funny, nor is it accurate. Now, if someone continues to tell it, don't be offended, it is most likely that the great medical care in Las Vegas has been a well-kept secret for years. It seems that our city had to withstand the horrific tragedy of Oct. 1 to show to the world what we all knew. Las Vegas has exceptional hospitals, physicians, nurses, support staff and first responders."
Roth called it the best time in human history to be a physician because current treatments and technologies "have given us the ability to treat our patients better than ever before."
There's robotic-assisted surgery, more powerful MRI's, 3D printing of implantable parts "that was all a dream a few years ago, and are now in daily practice. Medical discoveries continue."
The Medical Society will focus on physician retention because doctors are retiring from the profession early because they're getting burned-out, Roth said.
"We need to find ways to stem that tide," Roth said. The challenge to medicine comes from outside sources from regulatory and clerical demands to loss of autonomy and the opioid crisis, Roth said.
"A record number of physicians are retiring or thinking of retiring, or worse committing suicide," Roth said. "We must continue to fight for the health of our physician colleagues and our patients, for if not us, who will?"
Roth asked the question of why physicians do the work they do, and train so hard for so long.
"We are fighting for the future," Roth said. "The patient with cancer gets one more birthday. The pediatric heart patient gets to run and play. The trauma victim gets to live and see his family again, start a family, have a future. The mother with a difficult pregnancy gets to live through it, and deliver a new life, actually delivering the future."
CLARK COUNTY MEDICAL SOCIETY AWARDS
Metro Police officer Charleston Hartfield who was killed Oct. 1 st while helping fellow concert-goers to safety during the mass shooting along the Strip has been honored by the Clark County Medical Society.
Hartfield's wife, Veronica, and his two children, Ayzayah and Savannah, accepted the 2018 Winged Heart Award in the newly created first responded category. It was presented during the Clark County Medical Society's installation dinner earlier this month at the Hard Rock Hotel.
Hartfield was off-duty at the concert with his wife.
Remembering the Oct. 1 shooing and honoring the medical community was a big part of the awards program. Some 58 people died and more than 500 people were injured during the shooting spree.
The Medical Society honored the University Medical Center Trauma Center at the UNLV School of Medicine; the Joint UMC and Air Force SMART Program; Sunrise Hospital Trauma Center, Dignity Health – St. Rose Dominican Siena Campus Trauma Center; and Valley Hospital Trauma Services.
The Trauma Intervention Program of Southern Nevada received the 2018 Winged Heart Award in the nonprofit category. It provides emotional and practical support on scenes of tragedy at the request of emergency survivors.
The other finalists were the ALS Association of Nevada and Immunize Nevada.
Lynn Hanssen, won the 2018 Winged Heart Award in the nurse category. She is the clinical manager of the Southwest Medical Gastroenterology and Infectious Disease Clinics.
The other finalists in the nurse category were Dina Patel and Charina Toste.
The Cleveland Clinic Lou Ruvo Center for Brain Health and Children's Heart Center Nevada were 2018 President's Award for their work.
Dr. Lesley Dickson, executive director of Nevada Psychiatric Association, was given the Harold Lee Feikes, M.D. Memorial Award.
Dr. Leon Steinberg, who died in January, was recognized by the Medical Society for his membership for 60 years. He founded the Sunrise Hospital Department of Radiology and opened Steinberg Diagnostic Medical Imaging in 1988.
Cory Columbini, a student at the UNLV School of Medicine, and Nathaly Quinteros, a student at Touro University, were given the 2018 Rising Star Awards.