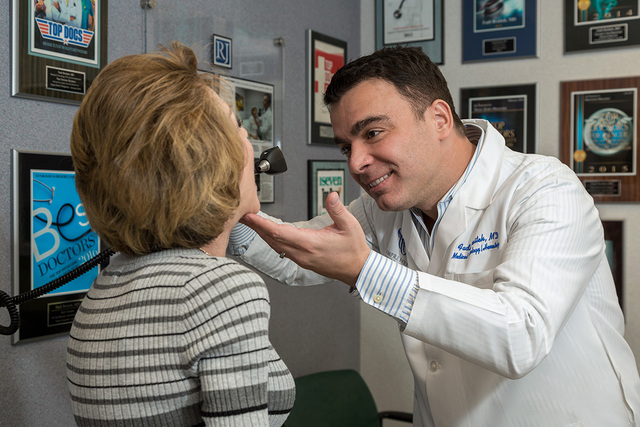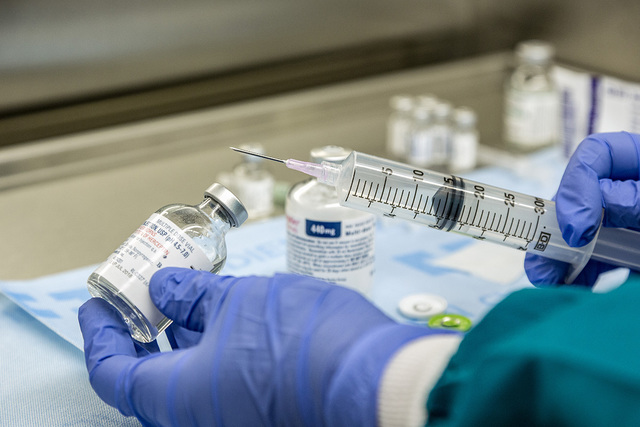 Southern Nevada is years away from becoming what can be considered a research hub, but it's gaining a reputation as a place for clinical trials testing the effectiveness of treatments and diagnoses.
The Cleveland Clinic Lou Ruvo Center for Brain Health has 14 trials underway for which patients are still enrolling. It has 10 ongoing trials in which enrollment is capped. It has seven pending trials that focus on treatment and diagnosis of Alzheimer's disease, and treatment of Parkinson's and multiple sclerosis with the latest cutting-edge drugs and strategies.
Comprehensive Cancer Centers of Nevada has more than 100 trials of which more than 50 still are recruiting patients. The trials are testing drug treatments for breast, lung, colon, prostate, stomach, pancreatic and other cancers, such as lymphoma, said Fadi Braiteh, director of the Translational Oncology Program.
The Nevada Institute of Personalized Medicine at the University of Nevada, Las Vegas is at the forefront of a revolution focusing on research to discover methods and mutations of genes that are causing human disease.
"It's happening and growing," said Doug Geinzer, CEO of Las Vegas HEALS, an organization of more than 600 health care professionals. "Are we a research center right now? No, but in certain areas, the answer is yes. The Cleveland Clinic has more brain health trials going on there than anywhere in the country, but that is around one singular focus of brain health. The 160-odd clinical trials going on at Comprehensive Cancer Centers of Nevada is based around one area of cancer. Do we have a lot more going in town today than we did three years ago? Absolutely."
Geinzer said both the Cleveland Clinic and CCCN are part of medical tourism that brings patients to Southern Nevada for treatment and diagnosis. CCCN said patients not only come from neighboring California, Utah and Arizona but from Canada, Mexico and other countries.
"Six to seven years ago, it was not recognized for any. In the last four to five years, we're recognized as much as Houston, Boston, New York City and Chicago," Braiteh said. "We beat the largest institutions on particular studies and the quality of clinical trials as we do."
Edwin Kingsley, a medical oncologist and hematologist, and one of the founding members of the CCCN, said its phase one testing program for which it gets drugs from pharmaceutical companies and the federal government are the earliest of human clinical research. Phase one comes from studies that show promise for eradicating tumors in animals. It also does trials for phase two and phase three drugs that are more advanced in the process and show promise of getting federal approval.
"We have been doing this for seven years and it used to be, prior to this, once you ran out of medicine or drugs for these patients, they either died or had to leave the state to get treated at other facilities like UCLA," Kingsley said. "Now we can keep these patients and offer them these treatments. We have had patients who, literally, we added years to their lives because of this research and these drugs that have proven to be effective but not approved by the (Food and Drug Administration).
When it comes to Alzheimer's trials, the track record of success hasn't been as good, said Dr. Charles Bernick, associate director of the Cleveland Clinic Lou Ruvo Center for Brain Health. One drug out of more than 100 has made it to market during the past decade. Hopefully, the new group of drugs being tested today will show more promise and make it within the next four to five years, he said.
Bernick said they're getting close to where researchers might be able to prevent Alzheimer's from progressing to dementia, and Southern Nevada is at the center of that research.
"It's kind of a game-changer now," Bernick said. "We're at the point (that) we're involved in a study to prevent Alzheimer's disease. That would have been unheard of five years or 10 years ago. Now we have the capacity to recognize by imaging those who are developing Alzheimer's disease. And now there are various treatments that might change the trajectory to prevent or delay progression."
The future is even brighter for more research in Southern Nevada.
In 2015, the Cleveland Clinic Lou Ruvo Center for Brain Health and UNLV were awarded an $11.1 million grant from the National Institute of Health and National Institute of General Medical Sciences to fund a Center of Biomedical Research Excellence.
The five-year funding commitment is the first COBRE grant awarded in Southern Nevada. It will fund three resource cores and three research projects related to Parkinson's and Alzheimer's diseases, Bernick said.
"That is awarded given to groups from states at the lower end of the NIH funding, and Nevada is one of them," Bernick said. "The whole goal of that project is to develop the infrastructure of research in Nevada so that we can become competitive receiving grants from the NIH and produce young researchers in Nevada."
Getting this funding in essence means Southern Nevada can't be called a research hub, Bernick said. No one should be surprised the state hasn't gotten NIH funding because it doesn't have as many universities as other locales, or pharmaceutical companies and other entities to spur research, Bernick said.
"We're not a hotbed for research, but things are moving in that direction," Bernick said. "We're building up that infrastructure that's needed to do these types of studies. I think the message from our end is that there's certainly the potential to do stuff here and be successful. It's getting the resources and taking advantage of what Southern Nevada has to create that research environment, and we're starting to do that."
Three research initiatives were funded using the COBRE grant. The first assesses novel models of Alzheimer's with particular attention to the role of the immune system, Bernick said. The second project, led by the Cleveland Clinic Lou Ruvo Center for Brain Health, helps advance understanding of Parkinson's and cognitive impairment in Parkinson's patients through neuroimaging and neuropsychology. The final project, led by the Cleveland Clinic Lou Ruvo Center, uses neuropsychology combined with cutting-edge imaging techniques to understand Alzheimer's and Parkinson's and their commonalities, Bernick said.
Barbara Atkinson, founding dean of the UNLV School of Medicine that will open in 2017, said research will be its next focus after it builds on its educational and clinical enterprises. That next step takes money from donors and other philanthropy to build facilities and hire researchers.
That can lead to companies spinning off and developing patents, new therapies, drugs and treatments, Atkinson said. The UNLV Research Foundation recently selected a partner for its Harry Reid Research and Technology Park to reach its potential, including companies in the medical field.
"We do clinical trials here, but they are the last stage of research," Atkinson said. "We need to be developing our own kinds of therapies and own things and do trials on things we develop ourselves."
With UNLV and research, Geinzer cited the recent start up of NIPM that only will grow in importance in the future.
"That will support UNLV becoming more of a research institution, which is part of its goal," Geinzer said.
The Cleveland Clinic is involved in a cutting-edge study with the long-term effects of repetitive head trauma. It's following a group of more than 700 boxers and MMA fighters, and is more than four years into the study.
The Cleveland Clinic is collaborating with a group from Boston University looking at that issue in retired football players. It's all part of a $17 million grant from the NIH shared among four entities, Bernick said.
"We are one of the major centers to answer the question of what are the long-term effects of repetitive head trauma," Bernick said. "We feel like we are top of this issue, and hopefully among the leaders in answering some of the questions in that realm."
Between what CCCN and the Cleveland Clinic does, Kingsley said he's optimistic about Southern Nevada becoming even more of a research hub and center.
"We're sort of in our infancy still, maybe teenage years, but we're making great strides," Kingsley said. "I know we've done the critical steps in terms of trials at our center."