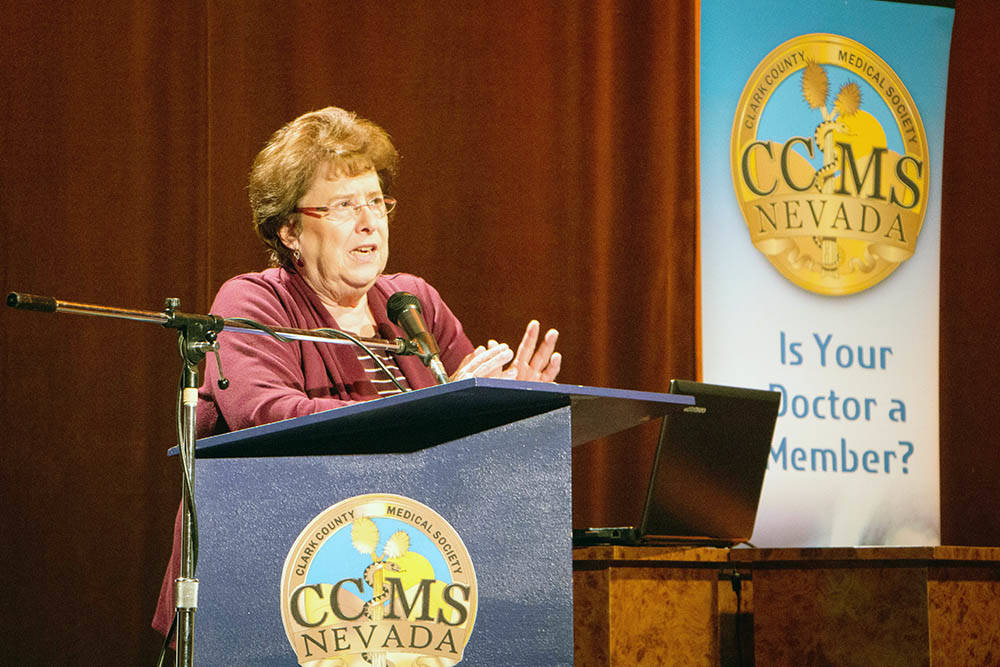 As Nevada's suicide rate has jumped to No. 5 in the nation and to its highest level since the late 1990s, the state's doctors are being asked to be the frontline in recognizing suicidal tendencies of their patients and get them help before they take their lives.
The effort is part of a state law passed in 2017 requiring physicians in all specialties to receive two hours of training on suicide prevention as a way to deal with the epidemic. The training for Southern Nevada started on Jan. 23 when Dr. Lesley Dickson, executive director of the Nevada Psychiatric Association addressed more than 90 doctors, medical residents and medical students in a presentation called "Suicide Prevention: How to Save a Life."
Dickson's session consisted of several hypothetical situations doctors may encounter when dealing with suicidal individuals, as well as discussions around possible outcomes and best practices.
"Interventions by mental health professionals are very important, but many suicidal individuals never see a therapist," Dickson said. "It's important that all people who interact with a suicidal person know how to help."
Nevada had 650 suicides — just under two a day — and a suicide rate of 22.1 per 100,000, in the latest numbers from the American Association of Suicidology. That's up from 2015's 558 deaths and 19.3 rate per 100,000 when Nevada was ranked 11th. The state is typically in the top 10, and the 2016 numbers were Nevada's highest rate since it was 23 per 100,000 in 1997.
In comparison, there were 44,965 suicides in the U.S. in 2016, the 10th most common cause of death. There were 122.9 suicides a day or 13.9 for every 100,000 people.
Alaska is ranked No. 1, followed by Montana, Wyoming and New Mexico. Nevada and Colorado are ranked fifth, followed by Oklahoma, Idaho and Utah. West Virginia is 10th and the only state outside the West
Nevada's numbers are striking. It's the eighth leading cause of death overall. For those ages 10 to 34, it's the second leading cause of death. The more promising figure is Nevada is ranked 25th in suicide rate for those 15 to 24 at 14.9 per 100,000.
For those 65 to 85, Nevada, however, jumped to have the highest suicide for its elderly population at a rate at 37.6 per 100,000 in 2016. It was No. 4 in 2015 with 26.1.
Dickson said a high and rising suicide rate in Nevada and other Mountain West states has been an ongoing trend. One reason is social isolation in that people feel, especially if they are transients and don't have a lot of ties to a community, she said. Older residents feel isolated if most of their family has passed away or if they have money problems, Dickson said.
Since half of suicides are committed by firearms, Dickson said the higher prevalence of guns in Mountain West states contributes to a higher rate. Some 30 percent of suicides are done by suffocation and about 15 percent from overdoses.
Doctors can make a difference, Dickson said. That's the importance of the continuing education sessions in letting them know how they can help.
"It's a myth that most suicidal people have made up their minds that they really want to die," Dickson said. "Most suicidal people desperately want to live, and many will seek help immediately after attempting to harm themselves. Even people who jumped off the Golden State Bridge and survived are glad they survived despite the injuries they may have sustained."
The program was sponsored by the Clark County Medical Society which gives its 1,500 members continuing education in addition to advocacy.
"Dr. Dickson's presentation brought a lot of value to the conversation around suicide prevention, and how medical professionals should navigate this difficult topic," said Alexandra Silver, executive director of the Clark County Medical Society.
When it comes to suicide attempts, one in four people deliberated about it in less than five minutes, Dickson said. Nine in 10 deliberated for less than one day.
"Intervention by mental health experts is very important because many suicidal individuals never see a therapist," Dickson said. "It's important all people who interact with a suicidal person know how to help."
Some 70 percent of elderly people who have committed suicide saw a primary care doctor within a month of their act, Dickson said. Only 1 in six doctors detected the looming act, she said.
Because health care workers are highly likely to see people who are at risk for suicide, Dickson said it's important they develop a trusting relationship with the patient, observe changes in mood and behavior, and let patients know they are dealing with depression or some other mental health concern that can be treated.
"Suicidal people usually send strong warnings signs," Dickson said. "Warnings are changes in people's behavior that are considered out of character."
There are other signs for family and friends to watch such as if someone is sleep-deprived or has lost their appetite, Dickson said. They can benefit from treatment.
"If people have fears, they should definitely talk to the person and say you're concerned about how they're feeling and what they're saying," Dickson said. "You can tell them we can take you to get some help. If you think it's imminent take them to the emergency room but move in that direction to get them counseling."
Loved ones should ask questions of those preparing a will, buying a burial plot or giving away possessions to make sure they aren't considering suicide. When someone does kill themselves, families don't want to hear it, she said.
"Many don't want to believe it and be stigmatized and look for other explanations," Dickson said. "We're caught up in our own world that we're missing clues from folks around us."
Dickson said men are three times more likely to die of a suicide attempt then women because men use more lethal force such as a firearm. Women attempt suicides three time more than men and overdoses are their preferred option, she said.
The peak ages for men are 25 to 44 and 65 and older. It's 45 to 64 for women, Dickson said. Whites are more likely to kill themselves than blacks.
Those 30 and younger who kill themselves are more likely to have substance abuse disorders and anti-social behavior. Those 30 and older are more likely to have a mood disorder.
Nationwide, males age 15 to 19 are more likely to kill themselves then women of the same age, but that rate is rising. The male rate peaked about 25 years ago.
"The problem is much more common than people think because for every completed youth suicide, there's an estimated attempt by 20 other youths," Dickson said.
Suicides among those 15 to 24 are triggered by depression, drug use and teens prone to bullying and peer pressure. Suicides can occur in clusters and media portrayals can increase rates, she said.
Some 90 percent of people who have killed themselves had major psychiatric disorders. Half had a mood disorder and others had problems with substance abuse, Dickson said. Five percent had a serious physical illness. It is higher with patients with traumatic brain injuries, epilepsy, MS, Huntington's, Parkinson's disease, AIDS and cancer.
It's runs in the family, and is likely genetic, Dickson said. People turn to suicide as an act of desperation and feeling of hopelessness. Two-thirds communicate their distress and those who take their life are more likely to be those who are isolated socially with no one to turn to, she said. About 30 percent of those who commit suicide have a history of attempts and 42 percent of suicides occur within six months of an attempt. Some 2 percent a year of those who have attempted suicide compete the act.
Half of alcoholics who killed themselves had a relationship loss in the previous year. About one in five who commit suicide leave a note but it's rarely explanatory, she said. Many of those who are successfully have a plan in which they aren't detected, she said.
Even doctors are at risk with 300 to 400, or one a day committing suicide, Dickson said.