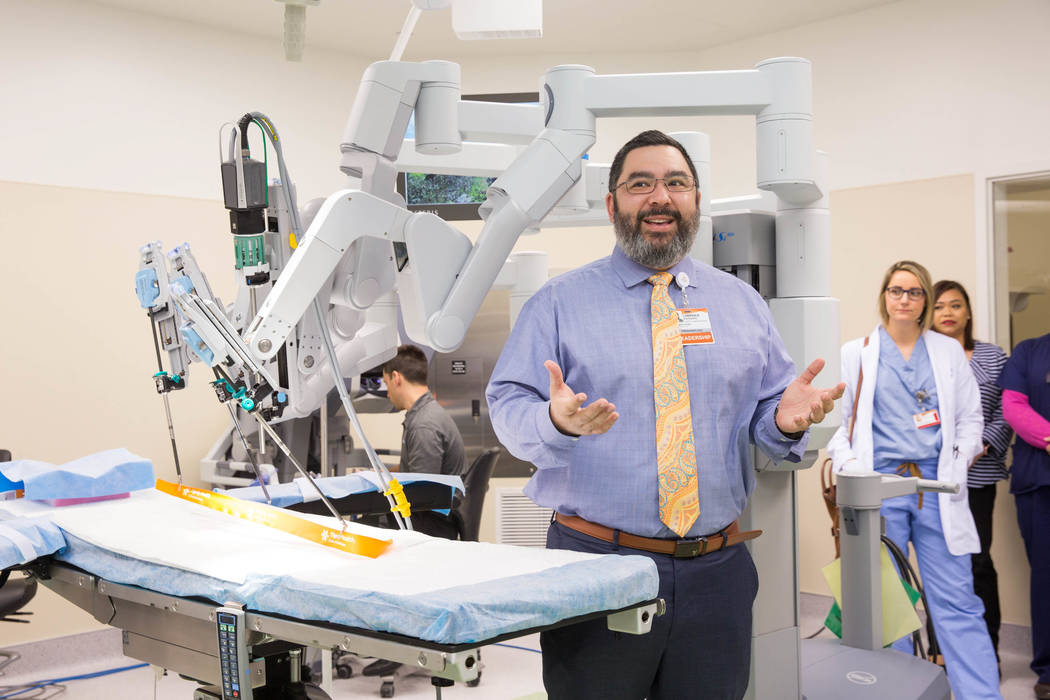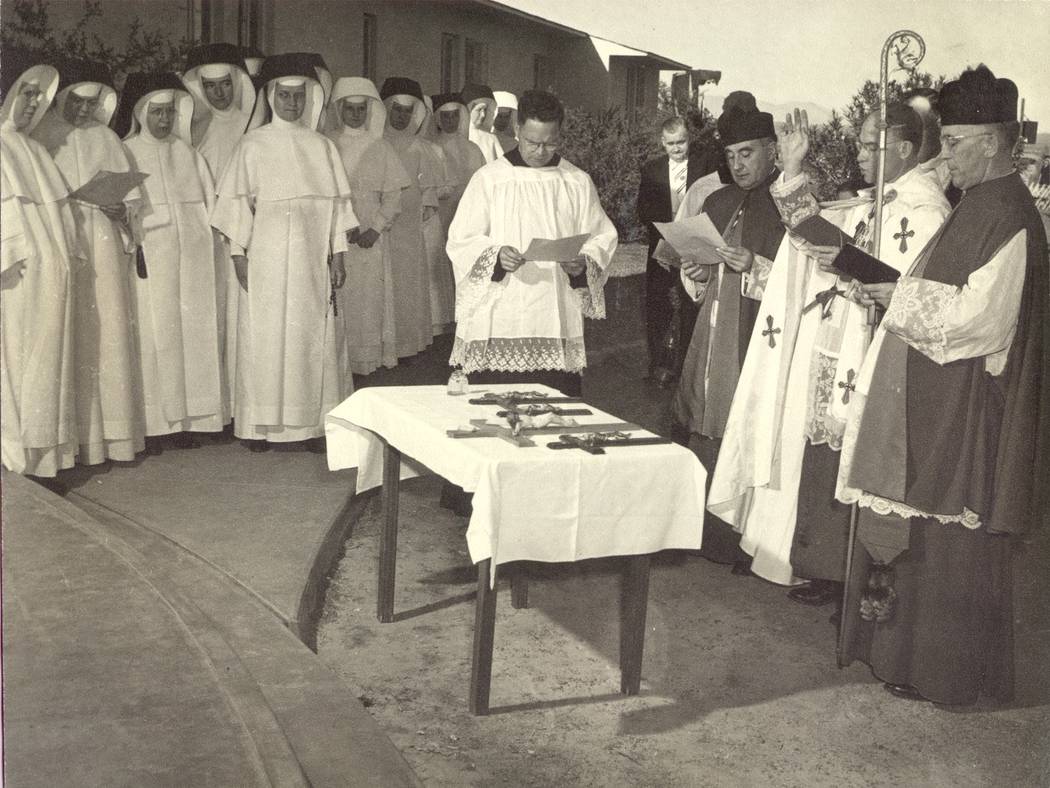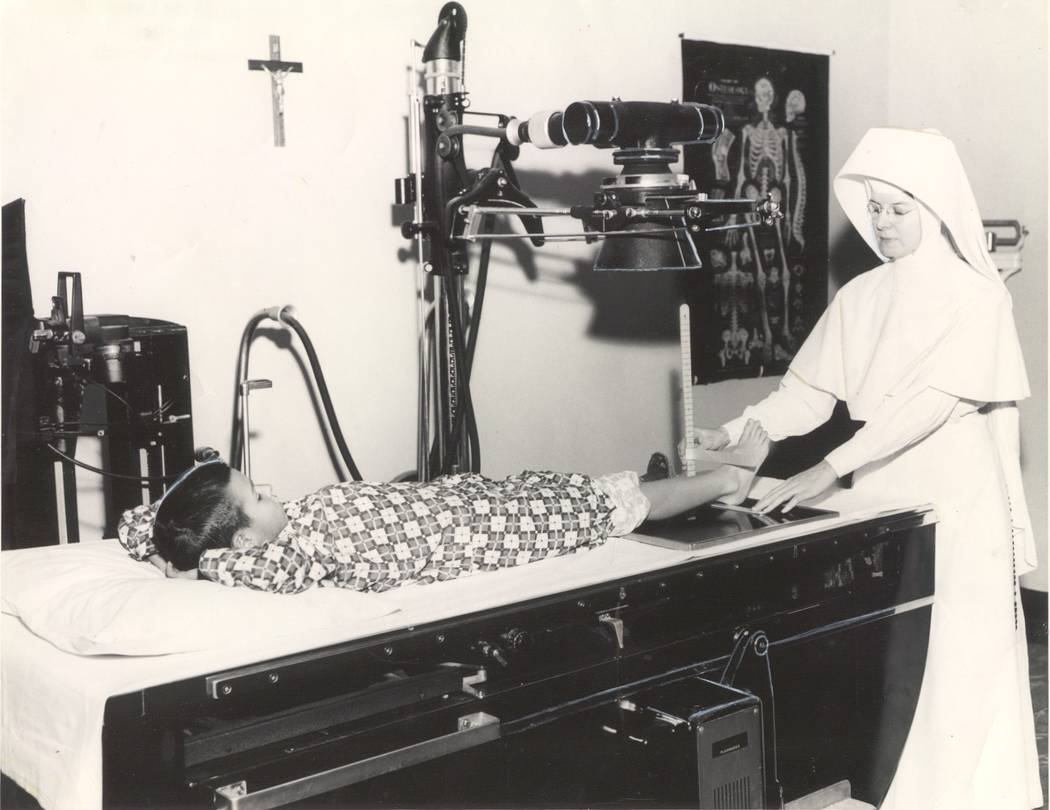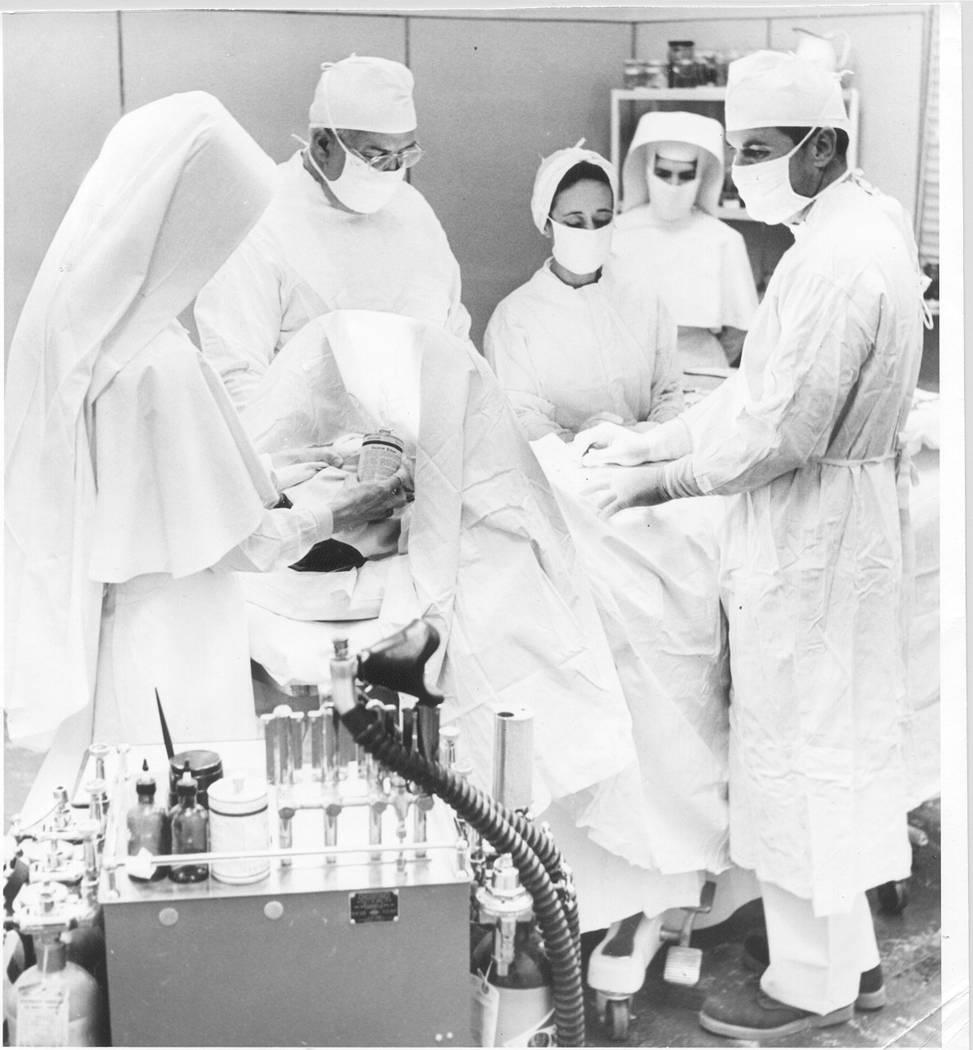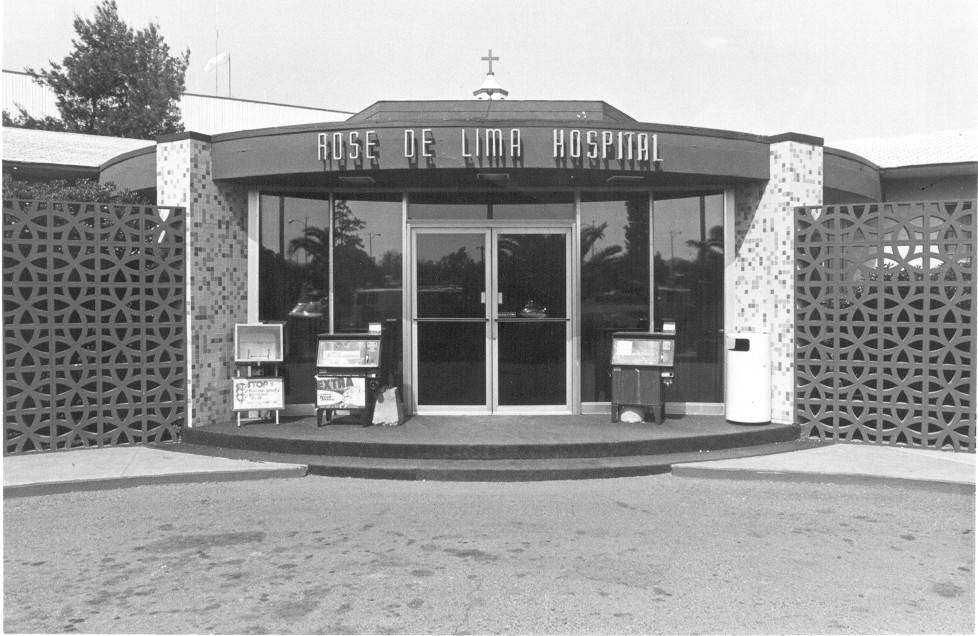 St. Rose Dominican Hospitals celebrated 72 years in the valley last week and marked new leadership for the faith-based organization as it implements its strategy to meet the community's future health care needs.
This week, Lawrence Barnard assumed the role of president and CEO of the Siena campus in Henderson and became the Nevada market leader for Dignity Health St. Rose Dominican Hospitals. That means oversight of the system's three acute care hospitals, including Rose de Lima in Henderson, its four micro hospitals, two outpatient surgery centers and its medical group.
Barnard became the president and CEO of the St. Rose San Martin campus in the southwest valley in 2014. He served in that post before his promotion this week. Before that, he was the CEO at University Medical Center for two years. Barnard graduated from the United States Military Academy at West Point and served as a U.S. Army captain for five years. He received an MBA from the University of Southern California's Marshall School of Business.
The history of St. Rose Dominican Hospitals goes back to 1947 when the Adrian Dominican Sisters of Adrian, Michigan, acquired Basic Magnesium Hospital in Henderson from the U.S. government and assumed its debts.
Barnard said the original hospital, Rose de Lima campus, has had a reduction in size and scope, and is now considered a neighborhood hospital. That was necessary for what the community needed, especially with the Henderson Hospital opening more than two years ago, he said.
"When the sisters came 72 years ago, it was to deliver care to the community," Barnard said. "It wasn't just: We have to open a hospital. It was about meeting the needs of the community."
St. Rose Dominican has been a big part of the life of Las Vegas resident and public relations executive, Helen Foley, and her Catholic family.
Foley and nine siblings in 10 years were born at St. Rose Di Lima starting in 1951. Her parents, Betty and Joe Foley, thought it was important, she said.
"We grew up in the center of Las Vegas (near) the old Gorman High School, but when it came time to have babies they would go out to St. Rose Di Lima, 13 miles," Foley said. "They had so much confidence in the nuns and their level of care."
Foley said the Dominican hospitals have been important for the community by providing a level of compassion and pastoral care. There's much more to healing than the physical aspects, she said.
"The level and quality of care and the tenderness — it plays a very big role in helping the person who is ill, but also in comforting a family," Foley said.
Foley's brother, Dan, served on the hospital's board of directors and foundation board for several years during a growth spurt in the hospital system with the addition to Siena and San Martin campuses.
"There have been growing pains but all for the better," Foley said. "It's become a world-class system, and the level of care they provide is inspirational."
Their late brother, Joseph Michael Foley Jr., has a wing in the pediatric area of the San Martin campus named after him. He died of leukemia at the age of 4.
"In those days in the 1950s there wasn't a lot you could do for children's cancer," Foley said. "Now, it's a different story. Most children who have leukemia survive."
Meanwhile, Barnard said he's excited about the opportunity and where St. Rose is heading.
Two years ago, St. Rose opened four neighborhood hospitals as part of a strategy to increase access to emergency care in underserved areas and expand Dignity's local footprint, including in North Las Vegas. The facilities offer emergency room care, inpatient beds and diagnostic and lab services.
"It's a change in the way we do health care," Barnard said. "They are a medical oasis. There's weren't medical facilities in the areas so they have done quite well, and they've actually become the community's hospital in those areas. It's part of our strategy for us not just to focus on acute care hospitals, but put the care where the people need it right down the street from where they live."
Earlier this year, the San Martin campus, which opened in 2006, expanded the number of operating rooms from six to eight as part of a $2.5 million investment that will extend its cardiothoracic, neurologic, orthopedic and general surgery lines.
"We have seen a lot of growth in the southwest, and we are anticipating more with buildings going up every day," Barnard said. "We wanted to stay ahead of it and meet the new capacity needs."
Not everything, however, is about growth. Starting in 2018 and continuing into this year, St. Rose has been transitioning its historic Rose de Lima campus by creating a smaller more efficient facility, offering emergency services, diagnostic imaging and limited inpatient care services.
Dignity relocated its inpatient rehabilitation care from the Rose de Lima campus to the Siena campus where it recently opened a 60-bed facility that offers rehabilitation programs and services specially designed to help patients recovering from a stroke, traumatic brain injury, amputation, neurological disorders, orthopedic conditions and spinal cord injury.
"They are ramping up slowly to make sure we don't go in too quickly in the community," Barnard said.
"The continuity of care is super important for us. You have the issues before the hospitalization and afterwards. For us, getting that post-acute was important so that we can deliver the high quality care from start to finish for every patient."
As for further work on the Siena campus that opened in 2000, Barnard said they're only looking at building a parking structure for now. Most of the focus is unrelated to construction. It has one of the busiest emergency rooms in the city, and Barnard said they are making sure it flows well and patients get what they need from the experience.
"We have the assets now and want to make sure we utilize them the best way possible without having to occur costs," Barnard said. "We're in a good place with buildings and structures, but health care is changing. The next venue we need to go to is integration — a more digital platform. We have clinics and hospitals and technology integration is our next venture and focus."
That includes an expansion of telemedicine where patients can access doctors either online or through their phone, Barnard said. St. Rose has done that already with psychiatric health, but there's opportunities in other areas that hospital system has yet to pursue, he said.
"There's no reason you can't sit in your office and talk to a doctor or do a telemedicine consult with subspecialty doctor at the moment you are talking to your provider," Barnard said. "It's really going to push more into digital virtual age than a brick-and-mortar look at health care."
Big data and metrics will be a big part of the future of health care by showing where it makes sense to add specialties and broaden care based on an increase in diagnoses, Barnard said.
Las Vegas is in a good place when it comes to health care and has some "amazing things" happening, Barnard said. He said "shame on us" for not touting that and letting people know the region has great physicians and support staff. The opening of the medical school at UNLV two years ago and the addition of residency programs at hospitals across the valley to train doctors will help medicine flourish, and Barnard said St. Rose wants to be at the forefront of the change going on and create its own residency programs.
The state is showing a commitment to improving health care but more funding is needed, Barnard said. The state has some of the lowest Medicaid reimbursement rates in the nation and that's a hindrance for the valley to establish a much-needed free-standing children's hospital, he added.
"There's no reason people should by driving or flying to California for care in specialties if we can provide them here in town," Barnard said.
In recognizing last Thursday's anniversary, Sister Phyllis Sikora, vice president of mission integration and spiritual care for St. Rose Dominican Hospitals, said she's proud of the history of what the sisters have done, and cited how they stopped the practice of segregation.
"They were very forward-thinking because civil rights didn't happen until the 1960s," Sikora said. "They didn't just come to take over the hospital, but to care for the community they were serving. And we care for anyone who comes through our doors, today, whether they can pay or not."
Sikora said the not-for-profit organization's goal has been to reach people with limited access to health care.
"For-profit hospitals are trying to make money, and what we have to show the government is that we are putting our money back into the community that we serve," she said. "Of course, we want to pay a just wage to our employees and stay up to date with technology, but we also want to put money back into the community."
St. Rose offers wellness programs for free and continues to live the legacy of the original sisters, Sikora said. That was evident after the Oct. 1, 2017 mass shooting on the Strip when the hospital opted not to charge patients for any co-payments or services not covered by insurance. It treated more than 80 patients at its three hospitals.
"If we charged a person a penny for the trauma they went through that night, how could we be a good neighbor to them," Sikora said. "We wanted to show we cared about them and not having to be stressed out over having to pay for these services."