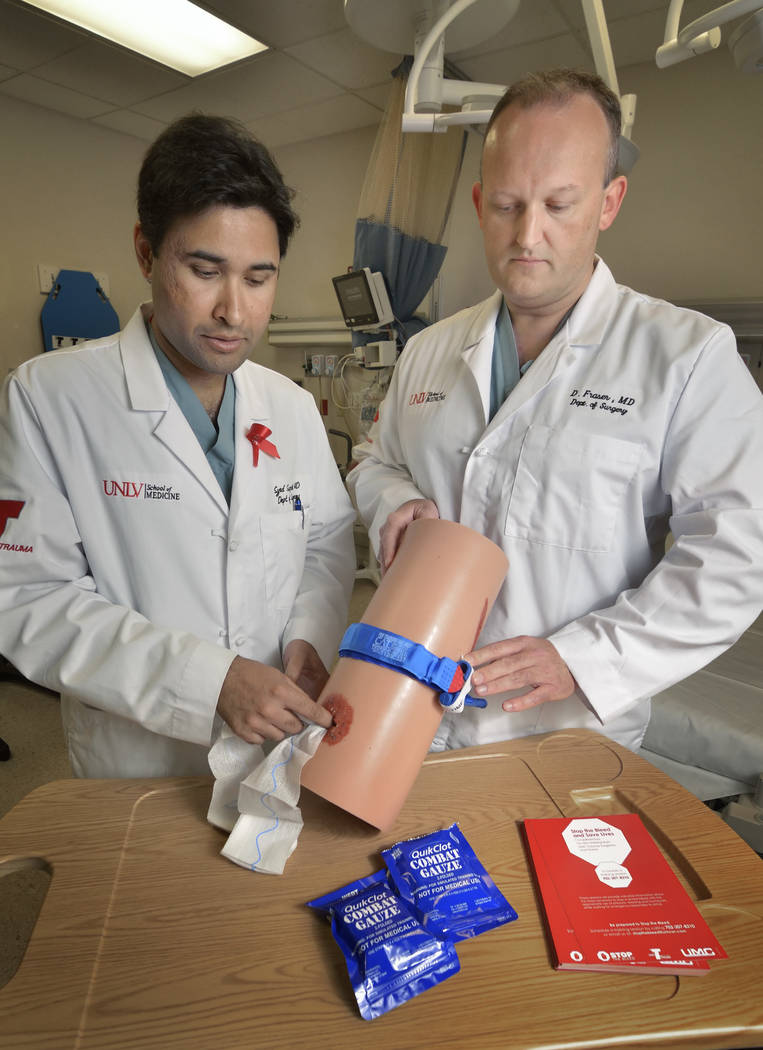 Trauma surgeons at University Medical Center are spearheading an awareness campaign to train the public on how they can stop someone from bleeding to death if they get shot or stabbed.
Called "Stop the Bleed," it's part of a national campaign launched by the White House in October 2015. The goal is for people to get trained to help in a bleeding emergency before EMTs arrive at the scene.
Doctors credit concertgoers for saving many lives during the Oct. 1 mass shooting by applying pressure on wounds before the victims could get treatment. Someone can die from blood loss within five minutes, thus the importance of quickly stopping the bleeding.
"The real heroes were the bystanders who took off their belts and took off their shirts and put direct pressure" on the wounds, said UMC trauma surgeon Dr. Douglas Fraser. "There were a lot of ex-military, off-duty police officers, state troopers and firefighters. It was a country music concert, so they lucked out that night to have people that became heroes that night and relied on training and went right to work by instinct."
UMC is offering the program for businesses who want hospital staff to train their employees at their site, along with schools, athletic teams and other groups. There are also sessions where the public can come to UMC for training, he said.
"This is for every single person to obtain this training, to the average soccer mom to any construction zone and anybody we already teach CPR," Fraser said. "This is a movement, so we're not relying on 911 in mass incidents. Time is of the essence, and they may not have time to get there. Innocent bystanders can become health care providers in order to stop the bleed right in front of you."
Fraser said there's been interest in the training from casinos and others since the shooting.
"If we could just teach the housekeeping staff at the large casino hotels on the Strip, what an army of people we would have ready to come out and help those people in those situations," Fraser said.
Dr. Deborah Kuhls, a UMC trauma surgeon, chief of critical care in the surgery department and professor of surgery at the UNLV School of Medicine, said the training evolved from the Sandy Hook Elementary School shooting in 2012 in Connecticut and is supported by the American College of Surgeons, of which she is a member.
"Converting bystanders into lifesavers is the motto of Stop the Bleed," Kuhls said. "It teaches how to compress a bleeding site. It could be a gunshot wound or stab wound, or it could be an open fracture from a fall or crash. There's an estimated 30,000 people across the country who die needlessly of non-lethal wounds, and this would be one effort to hopefully decrease that to zero."
When President Trump came to Las Vegas and visited UMC and elected officials attended, Kuhls said she talked to the Nevada officials about their backing resolutions at the state and local levels to encourage the Stop the Bleed training. The Clark County Medical Society, of which Kuhls is a member, was working with the Nevada chapter of the American College of Surgeons to train people prior to the mass shooting, she said.
Kuhls said she and others will lobby the Nevada Legislature in the 2019 session to require companies, governments and others to place wall-mounted Stop the Bleed compression kits with special gauze and tourniquets wherever heart defibrillators are placed. Several states have proposed the kits in public facilities, she said.
The American College of Surgeons, meanwhile, is pushing for a national approach to firearm injuries and how to decrease them, said Kuhls, who is chair of its injury prevention committee. The group feels strongly about the Second Amendment and is not tackling any gun control legislation, "because it won't lead to a fruitful discussion." Instead, doctors want to take a public health approach to some of the root causes of firearm injuries and address those, she said.
"We designed a committee of surgery trauma folks in 2016, and it's one of my passions of how trauma surgeons are to address firearm injuries," said Kuhls, who added they support hospital-based violence intervention programs in every state. "The root cause of these injuries is 99 percent violence, and so we feel violence is out of control."
One of the lessons that came out of a survey is this was not a question of guns but a question of people hurting other people, Kuhls said.
"If it's not a gun, it would be something else, so violence is the root cause. There are about 30 hospitals across the country showing good results on decreasing violence and recidivism."
The American College of Surgeons also supports federal legislation called Mission Zero. Senate Bill 1022 and House resolution 880 would fund military health care professionals to be embedded in civilian trauma centers, as is the case with Nellis Air Force Base and UMC, Kuhls said.
"It will not only train for readiness for war but to increase the workforce and collaboration," Kuhls said. "We have a lot we can learn from the military, and the military has a lot to learn from us. What happened here in Las Vegas was as close to war as we get on the civilian side."
For more information on the Stop the Bleed program, call 702-207-8310, visit bleedingcontrol.org or email stopthebleed@umcsn.com.