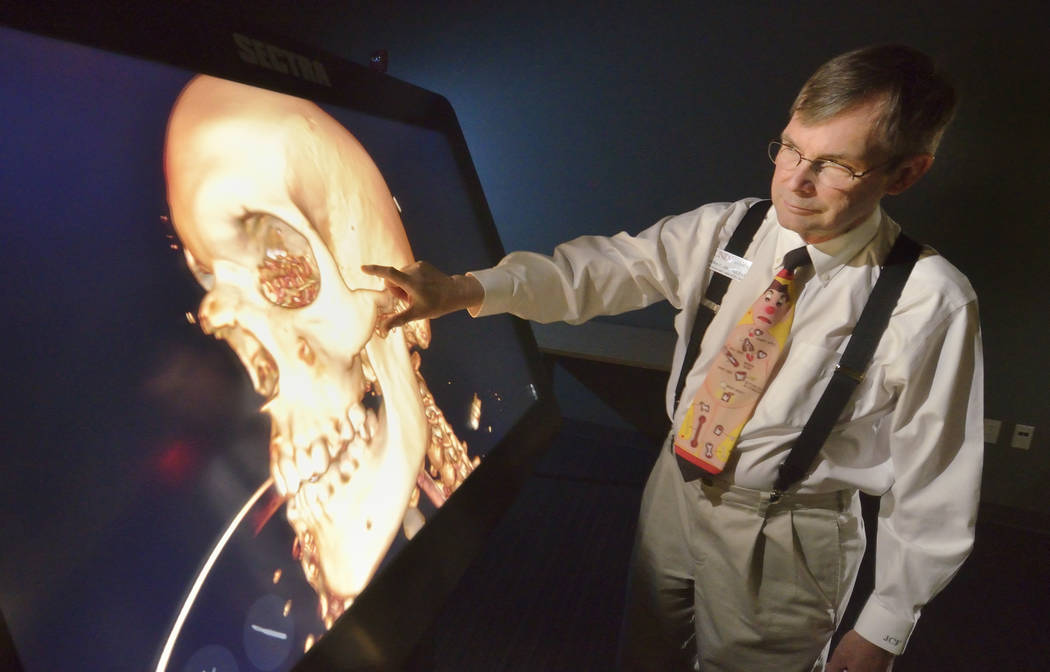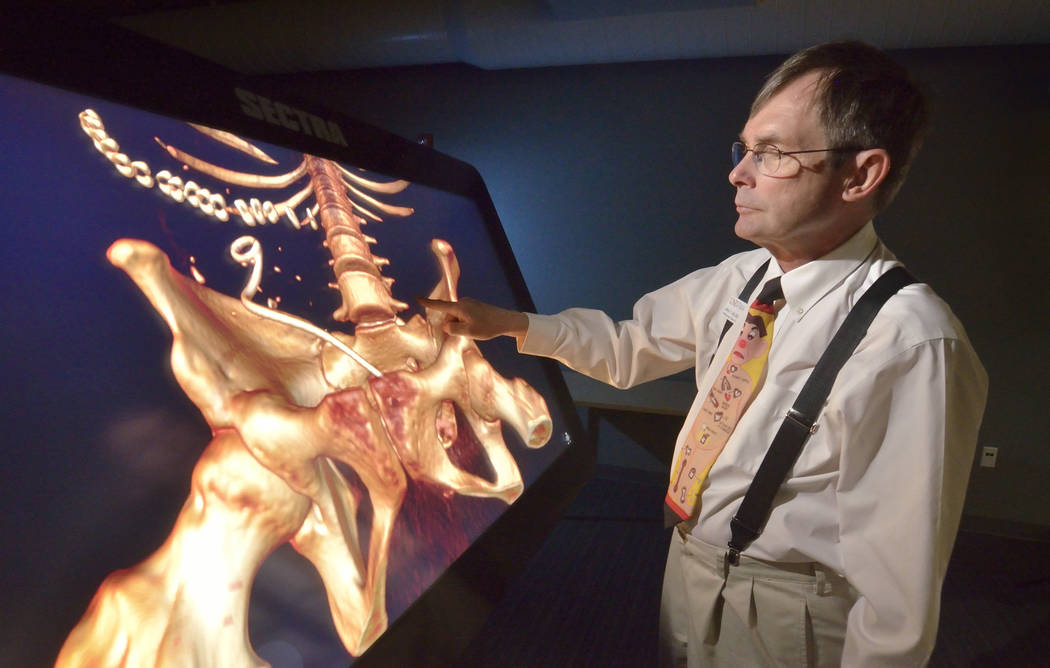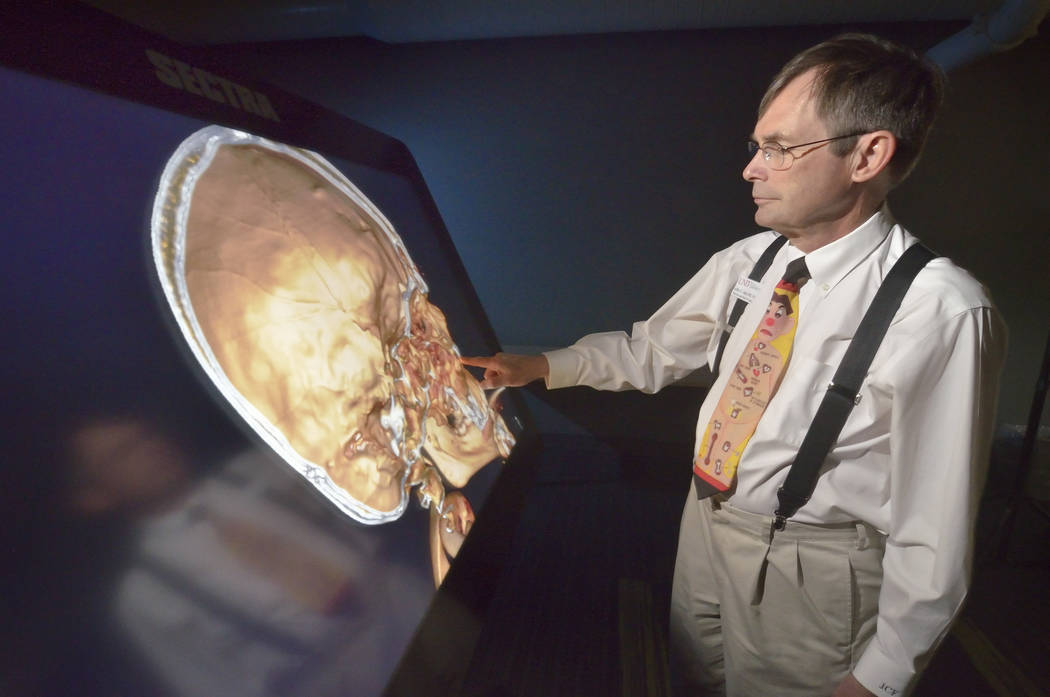 The UNLV School of Medicine is breaking with traditional teaching methods when the school's 60 medical students start their anatomy class in November.
Instead of using cadavers for dissections of the human body, the school invested $600,000 in the use of virtual technology. Students will learn anatomy by using virtual anatomy tables with large, interactive touch screens that are large, super high-resolution computer screens. They cost $100,000 each.
The school describes them as body images in a wide variety of perspectives. They are primed with a library of images, such as X-rays, MRIs, CT scans and pathology slides.
Students will be able dissect, rotate, slice, and reassemble organs and other anatomic structures as needed. They will download case studies of real patients and examine them. They also can explore the histology (microscopic anatomy) and histopathology (microscopic pathology) of the organ systems studied, according a state made by the school.
UNLV School of Medicine's founding dean, Barbara Atkinson, has long referred to virtual anatomy as part of a forward-thinking curriculum to provide a foundation for students to succeed as doctors over the next 50 years. That philosophy includes working in teams and embracing the newest technology.
The high-tech tables provide a level of flexibility and customization not available in traditional gross anatomy, school officials said. The virtual bodies within the library system are people who donated their bodies to science. The bodies were frozen, cut in very thin cross sections, photographed, digitized and then put back together. The cross sections correspond to the images of a CT scan, but on screen, the body looks as it did in real life, school officials said.
"The purpose of this is to teach anatomy through three dimensions much like a doctor would read a CT scan, MRI or an ultrasound," said Dr. Jeffrey Fahl, professor of pediatrics and director of the anatomy lab at the UNLV School of Medicine. "We're teaching these students a process to relate anatomy to their patients for the rest of their lives rather than a cadaver."
A cadaveric lab requires an investment of $10 million to build and $2 million a year to maintain, Fahl said. It also involves dealing with federal regulations, but the trend is to move away from cadaveric anatomy, he said. UNLV will be the first allopathic medical school to use virtual 3-D anatomy, he said. Some schools only have a table or two rather than six that UNLV has, he said.
"I think it's a much better route to go long term because the cadavericanatomy is an old way of teaching anatomy, but it doesn't teach you form and function as well as the 3-D does," Fahl said. "It doesn't relate to how doctors actually review their anatomy on a daily basis which is through CT scans and MRIs."
With cadavers, many structures are difficult to identify and organs have been removed, school officials said. Unlike cadavers, the virtual anatomy table is interactive. Faculty and students control the image by touching or dragging one or more fingers across the screen. Multiple windows allow for 3-D structures to be correlated directly and allow students to become skilled at interpreting the two-dimensional imaging studies that are part of the modern medical practice, school officials said.
"When I was in medical school, CT scanning was in the experimental phase and the MRI did not yet exist," Atkinson said. "Current and future medical students are much more comfortable with computer technology than previous generations, which means they're less likely to be intimidated by this unique approach to learning."
The interactive tables give students a blank canvas for piecing together certain areas of the anatomy, school officials said. They can build up the chest by starting with the bones followed by the lungs, blood vessels, heart and the muscles. Should a student struggle to grasp the process, the tables make it easy because students can view it over and over again, officials said. That doesn't mean the traditional anatomy will be abandoned, school officials said. Potential surgeons will have the ability for a dissection during a four-year elective. Students will work with the Clark County Coroner's Office on how a pathologist examines a body.
Fahl said one of the advantages of the virtual anatomy class is it can be done in small-group learning sessions, which is the setup of the medical school overall.
"We plan to teach medicine as a group approach versus to a single person," Fahl said. "We have classrooms set up so it's not lectures anymore but working groups."
The lab is open 24 hours a day, seven days a week and students can access it through their laptops and iPads, Fahl said. They can learn at their own pace, he said.
The original virtual anatomy concept was developed by a Swedish company, Fahl said. Some people will argue it's not a body and that there's no touch to it, but a body doesn't feel like a cadaver as it is.
"This is a very innovative way of doing this," Fahl said. "No one else in the country has attempted to do what we're doing. We're cutting-edge at this point. I've been getting phone calls from all across the United States from people trying to look into this whole thing. It's very exciting and we're looking forward to this because it's a great way to teach anatomy."