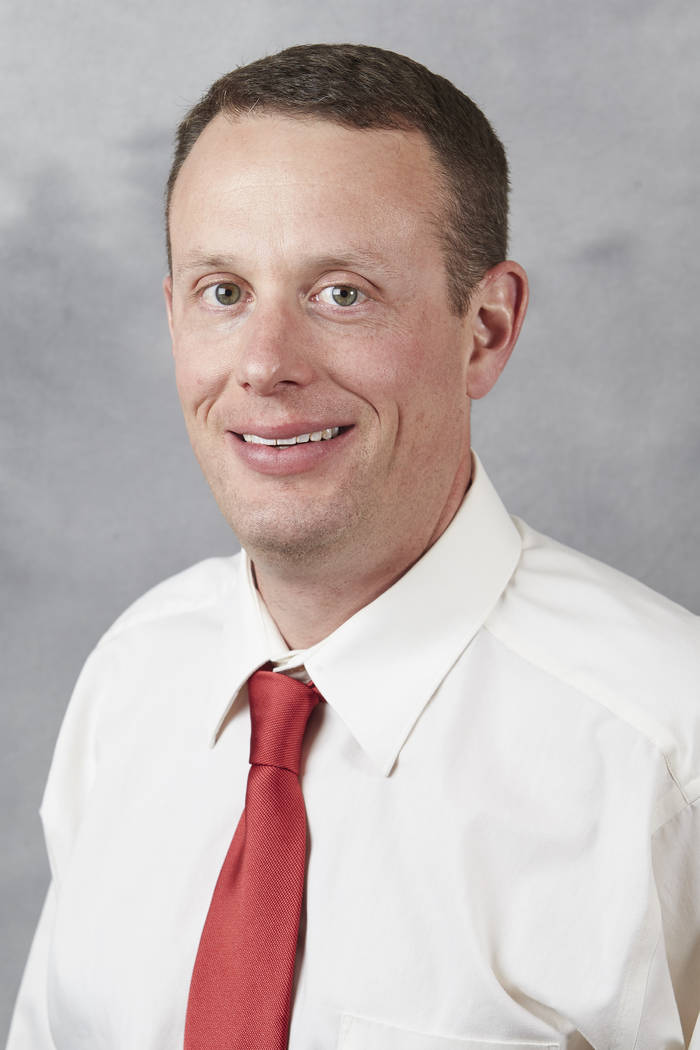 With the arrival of the Golden Knights and the Oakland Raiders relocating to Southern Nevada in 2020, the spotlight will focus on Southern Nevada when it comes to sports medicine.
It came under a bigger spotlight during the annual breakfast of the Las Vegas Global Economic Alliance in late January when Steve Hill, former Nevada Governor's Office of Economic Development said one of the greatest economic benefits of having the Raiders coming to Southern Nevada is the growth of sports medicine.
When it comes to that practice exploding in the future, Dr. William Rosenberg, an assistant professor at the UNLV School of Medicine finds himself at center stage.
Rosenberg, 42, is the head team doctor of UNLV athletics and is seen on the sidelines of Rebel home and away-football games and home-basketball games. He's also program director of the School of Medicine Sports Medicine Fellowship in Las Vegas, recognized as one of the premier primary care sports medicine fellowships in the country.
Rosenberg had no idea sports would play such a growing role in Southern Nevada when he relocated here from North Carolina in 2013. Not only does he take care of UNLV athletes, but he's one of two primary care doctors for the Golden Knights, and also cares for Cirque du Soleil performers when they get injured.
A Nebraska native, who grew up a Cornhusker football fan some 100 miles west of Lincoln, Rosenberg got his interest in medicine from his family's pediatrician, who diagnosed a rare condition and saved the life of his brother who was 10 years his junior.
Because of his interest in science and math, Rosenberg started out in chemical engineering at the University of Nebraska-Lincoln before he moved into pre-med.
"He was a big influence on me, and I followed him a couple of summers when I had breaks from college, and I decided (medicine) was what I wanted to do," Rosenberg said.
Rosenberg went to medical school at the University of Nebraska Medical Center in Omaha. He did a family medicine residency in Des Moines, Iowa, at the Iowa Lutheran Family Medicine Residency Program.
During a second year of residency in a rotation at Iowa State University, Rosenberg worked with a primary sports medicine doctor, and that's when he decided his career path. He did a rotation in Phoenix with the team doctor of the Arizona Coyotes of the NHL and also with the Seattle Mariners in spring training in Arizona.
"It was enjoyable, and I enjoyed the sports medicine aspect of taking care of patients of all ages whether they were high-level athletes or weekend warriors," Rosenberg said. "You have motivated patients that want to get back to activity."
Rosenberg completed a primary care Sports Medicine Fellowship at the University of Oklahoma Health Sciences Center. After that, he got his first job out as team doctor at Ohio University where he worked for five years before relocating to North Carolina. The sports medicine clinic near Charlotte worked with NASCAR pit crews and drivers, high school athletes and arena football team and minor league baseball, he said.
When a job opened at UNLV, Rosenberg said he wanted to return to college athletics that he missed out on during his four years in North Carolina.
"I grew up in Nebraska, and always had an interest in college athletics and missed the college environment," Rosenberg said. "I went to University of Nebraska games growing up and had quite a few friends who were athletes in college. I have enjoyed working with athletes. They're at an age where they appreciate what you do for them, and you have the ability to make a difference in their lives."
UNLV has 16 teams, seven for men and nine for women. The team doctor is also responsible for the medical care of the cheer and dance teams. There are three primary care doctors, including himself and the fellow in the program, and three orthopedic surgeons who care for UNLV athletes.
Rosenberg said he cares for athletes for general medicine and sports injuries who don't need surgery. He refers others to specialists. The orthopedic surgeons are in private practice but affiliated with the surgical residency at UNLV.
The fellowship program trains doctors in musculoskeletal injuries, connective tissue disorders, exercise physiology and medical conditions specific to athletes.
"We have one fellow a year, and he or she works under me and helps cover games," Rosenberg said. "We also do classroom and clinical teaching of the fellow and are responsible to get them ready for the board exam."
In addition to the fellow, Rosenberg also will be teaching to students at the UNLV School of Medicine who are currently in their first year. Rosenberg even sees patients at the UNLV Family Medicine Clinic on Fire Mesa Street.
Rosenberg said his treatment of Cirque du Soleil performers in his clinic helped him develop a relationship with head trainer, Jay Mellette. When he took a position with the hockey team, Mellette contacted him about being one of the team's primary care doctors. Rosenberg switches going to home games with the other primary care doctor, Dr. Michael Gunner. They deal with concussions, mild strains and sprains, and manage medical conditions, including the flu, Rosenberg said.
"It has been fun," Rosenberg said. "It's been a really good organization to work with. It's a close-knit group, and the coaches and management have been great to work with. It's been a good experience. NHL players are very approachable and appreciate what you do."
Rosenberg said he's even worked for the NBA Summer League in Las Vegas every July, primarily for players just drafted or in their second year. He said he would like to create a sports medicine center at UNLV for athletes of every level who come here to live, train and perform.
"The future of sports medicine in Las Vegas is good," Rosenberg said. "Obviously, all of these teams coming is going to drive the need for sports medicine physicians, which we do need more in town. I think it will drive the market, and we will see a number of different clinics open up offering a number of different services such as physical therapy and nutrition services."
Las Vegas is already home to current and retired athletes, and Rosenberg said he expects the number to increase.
"Vegas is going to explode as a sports city in the next five to 10 years," Rosenberg said. "We're going to see the WNBA here this year, and the NFL is coming (with the Raiders relocation). We're probably going to get a Super Bowl, and you will see more events and major bowl games and neutral site games (in college football). We see it now in college basketball with conference tournaments. Vegas is a desirable city to come to for big events, and down the road the NBA may come here. The Las Vegas 51s new stadium in Summerlin is going to help attendance. We have the UFC athletes here. We will be a city for sports and sports medicine."