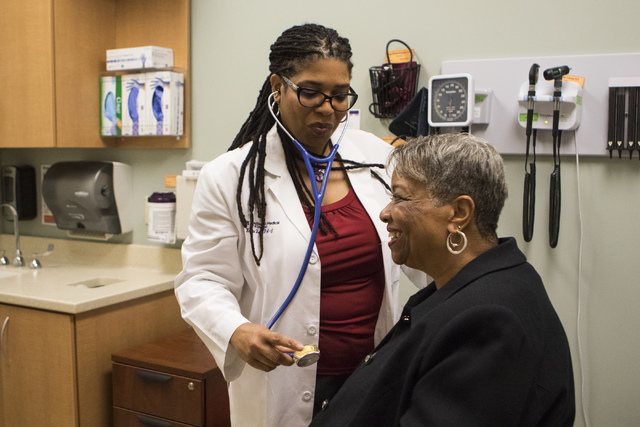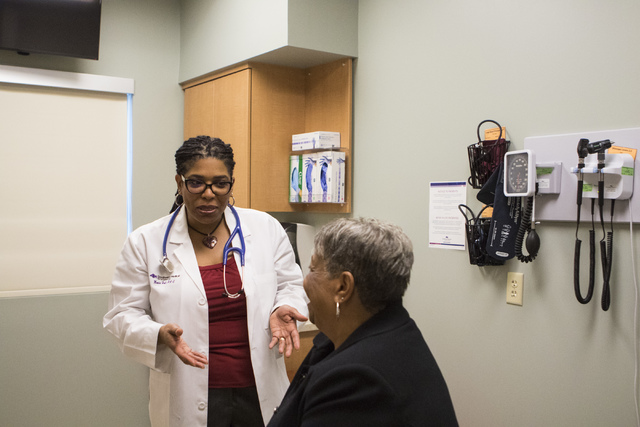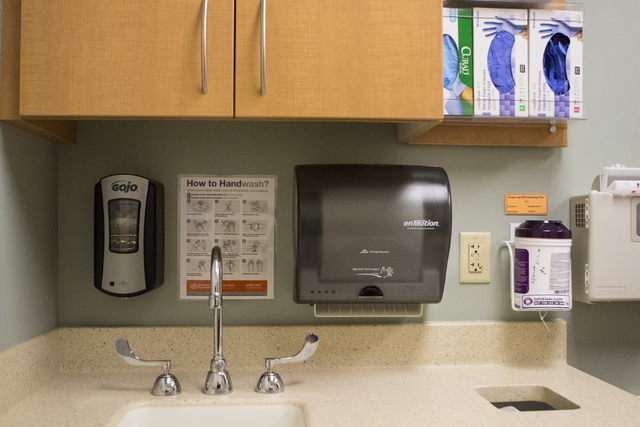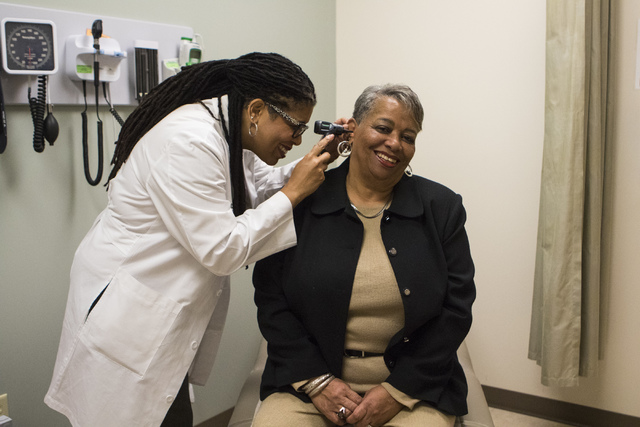 The joke is an old one by now, and the Southern Nevada medical community doesn't like it.
If you want quality medical care in Las Vegas, the best place to go is McCarran International Airport. The common perception was that doctors at major medical centers such as the Mayo Clinic, MD Anderson or UCLA would provide better treatment.
The medical community is unanimous in recognizing the problem Las Vegas faces — there's a shortage of about 2,000 doctors to take care of the population base of 2 million — and the region is addressing the shortage, with UNLV starting a medical school in 2017 and hospitals launching residency programs to train and retain doctors once they graduate from medical school. But the medical community maintains no one should question the quality of care for a region that has attracted doctors from highly regarded medical institutions around the country.
"People who say the best health care is at McCarran Airport because you get on a plane and go to California are ignorant," said Sam Kaufman, CEO of the recently opened Henderson Hospital. "I think we have a lot of great doctors here, a lot of great staff and a lot of great hospitals in town. We're cutting edge and state of the art on a lot of different things. There's really great care in this town."
Southern Nevada has subspecialists in just about every field, according to doctors. It has a major trauma center, kidney transplants, a burn unit and the highest-level neonatal intensive care unit for premature babies.
St. Rose Dominican and Stanford Hospitals &Clinics opened cardiothoracic and neurosurgery clinics in 2012. The Children's Heart Center Las Vegas handles congenital heart conditions of children and adults who developed the conditions in childhood, as well as procedures and surgeries at Sunrise Children's Hospital.
Numbers from state licensing boards show there were 5,652 physicians in Nevada in 2016, of which 3,954 were in Clark County. That translates to 189 doctors per 100,000 people in Clark County and 194 statewide.
In a report from the American Association of Medical Colleges looking at Nevada physician numbers from 2010, Nevada had 178 per 100,000, one of the lowest rates in the country. The more doctors a state has, the healthier it tends to be, and life expectancies are higher.
The implementation of the Affordable Care Act has driven up the number of insured patients who either have obtained private insurance on the state's exchange or through the expansion of Medicaid eligibility. That has created an even greater demand for doctors.
It's a public misconception that people go through McCarran to get their care, said Doug Geinzer, CEO of Las Vegas HEALS, an organization of more than 600 health care professionals. Las Vegas has the doctors, he says, it just doesn't have enough of them and that creates a lack of access. People have to wait longer to see their doctor, and that extends the period from diagnosis to treatment, he said.
"You get a worse outcome and it costs more, and that gets pushed down to the general industry because it's the employers that are paying for it," Geizner said. "By improving health care, it reduces the cost and you get better outcomes, and Nevada becomes more attractive for expansion and relocation of other industries. It's an economic development initiative as much as it is a community initiative."
In numbers provided by the Office of Statewide Initiatives at the University of Nevada, Reno, School of Medicine, Clark County's breakdown of physicians in 2016 was: internal medicine, 846; family medicine, 483; anesthesiology, 329; pediatrics, 315; emergency medicine, 255; obstetrics, 222; diagnostic radiology, 166; psychiatry, 142; general surgery, 138; cardiovascular diseases, 113; orthopedics, 113; ophthalmology, 87; neurology, 80; pathology, 61; gastroenterology, 56; physical rehab, 51; plastic surgery, 49; pulmonary, 44; and dermatology, 42. There are 34 ear, nose and throat physicians, 31 neurosurgeons, 24 thoracic surgeons and three urologists.
"We could use more of everything right now, expect for plastic surgeons," Geinzer said. "We need to put a high level of emphasis on primary care because that's where the shortages are. Our physician shortage hasn't changed over the years because we haven't had a grow-your-own system in place. That infrastructure, however, is well underway and being built."
It starts next summer when the UNLV School of Medicine opens in July with its first class of 60 students. UNLV is selecting students based on their ties to Nevada as a way to get them to practice in the state once they graduate after three years and complete their residencies. Residencies can run a minimum of three years and can run five years and longer with a fellowship. Full scholarships are provided to the first class, and future classes will have 25 on full scholarship to lure Nevada residents.
Las Vegas had only three residency programs in 2015, and by the end of 2016, that number will have grown to about a dozen with the help of $10 million budgeted by Gov. Brian Sandoval for residency programs in hospitals, Geinzer said.
That's where Nevada has the greatest opportunity to retain doctors, Geinzer said. National statistics show that 67 percent of doctors will stay where they do their residency, he said.
"That infrastructure doesn't happen overnight," Geinzer said. "It takes time, but the infrastructure is being built and we will be in a much better place. This will forever change health care delivery in Las Vegas as we know it. We will start seeing the full pipeline in six years. Students will go to medical school for three years and three years of residency. That is when the machine will be working at capacity."
In a 2014 report, some 86.1 percent, or 2,823 of the 3,279 actively licensed physicians in Clark County under the Nevada State Board of Medical Examiners, neither went to medical school nor did their residency in Nevada, according to numbers calculated by the Office of Statewide Initiatives. Only 96 doctors, or 2.9 percent, did both their undergraduate medical training and residency training in Nevada.
This past summer, MountainView Hospital, an HCA facility, welcomed its first class of 52 residents, made up of 38 internal medicine residents and 14 general surgery residents.
MountainView is constructing an 80,000-square-foot, four-story medical office building that will be completed by the first quarter of 2017. It's approved by the federal government to train as many as 104 physicians over the next four years, and that number is likely to expand.
The Center for Medicare and Medicaid Services offers hospitals funding to build training programs by paying salaries of residents who can earn in the high $40,000s and low $50,000s. Health experts said that program will be important to watch in the Trump Administration, along with any decision on the future of the Affordable Care Act and insurance coverage.
"Nobody knows what's going to happen yet," Geizner said.
MountainView has been approved for 60 positions to train for internal medicine and 28 for general surgery, a five-year program. There are 16 positions in obstetrics and gynecology scheduled to start in July 2017.
HCA's only existing training program in Las Vegas is through Sunrise Hospital and its pediatric residency program.
MountainView is eyeing a family medicine residency and might consider neurology as well. The hospital has a five-year window from the beginning of its first resident to start as many program as appropriate to meet the physician shortage.
"You look at the significant population growth that's anticipated over the next 10 years; we need to have primary care doctors to take care of our community," said Dr. Darren Swenson, MountainView's chief medical officer. "If we don't have enough primary care doctors, hence the internal medicine program, we find the community ends up using urgent care and emergency rooms. We want to make sure we're doing preventative care and not reactive care."
Under the program, residents have no contractual obligation to stay in the community when they finish training, Swenson said. The goal is to have between 50 to 65 percent of graduating residents stay within 50 miles of where they train, he said.
"The onus is on us as MountainView and HCA, as well as the community, to maximize their experience while they're training here to embed them within the community and make this their home. So that they want to find a practice to join and stay here and take care of our patients," Swenson said.
Geinzer said he envisions somewhere between 275 and 350 residents trained at MountainView. UMC has had in excess of 150 residencies. The Valley Health System has about 80 residency slots. Dignity Health will be announcing a residency program, he said. Sunrise may also have the ability to add residents as well, and many of these programs could be in effect by 2019, he said.
"We're definitely headed in the right direction," Geinzer said. "And when the medical school comes online, we will have the faculty to get into more specialized training."
The state funds pays for the space and faculty, and hospitals and CMS cover about 50 percent of the cost of the residents, Geizner said. It costs more than $2 million to start new programs, and hospitals haven't had money to launch residencies on their own, he said.
"We're hoping to get more money for continued expansion, but that depends on the state budget," Geizner said.
Kaufman, who was appointed to a graduate medical education task force by Sandoval to deal with the problem of physician shortages, said the combination of the UNLV medical school and expanded residencies will address the shortages. During the next five to six years, there could be as many as 100 residents graduating a year and 600 others in various stages of their residency.
"Almost every single specialty has shortages, and we relocate doctors in all the time," Kaufman said. "But if we had a really good pipeline in our own city and own state, it would be much easier. We're building a program over at the Valley Health System to cater to 300-plus additional residents. More and more GME is coming into play in this city and state, which will help us with our physician shortage over the next five to 10 years."
Barbara Atkinson is the founding dean of the new UNLV School of Medicine that takes over residency programs from the University of Nevada, Reno, in July, She said fulfilling the shortage of 2,000 doctors in Clark County will take a long time because physicians are retiring faster than they're being replaced.
Atkinson said the region needs to add residencies in radiology, anesthesiology, pathology, radiation oncology, urology, ophthalmology, dermatology, sub-specialty pediatric programs and several of the internal medicine specialties. The other needs include cancer, rheumatology and renal.
"There are a lot of things that need to be added," Atkinson said. "All of those doctors in all of those specialties have to be brought in from some other place because they are not trained at all in Nevada. There's only one pediatric urologist in the entire city who's practicing. That's not enough for a city this size. There's no pediatric rheumatologist at all. Somebody flies in twice a month. It's amazing this city can have so few of some of these kinds of specialty doctors."
Dr. John Dougherty, dean of the Touro University medical school, said residency programs are the key to dealing with the shortage. Medical students have only a 30 percent chance of staying in a state if they go elsewhere for their residency. But if they become familiar with the networks and develop relationships, that prompts them to stay, he said.
Touro graduates 135 students a year, and the UNLV graduates 60 a year. When UNLV starts, that will be another 60 graduates a year. Roseman University is looking to open its medical school in 2018 or 2019.
Dougherty said while it's an exciting time for medical education in Southern Nevada, it won't be until 2024 that the physician shortage is addressed.
"At this moment we only have 157 first-residency programs," Dougherty said. "We're currently a net exporter of medical students. The residency programs (to be added by 2019) will make a difference, but the key is how the economics will be impacted with all of the changes with Medicare post-election. If everything stands pat and we can predict the revenue source versus training dollars, we should be in good shape. If that gets altered, who knows? The hospitals lose money by training physicians. They benefit on the downstream side because they get the positive financial impact once they're in practice. While they're in training, the hospitals take a big red number, and that's to their credit. We couldn't do it without them."
Mark Penn, the founding dean of the Roseman University College of Medicine, said the opening of two more medical schools in Southern Nevada will raise the educational mindset in the community and spur more people into medicine. He said the region is 2,000 doctors short of being average, and it wants a higher standard. To be average, Southern Nevada needs about 153 doctors in family medicine, 170 pediatricians, 72 orthopedic surgeons, 63 psychiatrists and 30 gastroenterologists.
"Those numbers are pretty daunting because when you look at even the number of medical students, each one would have to choose to stay here," Penn said. "I think we're headed in a solid direction. The hospitals will enjoy the relationships with the medical schools, and that will change the entire space of medical education and residency training. It will be an exciting next five to 10 years as we grow in coming to meet the demand that we need."
Physician groups like Southwest Medical Associates, which has 350 doctors practicing in Southern Nevada, has offered as much as $50,000 signing bonuses for some positions, said Dr. John Rhodes, Southwest's associate medical director of primary care and a Las Vegas native. In addition to its local recruiting efforts, it's gone to national trade shows and conferences as part of its outreach efforts, especially for primary care, adult medicine physicians and other specialists.
"We have had good success because we work hard and been proactive by hiring an extra recruiter for conference and trade shows and reaching out to residency programs," Rhodes said. "We're taking advantage of the residency program in our backyard."
Southwest is looking to add 50 doctors in the next year for its outpatient clinics, as well as for quick care and urgent care facilities, Rhodes said. He said it's challenging to lure doctors to Las Vegas, especially because there's competition because of a shortage of primary care physicians nationwide.
"I was born and raised in Las Vegas, and this is my town, but there are people from different parts of the country who unfortunately have a stigma of what Las Vegas is like," Rhodes said. "Once we can get them here and show them our community is tight and caring and giving and show them life off the Strip is like other places and advantages in living in Southern Nevada (including no income taxes), it becomes much easier. Most people didn't have Las Vegas on their radar when we met with them."
Earlier this year, Southwest lured Dr. Lucasz Chebes, a pain management specialist from Chicago. The 36-year-old said he learned about the position online and sought out the recruiter to learn more.
"They hit all the right buttons, and the location speaks for itself," Chebes said. "Vegas is a great city, this part of the country the climate is favorable, and the medical group is well respected. That is similar to where I came from, and I like going to a practice with like-minded colleagues."
In the 2014 study, California led the way among Clark County doctors when it comes to doing their residency. Some 531 doctors, or 16.2 percent, did their residencies in California, followed by 486, or 14.8 percent, from New York and 331, or 10.1 percent, in Nevada.
California schools were also the leading state when it comes to Clark County doctors earning their medical degrees. The 247 just eclipsed the 221 who went to medical school in Nevada. The biggest chunk, however, 1,206 or 36.8 percent, went to medical school out of the country. One analyst suggested it might be split 50-50 between Americans who go to medical school out of the country and foreigners who come to the United States to practice medicine.