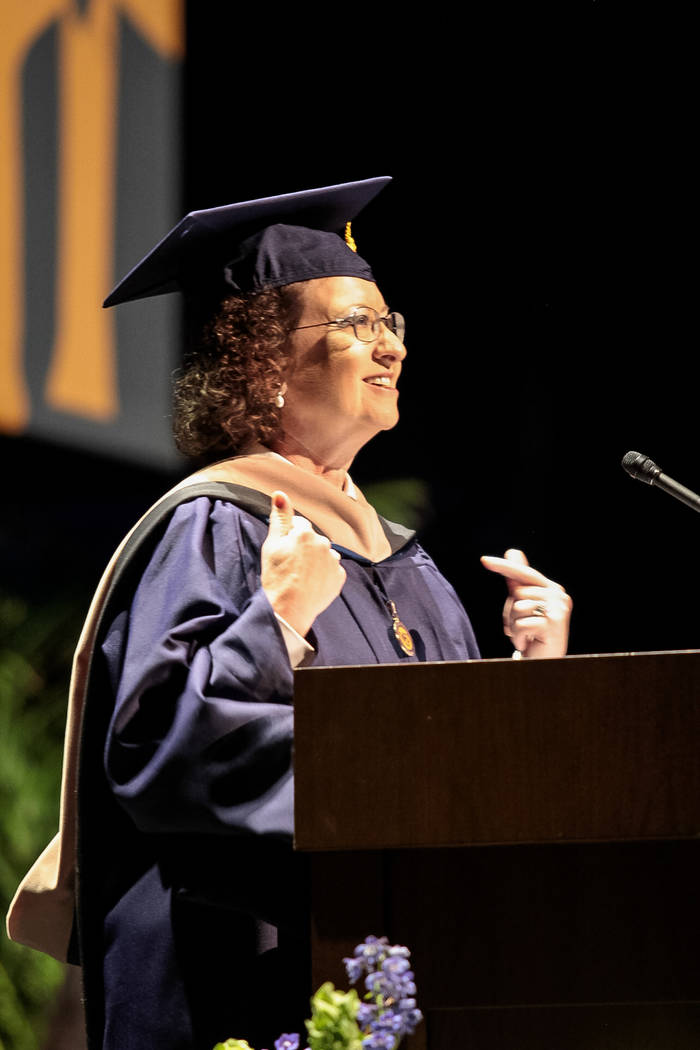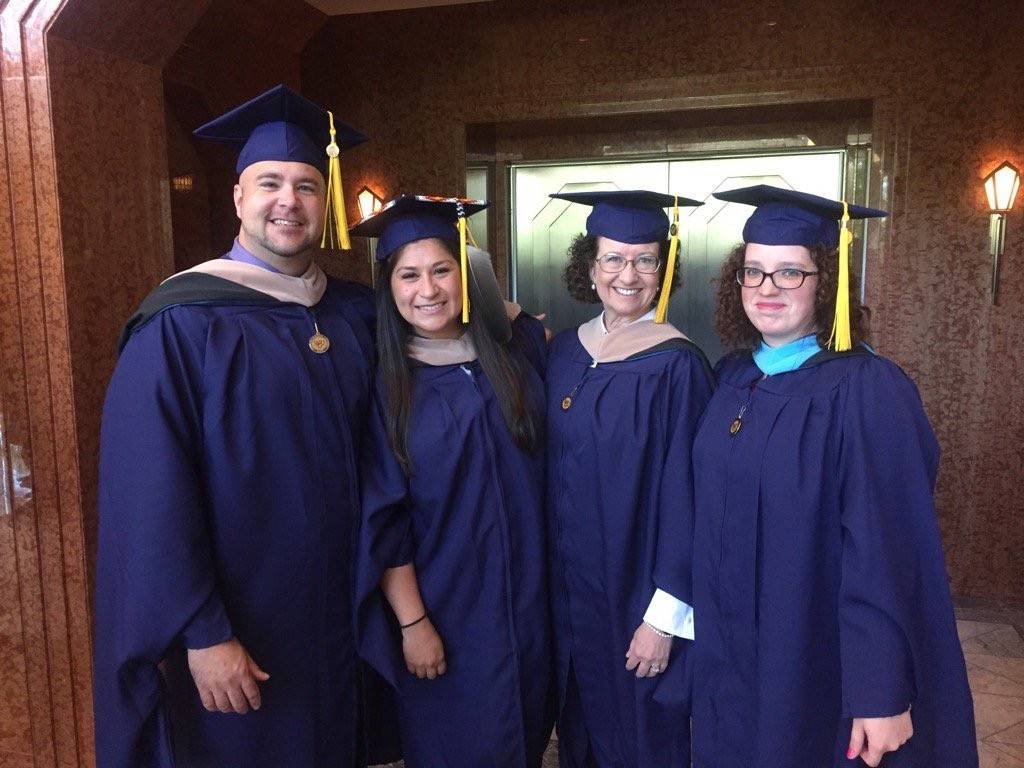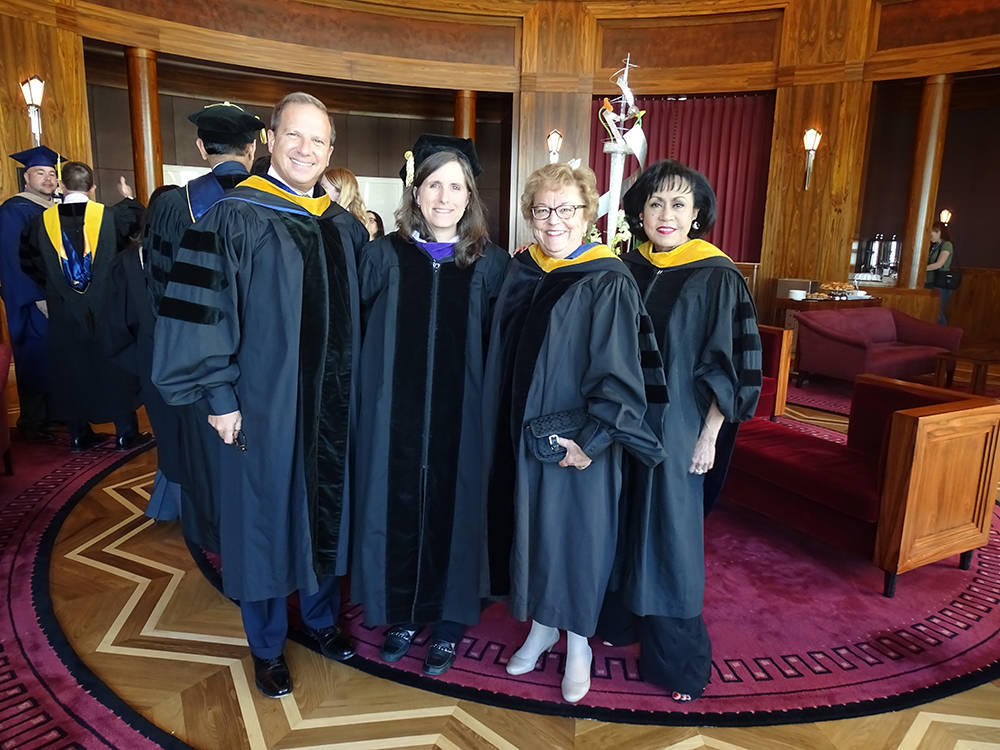 Cae Swanger wanted to be an example to her team, and getting an advanced degree from WGU Nevada was the way to do it.
The 55-year-old Swanger gave commencement remarks in May as part of the second graduation ceremonies of the state-endorsed online college that launched in Nevada in 2015 as part of a national nonprofit system known as Western Governors University.
The chief information officer for HCA's Far West Division in Las Vegas for more than nine years, Swanger received her master's degree in business administration in health care management from WGU Nevada. She started the program through WGU in Utah in 2012 and finished her course work through the Nevada affiliate in December.
Swanger already had a bachelor's degree in business administration and information systems from the University of Nevada, Reno, in 1983 but saw the value in going back to school and setting an example for the 150 people on her team.
"I felt that if I could set a great example for many people younger than me, that reported to me and even people in my age group — that if you commit yourself to it and put your mind to something important and stick with it, you can earn a degree online," Swanger said.
There are many HCA employees in Southern Nevada pursuing nursing degrees or degrees in health care management at WGU Nevada, Swanger said. The company reimburses 100 percent of tuition up to about $5,000 a year. Getting degrees adds to a resume and improves the chance for a promotion and a pay raise, she said.
People who work eight-hour jobs don't often have the time to attend classes at a college but someone taking courses online allows for flexibility to do course work at night and on weekends, Swanger said.
"It allows you to work your studies and assignments into your life and day as it should, and allow you to continue to work," Swanger said.
During the last two years, WGU Nevada has tripled its student base while graduating 758 students, according to Chancellor Spencer Stewart. He said demand should continue to increase, especially for its classes that offer bachelor's and master's degrees in nursing and health care management.
Some 215 WGU Nevada graduates received nursing degrees in the College of Health Professions, Stewart said. That's 165 bachelor's degrees and 50 master's degrees in nursing, he said. The university offers more than 60 undergraduate and graduate degrees in field of business, education, information technology and health professions.
"We have certainly have seen great improvement in terms of increasing the overall pipeline of professionals within the state since we've launched in June 2015," Stewart said.
Much of the conversation in Nevada has centered on increasing the supply of physicians because of the statewide shortage, and the opening of the UNLV School of Medicine will help with that, Stewart said. But people shouldn't forget that there's a similar need for health care professionals that support physicians. One report suggested Southern Nevada needs 4,000 to 5,000 nurses to reach the national average, he said.
Some of the fastest growing programs are in health care and a master's degree in nursing is the newest addition, Stewart said. As more health care providers and hospitals look to improve the competency of their workforce, many are working with employees to increase their credentials, he said.
"This was brought up by a number of health care executives locally and across the country as they look at where their market was headed and where their current demands are," Stewart said. The skill set that they're having a challenge finding was in skilled nursing."
WGU has launched an undergraduate and graduate program in data analytics that of growing importance in health care. A year ago, WGU introduced a master's program in accountable care management because that's become a greater focus in the industry as well, Stewart said.
"We created a program geared toward health care professionals that reinforces and educates them on how to be more accountable within this space and shifting policies and regulations," Stewart said. "The business thinking that goes into this shift is from moving away the current system that is more performance based to one that's outcome based."
Since the WGU programs are tailored to working adults, that has resulted in a modified enrollment period of instead of a fall, spring and summer term there's one of monthly enrollment instead, Stewart said.
"That has made a big difference in the lives of these working adults who are juggling many of life's demands," Stewart said. "We know life is not getting less busy but more busy and becoming more complex. We're figuring out how we adjust the traditional enrollment periods to align better with their demands and lifestyle."
Courses are self-paced and students are paired with a faculty mentor, Stewart said. To the extent a student demonstrates a mastery in a particular course, they can accelerate through that course and take a new one, he added.
The semesters are six months and for a flat fee of $3,000 students can take as many courses as they want in consultation with their faculty mentor,
Stewart said. A full load is the equivalent of 12 credit hours or four classes, he said.
Many students attended but never completed college and transfer in credits, Stewart said. The average time it takes to complete a four-year degree is three years for students, he said.
"There is a large number of these individuals who have some college but not degree and decide to come to WGU to complete that degree they started years ago," Stewart said.
The notion that people are equipped for life in what they've learned when they were younger no longer applies today, Stewart said. People are changing careers more rapidly and education has to change to meet that demand.
The average cost for WGU students who graduate in three years is $16,000 to $17,000, including textbooks, Stewart said. Students said the return on their investment takes about three years after graduation, he said.