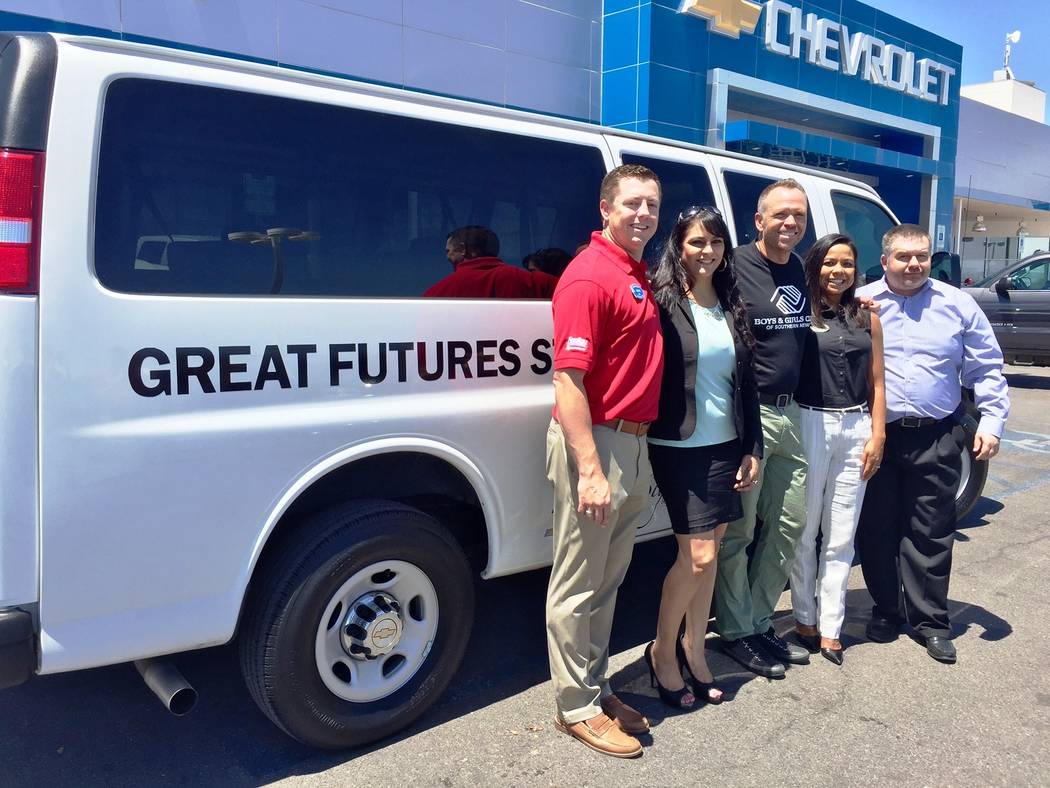 Dunkin' Donuts gives $7,554 to Nevada Childhood Cancer Foundation
After a successful paper icon drive in April to benefit the Nevada Childhood Cancer Foundation, representatives from Dunkin' Donuts Las Vegas presented the charity with a $7,554 check Aug. 3. The donations were collected to help send kids to Camp Cartwheel, a three-night camping experience designed to give critically ill children time to have fun.
Each summer, Camp Cartwheel provides more than 200 children with opportunities to swim, hike, canoe and rock wall climb with their siblings at Torino Ranch. The program originated in 1996. Jeffrey Gordon, president and CEO of Nevada Childhood Cancer Foundation, and clients from the organization were on hand to accept the check at the charity's Britney Spears Campus
Boys and Girls Club receive van and school supplies from local businesses
A 2016 Chevrolet 15-passenger van was donated to the Boys & Girls Club of Southern Nevada by Signature Real Estate Group and Citywide Home Loans. The backpacks and other supplies were collected from residents of Las Vegas.
Findlay Chevrolet was the drop off point and hosted a two-hour live radio event with the Mix 94.1. The dealership is located at I-215 between Jones and Rainbow boulevards.
When asked how the event came to be Findlay Chevrolet general manager Doug Fleming said "A few friends from Leadership Las Vegas (a wing of the Metro Chamber of Commerce) suggested that they wanted to make a difference in our community,"
The friends Fleming was referring to are Vandana Bhalla, corporate broker for Signature Real Estate Group; Chad Leavitt, chief accounting officer of Findlay Automotive Group; Andy Bischel, CEO and Brian Rice, chief operating office of the Boys and Girls Clubs of Southern Nevada.
Bhalla approached Leavitt about the possibility of working together to provide a van for the Boys and Girls Club of Southern Nevada. That vision became a reality and the 2016 Chevrolet 15-passenger van can now be used to transport young people to and from 14 Boys & Girls Club locations in Southern Nevada.
Bhalla led the charge by rallying Signature Real Estate Group agents and others to pitch in and raise the money for the van. Donors were given plaques as recognition for their contributions.
Brandon Roberts, owner and corporate broker at Signature Real Estate Group, added: "We pride ourselves on having an office culture in taking care of the community in which we live."
Another key participant in the drive to secure the van was Shelly Panzarella, a branch manager of Citywide Home Loans. "This was beyond our expectations," she said.
Bischel said the van would be a great help for the Boys & Girls Clubs. "We really need multiple vans to get more kids to and from school," he said. "It will also be used for field trips." She added that "The children in our neighborhoods desperately need supplies."