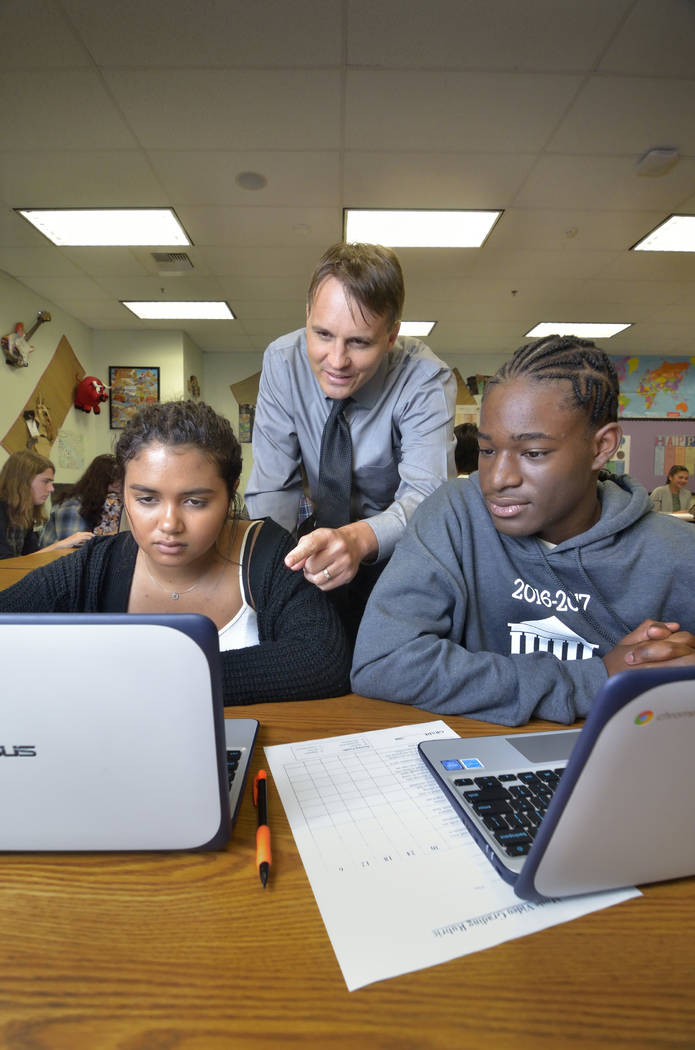 Advanced Technologies Academy, the Las Vegas magnet high school allows students to focus their learning on a particular field of study, while also completing high-level course work that prepares them for postsecondary success.
Helping students connect their core academic course work with their own interests and the broader world is an important piece of what students experience at A-TECH, said school Principal Jonathan Synold. He has been the school's principal since 2015.
A-TECH has earned a reputation as one of the state's most challenging schools and has received numerous awards for academic excellence. It offers more than 25 advanced placement courses and has a 90 percent graduation rate. The class of 2016 earned $13.1 million in scholarships, with many of the students receiving enough financial aid to fully cover their college tuition. Students choose among magnet programs in architectural design, business management, computer science, engineering, graphic design, information technology networking, legal studies and web design and development.
It's also one of the district's most popular magnet programs, drawing its 1,100 students from throughout the Las Vegas Valley. Students are selected by a blind lottery based on program interest. Close to half of the students at A-TECH are from low-income families. A-TECH is classified as a Title 1 school and receives federal funds to assist with its education goals, according to Synold.
The district provides transportation to students who need it, and some travel lengthy distances to reach the school at 1411 Robin St. It can be a long ride, but the trade-off can be greater opportunities to combine their career interests with college readiness, Synold said.
"What we found is that even with changing demographics we're scoring higher, preforming better, and we're getting more (college) scholarships," he said. "So, it's this idea that diversity truly is something that's made us stronger, not weaker."
Synold implemented a public speaking course for all ninth-graders so they would be better prepared for job interviews. A college and career specialist is on site to provide information about colleges and internships and help students with scholarships and the military application process.
Life at A-TECH is not just about technology. A-TECH has focused on becoming a STEAM (science, technology, engineering, arts and math) school through investing in a strong Arts program. The Arts program includes three years of digital game design, animation and a science Olympiad class.
"I think people think A-TECH and they think just computer programming and just kids sitting in front of computers, but there's a lot more to that," he said.
There are plans to add new classes aimed at better preparing students to handle the challenges of college life as well as financial literacy. Plus, a grant from the state's Career and Technical Education Department will allow the school to update its IT Networking lab, Synold said.