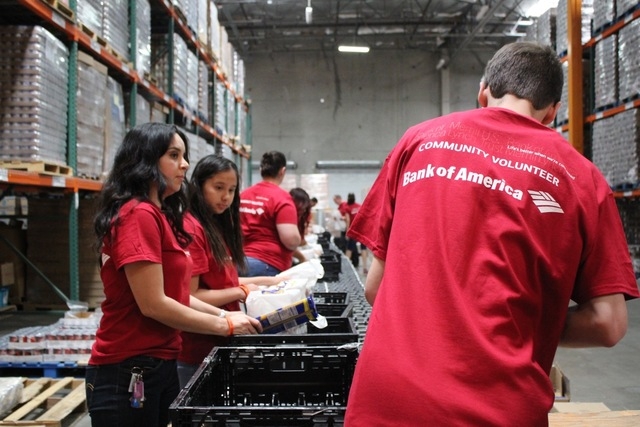 April is National Volunteer Month, but for employees at the Bank of America, "every month is volunteer month for us," said Dan Giraldo, senior vice president for community engagement and market manager.
As part of its business culture, Bank of America encourages its employees to participate in volunteer activities, Giraldo said. "What we allow our employees to do is take two hours every work week, paid, to volunteer for the nonprofit of their choice." Giraldo explained that Bank of America wants "employees to know that they can do this during work hours; they just have to get their manager's approval."
Bank of America's philanthropic efforts focus on strategic support areas, which benefit communities across the country. For example, the bank focuses on education and workforce investment with the goal of helping people get back into the workforce. Other focus areas include hunger and housing. In addition to these focuses, Giraldo emphasized, "our employees know they're open and welcome to choose any nonprofit that they want to help."
Each month, the bank offers different events in which employees may participate. "This month, we have a local AIDS walk that we assist with," explained Edgar Velazquez, vice president and a financial center manager. "This is just one instance where we can showcase the diverse talent base within our organization and how we celebrate that diversity."
Velazquez said the bank has a local volunteer committee, consisting of employees with different backgrounds. The committee determines the focus and direction of volunteer events throughout the year.
"Many of our employees contribute well beyond the two hours," said Velasquez, who volunteered more than 250 hours last year. "When you're out there seeing the actual impact it has on people, that's what's most rewarding. I think for me and all of the employees … that's what keeps us coming back and what helps us tell our company, Bank of America, thank you for helping make that a possibility."
Habitat for Humanity, Three Square Food Bank and Make-A-Wish are three of the nonprofits that Bank of America works with regularly. Bank of America volunteers have built houses, prepared meals and held food and school-supply drives, among many other efforts in the community.
When Make-A-Wish reached out to request Spanish-speaking volunteers, B of A employees responded.
Giraldo explained the annual Neighborhood Builders grant provides $200,000 to a local charity, plus providing leadership training. This year's recipient is Goodwill of Southern Nevada. "We're supporting their Veterans Integration Program where we can help veterans attain the resources needed to find employment."
In sum, Giraldo said, "We give more than $2 million a year to local charities … and more than 10,000 hours were given back to this community through just our employee volunteers."