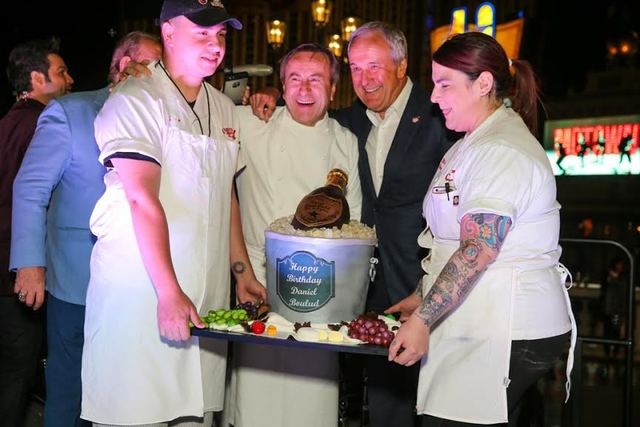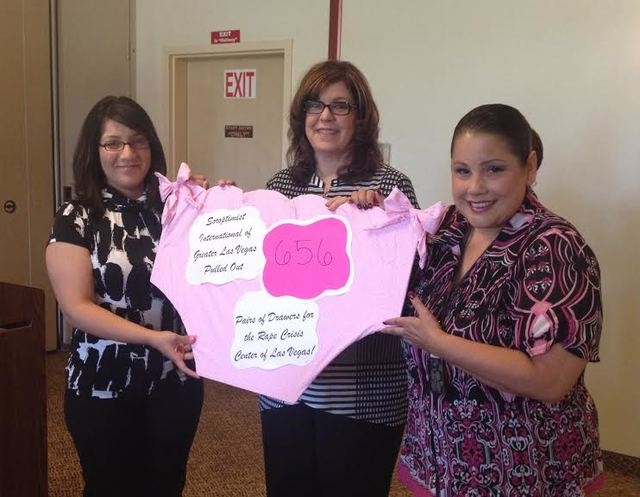 Chef Daniel Boulud honored at UNLVino event
The 41st annual UNLVino took over Las Vegas April 16-18, with three evenings of hospitality excellence, featuring wine and cuisine from dozens of the city's top chefs and UNLV's culinary students.
Southern Wine &Spirits of Nevada and UNLV's William F. Harrah College of Hotel Administration partnered to raise scholarship funds through three events: Bubble-Licious at The Venetian; Sake Fever at Red Rock Resort and the Grand Tasting at Paris Las Vegas.
During the Bubble-Licious inaugural event at Doge's Palace Plaza at The Venetian, Chef Daniel Boulud received the prestigious Dom Pérignon Award of Excellence. Boulud was honored for his work as a hospitality industry leader, a recognition bestowed to culinary mavericks by UNLVino.
Paint the Town fundraiser to benefit AFAN
The Las Vegas office of Snell &Wilmer presents the seventh annual Paint the Town fine arts gala, bringing together art and philanthropy in a fundraising event to benefit Aid for AIDS of Nevada. The festivities will be 8-11 p.m. May 8 at The Cosmopolitan of Las Vegas, Eastside Tower, 3708 Las Vegas Blvd. South. Admission is $25. For more information, visit paintthetown2015.auction-bid.org.
Boys &Girls Clubs to host Sneaker Ball
The Boys &Girls Clubs of Southern Nevada is staging a fundraiser called the Sneaker Ball. Stylish sneakers and party attire are urged for the event May 8, at the M Resort. This year, the clubs will be honoring supporters Natalie Gulbis, a professional golfer; Brigette Kirvin, the executive director of Girls on the Run Las Vegas, and David Kirvin of Kirvin Doak Communications. Cocktails and silent auction will begin at 6 p.m.; dinner, event program and live auction will be at 7:30 p.m. in the Milan Ballroom, 12300 Las Vegas Blvd. South. For more information, visit bgcsnv.org.
Soroptimists donate to crisis center
Soroptimist International of Greater Las Vegas wrapped up its three-month underwear collection "Pull Out Your Drawers" drive for donation to the Rape Crisis Center of Las Vegas. Members, friends, family and co-workers helped collect 656 pairs of new white cotton underwear. The donation was presented to the Rape Crisis Center earlier this month in honor of Sexual Assault Awareness Month.
Boys &Girls Clubs unveils playground
More than 225 volunteers from CarMax, Boys &Girls Clubs of Southern Nevada, organizers from KaBOOM! and residents of Henderson joined forces April 8 to present a new playground for kids to explore, imagine and create. The design, based on drawings created by children at an event in February, includes murals painted by volunteers and table top games for the kids to enjoy. The building and painting took four hours to complete. The volunteers presented the artwork and playground to the Boys &Girls Clubs kids with a ribbon- cutting ceremony followed by presentation of a $10,000 from CarMax Foundation to the Boys &Girls Clubs.
Paragon Pools hosts awareness campaign
The 12th Annual "Float Like a Duck" public safety awareness campaign, created by Paragon Pools, is scheduled for noon-4 p.m. May 30, at the Heinrich YMCA Water Sports Park, 4141 Meadows Lane. The event is free and open to the public.