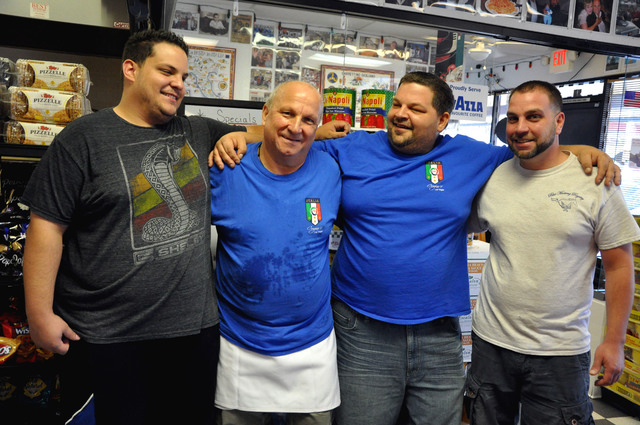 Communities In Schools of Nevada was named the recipient of the Nevada Women's Philanthropy grant during a ceremony March 24 at Cimarron-Memorial High School. The $350,000 grant will be invested in helping nearly 16,000 students served by the group in the Clark County School District. It will also purchase 240 computers, helping students at six local high schools: Canyon Springs, Chaparral, Rancho, Cimarron-Memorial, Sunrise Mountain and Valley. CIS Academy assists high school students with credit retrieval, college preparation and scholarships and teaching valuable skills needed for their future in the workplace.
Dress for Success
holds inventory sale
Dress for Success Southern Nevada will hold its two-day "Shop for Success" inventory sale from 9 a.m. to 5 p.m. April 25, and from 10 a.m. to 2 p.m. April 26, at the Opportunity Village Thrift Store, 390 S. Decatur Blvd. The benefit provides the opportunity to purchase new or nearly new professional attire at reduced prices. On Sunday, shoppers may buy a shopping bag for $25 and fill it with as many items as will fit. Also, two special tents will be dedicated to teen and high-end designer clothes. For more information, visit dressforsuccesssouthernnevada.org.
Splashdown for Kids fundraiser scheduled
Communities In Schools of Nevada and After-School All-Stars Las Vegas are teaming up for the second annual Splashdown For Kids, to be hosted at Wet 'n' Wild water park from 10 a.m. to 5 p.m., April 25 and 26. Proceeds from this event will directly support Communities In Schools and After-School All-Stars in their efforts to help deserving local children become a success. This year, local businesses and individuals have the option of sponsoring a school. Discounted daily pre-sale tickets are available online for $25. Tickets purchased at the door are $35. For sponsorship information, contact Brittany McCoy at brittanym@cisnevada.org or Ranna Daud at ranna@asaslv.org.
Three Square food bank receives $20,000 grant
Three Square food bank has received a $20,000 grant from Dunkin' Donuts Baskin-Robbins Community Foundation to support the local BackPack for Kids Program, helping to fight child-hunger by providing Southern Nevada children with nutritious meals when other resources are not available.
Solar panels to be installed at WestCare
NV Energy's Solar Generations program has presented WestCare Nevada, a nonprofit organization providing services in more than 17 states, with a grant of $280,000 to install solar panels at its Women and Children's campus. The campus provides safe emergency shelter for area youth, veterans, and a safe haven women and their children. A ribbon-cutting ceremony in March celebrated the facility's solar makeover.
NSTEC funds STEM scholarship at UNLV
National Security Technologies is funding a $50,000 scholarship at the University of Nevada for the second year. The scholarship will assist in promoting research and development, preparing students in the fields of science, technology, engineering and mathematics at all levels. The scholarship was first offered in 2014, and was established through the collaboration between NSTec and UNLV.