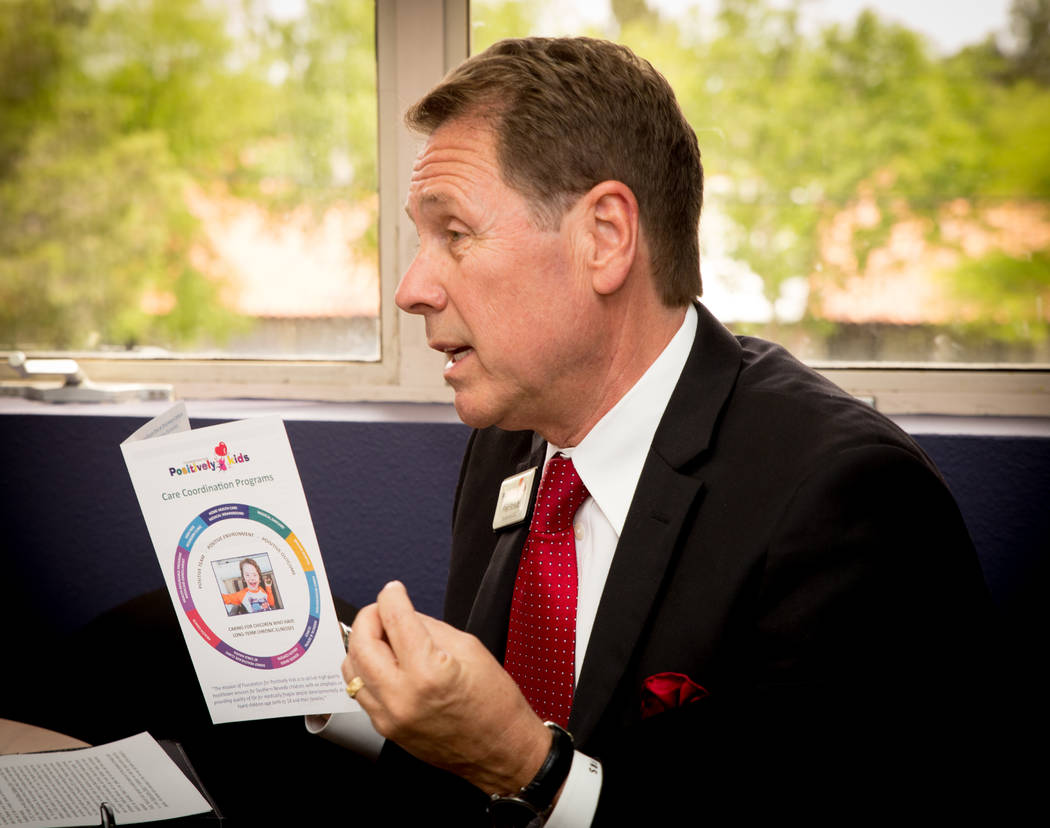 The Foundation for Positively Kids Inc. makes pediatric health care a priority.
A nonprofit foundation that focuses on the health and well-being of children is making a difference in Southern Nevada with its pediatric care programs.
The Foundation provides assistance to medically fragile, medically dependent and developmentally delayed children and is a recipient of a Las Vegas Business Press State of Nevada Innovation Award.
On any given day, between 400 and 600 children up to 18 years old are seen through one of the foundation's six programs: home health care, respite services, medical day programming, early intervention, one of four school-based health centers or well and sick health care at the Family Healthcare Clinic at Child Haven.
Theresa Peacock, APRN, vice president of cottage nursing, oversees the nursing care at the Family Healthcare Clinic, which provides medical, dental and mental health care for children in the foster system at Child Haven.
Peacock said there are between 60 to 132 kids at any given time at Child Haven, and between 20 to 30 kids a day visit the Family Healthcare Clinic to be seen by a board-certified pediatrician.
Providing comprehensive pediatric care under one roof is what makes the Foundation for Positively Kids a premier pediatric health care agency, according to its founder and CEO, Fred Schultz. He has a long history in the health care field, and began Positively Kids in 1999 with just one part-time nurse. Today, there are 86 employees.
Health care services, including medical, dental and vision are offered in three elementary schools and one middle school with an average of 100 children a month needing well or sick care. The neopediatric clinic specializes in primary and follow-up care for infants up to 2 years old who were discharged from neonatal intensive care units in local hospitals. Plus, the home based early childhood intervention is geared toward children from birth to 3 years old who have a developmental delay or disability.
The foundation has made a big difference for Kristi Krause and her 4½-year-old son. The mom of three was pregnant in 2012 with her third child when he was diagnosed at 20 weeks with hypoplastic left heart syndrome, a condition in which the left chambers of the heart do not develop correctly.
Krause's son was discharged from the hospital when he was 11 weeks old. At that time, he had already received two of the four open heart surgeries he would need to maintain his heart function. His recovery was complicated by a stroke in between the first and second surgery, Krause said.
Overwhelmed by what the family was facing, with two more required surgeries and what lay ahead for her son's recovery, Krause contacted the Foundation for Positively Kids based on a friend's recommendation. The foundation conducted an evaluation of her son and set up an early intervention plan that included weekly visits from a variety of therapists at her home to make sure he was on the right developmental track.
"If I didn't have someone help guide me, I don't know where we would have wound up," said Krause, whose son is a healthy preschool student. She credits Positively Kids and its therapists with a big part of her son's developmental achievements. "I believe in this foundation and what they were able to do for my son."
The foundation is slated to open a skilled pediatric facility for medically fragile children in the fall of 2018, a first of its kind for Southern Nevada, according to Schultz.
The 36-bed, 22,000-square-foot facility at 2496 W. Charleston Blvd., will provide care for children who are medically stable but require long-term, 24-hour a day, skilled nursing services or life-sustaining equipment in order to survive.
"This is the only one in the state of Nevada, and there's only 100 in the whole United States," Schultz said. He said the facility is not a hospital and patients must meet admission criteria under Medicaid regulations, be scheduled in advance of arrival and be between the ages of 5 days and 18 years old. Currently, Schultz said children who require long-term care are typically sent out of state.
A fundraiser to educate the community and raise funds is on tap for later this year. The annual Lucky Duck Family Festival, which releases 5,000 rubber ducks in a pond, lost $13,000 its first year and now it's the foundation's signature fundraiser raising upward of $50,000 a year, Schultz said.