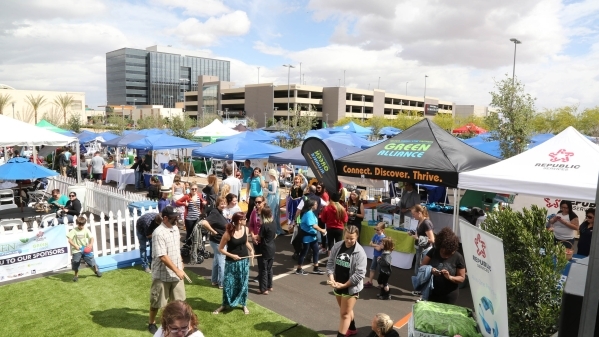 Annette Bubak, co-founder and president of Green Alliance, attributes the success of GREENFest'€™s marketing campaign to the grassroots effort of the event'€™s green and media partners.
"€œIt truly takes a village,"€ Bubak says with a laugh, "€œto create this type of momentum."
GREENFest is an annual Earth Day event showcasing Southern Nevada'€™s sustainable community. The event was cosponsored by Green Alliance and Republic Services and held April 25 at Downtown Summerlin.
Event organizers used a three-prong grassroots marketing approach to target Green Alliance Green Allies, community organizations and residents.
Green Allies are organizations that help with the planning and execution of GREENFest. These allies are dedicated to making Nevada more sustainable through their areas of expertise.
"It is the strongest component,"€ said Tracy Skenandore, a cofounder along with Bubak of GREENFest. Skenandore is also the director of public relations for Republic Services. "€œIt takes more effort but it is worth it,"€ she said.
Bubak, whose day job is as a sales manager for Solar City, agreed.
"€œIt'€™s a community event brought to the community by the community," she said. "The mission behind the event is to bring the community together and to create awareness on how to be more sustainable."€
The one-day event features exhibits, live entertainment, farmer's market, local artists, kid activities, beer garden and prizes. The event kicks off with a "€œDrive Clean Energy Las Vegas"€ procession.
"It'€™s a fun, entertaining and educational celebration,"€ said Tom Warden, senior vice president of Summerlin for the Howard Hughes Corp. Downtown Summerlin was the location for this year's event. "€œAnd it'€™s great for all ages … especially families."€
The event'€™s increased participation demonstrates the success of the marketing efforts. At the first GREENFest six years ago, it had two sponsors and featured 30 vendors showcasing sustainable products. This year the event exceeded expectations with 25 sponsors and more than 165 vendors.
"€œWe hit every goal that we set out,"€ said Bubak, who estimates 8,000 people participated. "€œIt has grown from a small Earth Day event to now it's become a well-branded festival that we hold every year."
Bubak and Skenandore plan and oversee the marketing for the event. Collectively developing the plan, the two divide up the responsibilities with Bubak handling the advertising while Skenandore manages the PR/media relations.
"€œA lot of blood, sweat and tears have gone into this event,"€ Skenandore said. "€œWe'€™re proud it has grown to such an amazing level."
Bubak estimates 40-50 percent of the event's $100,000 budget goes toward marketing, both hard costs and in-kind donations.
"€œWe try and engage the community on every level," Skenandore said. "It'€™s another element that I'm proud of."
Skenandore develops and distributes marketing materials to all the Green Alliance Green Allies, event sponsors, utility companies and other participating organizations. Those companies in turn send out electronic communications promoting the event to their members, employees and externally to other contacts. Postcards, posters and event fliers are also distributed.
"€œEvery one of our partners helps us get the word out,"€ Bubak said. 'It's one big network."
"Both our Howard Hughes and Downtown Summerlin teams contributed to marketing the event through email, social media, public relations and our website,"€ Warden said. "€œWord spreads quickly in our community."€
Clark County School District also promoted the event to all age groups. Skenandore said they hope to increase the district's involvement in the future.
Over the years, Skenandore and Bubak have spent countless hours generating the grass roots network.
"€œIt was a lot of leg and foot work to make this happen,"€ Skenandore said about building the network. "€œBut having the community involvement is vital."€
The two continue to engage the community by making presentations to various groups prior to the event.
Besides the grass roots effort, the event is promoted via traditional media such as radio, television and billboard as well as social media and an event website.
Bubak credits the media partners who add their talents to make the marketing campaign a success. These partners include Jeff Peterson of Juice Media for developing the creative for the campaign; Banner View, which maintains the website; and Sherry Swensk, weather anchor of 8 News Now who continues as the event's master of ceremonies.
"€œEach year we have grown and evolved,"€ Skenandore said. "I like to think we're making a difference and an impact."