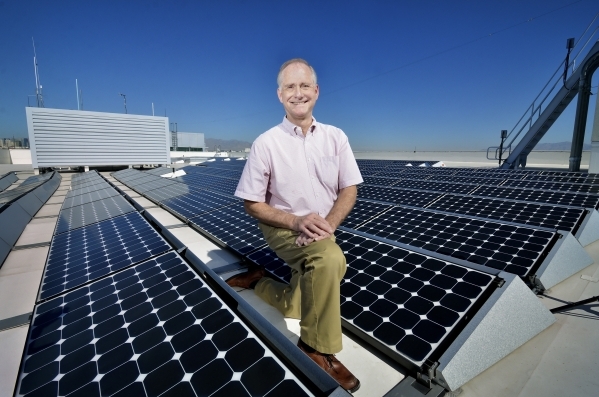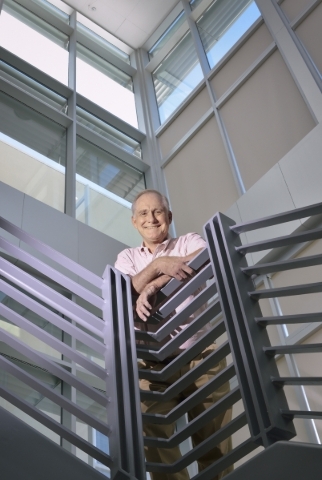 When faced with the decision to move KLVX-€"TV Channel 10 television from its old studio location, Tom Axtell had no idea of the journey into the world of sustainability that awaited him.
It'€™s a journey that he'€™s embraced for 21 years, long past the immediate task of a new building and stretching into the future as he works for sustainability causes.
"€œWe are temporary stewards of the Earth for the time we walk upon it and need to leave it in the best shape that we can for future generations,"€ said Axtell, who locally is a supporter of the Nevada chapter of the U.S. Green Building Council.
In 1994, Axtell moved his family from Milwaukee to Las Vegas to become general manager of the local PBS station. What he inherited was a building constructed in 1976 that had shortcomings such as a leaking swamp cooler that was creating mold and sick building syndrome for the occupants.
When the Telecommunications Act of 1996 mandated the transition of all television stations from analog to digital broadcast technology by 2006, Axtell needed to identify what it meant to be a digital broadcaster. After extensive research, Axtell knew two things: The station needed a new building that was healthier for his employees and he needed a building that could adapt to changing technology.
Because digital technology enabled so much more than sending a single TV signal to viewers, the station was rebranded as Vegas PBS. Axtell's vision included not only a main production studio but smaller classroom learning studios where teachers could develop courses for students. The idea was that those courses could be watched at school, home, or on a computer.
So Axtell started a quiet campaign to entice community investors to participate in the funding of the new television studio and distance learning center. The project was a 50-50 partnership between the Clark County School District and a successful $72 million capital funding campaign from community supporters.
Designs for the new Vegas PBS building started in 2002, at a time when "€œgreen buildings"€ were still a novelty and only two years after the U.S. Green Building Council announced its building certification program under the Leadership in Energy and Environmental Design or LEED program.
Axtell's learning curve was steep, not only in the design of a green building but the emerging digital technology.
The result of Axtell's commitment to the community and the environment is the first LEED Gold certified broadcast facility in the world.
Incorporated into the building are elements of electronics, flooring, wall coverings, furnishings and insulation materials that meet Environmental Protection Agency indoor clean air recommendations and Greenguard Environmental Institute standards for low off-gassing of hazardous chemicals and particulates. Combined with green cleaning practices using nonvolatile cleaning products, the new building's indoor air quality is superior to most buildings, resulting in a reduction of employee sick days by 27 percent during the first year of occupancy. All wood furniture products are certified by the Forest Sustainability Council for replanting and minimization of topsoil run-off.
In addition, Axtell incorporated a geothermal system consisting of 202 wells drilled to an average depth of 425 feet, saving approximately 20 percent a year on air conditioning costs. Combined with a rooftop solar system that supplies 18 percent of the electrical demand and the use of improved indoor lighting technology have resulted in a per-square-foot energy reduction to one-half of the comparable buildings.
Since completing the construction of the building in 2009, Axtell has been a leading advocate of being green.
He personally gives regular tours of Vegas PBS, happy to point out not only the green aspects of the building but the advanced digital technology that have been incorporated.
"€œAs a broadcaster, it is important that we lead by example, deciding to build a green building is not only good for the environment, it is good for the bottom line as well. If you build an efficient building your operating costs are going to be less — forever,"€ Axtell says.
Axtell graduated from Gonzaga University Law School in Spokane, Wash., and holds a bachelor's degree in history from Macalester College in St. Paul, Minn. He has been married for 37 years and has twin daughters.
He is a member of the national PBS board of directors and has served on the boards of United Way, Atomic Testing Museum, Rotary Foundation and Utah Shakespeare Festival.