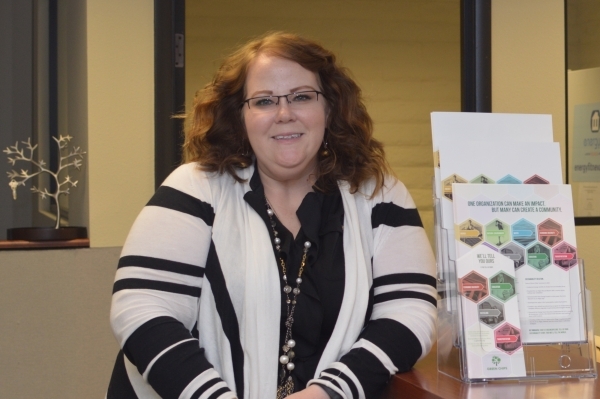 Green Chips, a sustainability nonprofit providing resources through collaborations, is the Green Award winner in the nonprofit category.
"We'€™re really born out of collaboration,"€ said Executive Director Lauren Boitel, pointing to Green Chips'€™ work with large entities such as the RTC, the city of Las Vegas, Clark County and the Southern Nevada Water Authority.
Green Chips works with partners "€œto develop sustainability programs,"€ Boitel said. "€œIt'€™s not just the green side that people tend to think of, but also the social and economic piece as well."€
The variety of programs offered through Green Chips seemingly offers something for anyone with an interest in increasing sustainability.
The Green Chips portal at http://greenchips.org is the main tool used to communicate information to the community. "€œIt'€™s a resource," Boitel said. "€œIf you want to know what's going on in the community or if you need a resource; we have information about those programs."€ It is designed for residents, businesses, and government administrations; basically, anyone interested in sustainability.
Green Chips has identified eight resource areas, or sectors, that allow for easy navigation. Those areas are energy, natural environment, water, economic development, health lifestyle, recycling, education and transportation.
"Someone described us as the Google for sustainability in Nevada,"€ Boitel said with a smile.
The amount of information provided offers virtually infinite ways to improve, increase, and expand sustainability.
Green Chips has developed a Sustainability Leadership Academy, which provides training for professionals. "€œWe'€™ve graduated about 180 professionals,"€ Boitel said. The professional development course last three days and is "€œtaught through the lens of sustainability and by connecting those public and private entities,"€ she said.
Collaboration and education are a large part of the Green Chips culture, she said.
"We also have a large community event every year called Convene for Green where we have very high-level discussions about improving the community."
Every year Green Chips has "at least one major annual sustainability project."€ The Las Vegas Sign Project was a collaboration with Clean Energy Project, the county and many other organizations and businesses, Boitel explained. "€œThe last one we did was putting solar on the Welcome to Las Vegas sign."€
"This year we'€™re working with Opportunity Village to add a solar component to a park they'€™re building"€ at the Engelstad campus, she said. Through the partnership, Green Chips was able to help add a sustainability component. "€œThey can power their facilities room by solar and also have an educational piece talking about energy at the park."€
In Las Vegas, the efforts of businesses are important to sustainability efforts. And using funding from Caesars Foundation, Green Chips is able to provide small businesses with a sustainability tool kit.
"€œIf they want resources on how to either continue or start their sustainability,"€ efforts, they can reach out to Green Chips, Boitel said. "There'€™s all kinds of opportunities for businesses to get involved and either promote what they're doing, start their own path, or use us as a resource."€