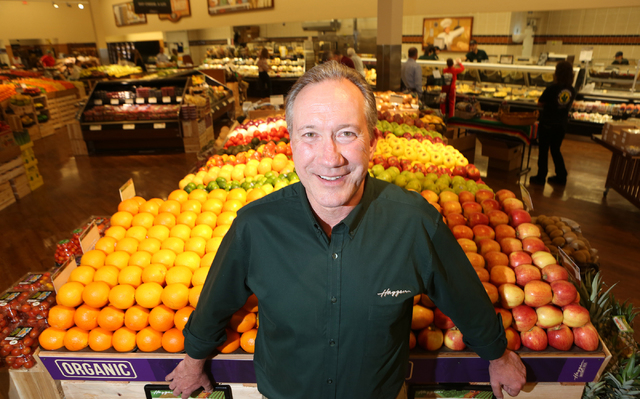 Beginning June 9, Haggen Food &Pharmacy will stage a series of 40-hour blitzes to convert four Las Vegas area Vons and three Albertsons stores.
"We'll completely rebrand the store; everything that says Vons or Albertsons will be taken down from signs, shopping cart handles, bags and interior graphics," CEO Bill Shaner said. "We call it 'Haggenizing' the store."
Shaner said the Pacific Northwest grocery chain was given the chance to purchase the seven stores in mid-January when the Federal Trade Commission approved the merger of Albertsons and Safeway.
"It became opportunistic for Haggen to buy some fantastic stores throughout Southern California, Nevada and Arizona," Shaner said.
Supermarket News reported that Haggen purchased 146 stores for an undisclosed price.
The Las Vegas area Vons stores include 7530 W. Lake Mead Blvd., 820 S. Rampart Blvd., 1940 Village Center Circle and 1031 Nevada Highway in Boulder City.
Albertsons stores that will be converted into Haggen are in Henderson at 575 College Drive, 190 N. Boulder Highway and 2910 Bicentennial Parkway.
The pharmacies at these locations will remain open during the 40-hour store conversions. The markets will be closed.
All seven Haggen stores will be open by June 13.
Besides taking down signs, Shaner said Haggen will add more products such as natural and organic produce, high-quality cold cuts and salads in the deli department, and free-range chicken and grass-fed beef in the meat department.
"Our market position is right in the white space between conventional retailers and organic retailers because we combine the best of what customers might see such as national brands and regional favorites with an emphasis on fresh, natural and organic products," he said. "Our customers might have previously shopped at a Vons or Albertsons and gone to a Sprouts or Whole Foods for other special things they enjoy. We'll be more of a one-stop shop for customers; more so than they have today."
Shaner said Haggen will receive its core grocery products from its Commerce, Calif., distribution center and from local buyers and suppliers.
"We're very interested in supporting local businesses and we're anxious to make connections with buyers and growers in the Nevada area," he said.
Shaner added that the company will employ marketing strategies to spread the word about the new-to-Las Vegas supermarket brand.
"We'll have circulars to help our shoppers make their food shopping decisions and we're working on other marketing plans," he said. "We believe our customers will find that we offer a fair value and we'll be very competitive in the market place."
Once the company has settled into the Las Vegas market, Shaner said the company doesn't plan to stop there.
"We'll focus on getting the seven stores right and introducing a new brand, which doesn't come without its challenges," he said. "Once we're doing the right things that will resonate with customers, we'll be able to grow our presence and we don't plan to sit still."
Marketing officials said Haggen plans to donate $1,000 cash and an unspecified amount of food to local charities for each store it opens.
In Southern California, for example, Haggen has announced donations of $100,000 cash and 1 million pounds of food to local charities to market its arrival in those communities.