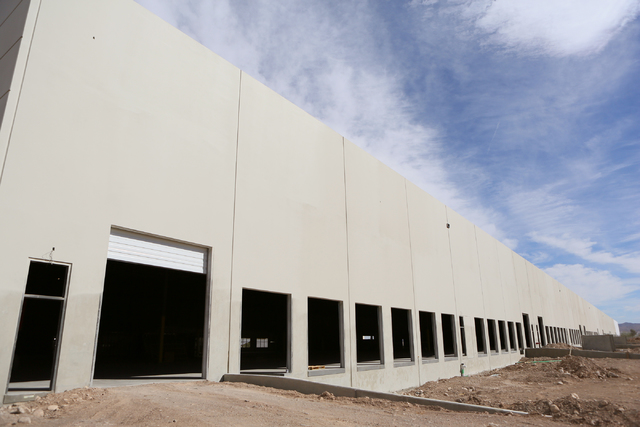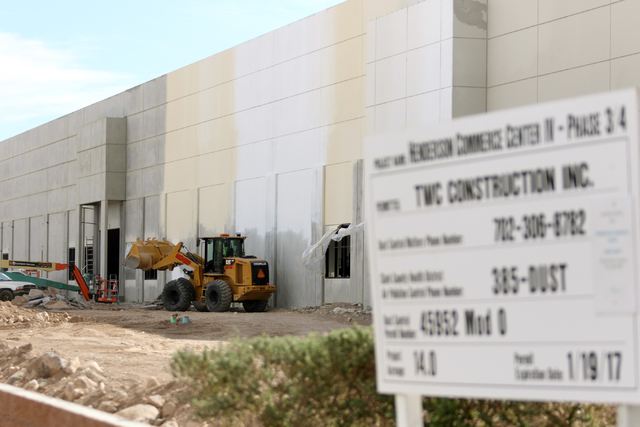 Commercial development is bouncing back in Henderson, led by a resurgence in industrial projects to meet the needs of employers expanding or relocating to Southern Nevada.
Through the end of September, Henderson issued $140.7 million in permits for commercial projects. That's double the $72 million issued through the same period in 2015.
The amount of construction reported by the city through the end of its fiscal year June 30 totals more than 3 million square feet of permits. By comparison, there were 652,153 square feet of construction permits in the year ending June 2013.
Industrial development is leading the way, and based on the statistics from research firm Applied Analysis, that shouldn't be a surprise. Henderson reported the lowest industrial vacancy rate in the valley at 4.1 percent compared to a valleywide average of 7 percent, said Applied Analysis Principal Brian Gordon.
"The industrial market performance demonstrates continued demand for product in Henderson," Gordon said.
That demand is why developers are building industrial buildings on spec without having any clients lined up in advance. They know there are prospective tenants ready to gobble up the space once it's under construction or completed.
Harsch Investment Properties has 240,000 square feet of warehouse distribution center space scheduled to be completed in January in its Henderson Commerce Center, which has 1.1 million square feet, according to John Ramous, senior vice president and regional manager for Harsch. The company has another 1 million square feet of commercial property throughout Henderson. Half of the new space is pre-leased, and it will be home to Henderson-based Global Nutrition Group and Henderson-based Catapult Global, a slot machine equipment storage and distribution company. Both are expanding.
That's the first speculative warehouse Harsch has built in the valley since 2009.
"There's quite a bit of demand, especially in Henderson," Ramous said. "For us to pull the trigger on a spec building is because there's a limited availability of land and limited options for space. The vacancy has gone down dramatically because companies want to be in Henderson. Executives want to be close to their offices if they live in Henderson. People are willing to pay premier (price) to be in Henderson."
Ramous said his company's goal is to accommodate local and regional businesses coming to town or local businesses expanding within Henderson or other parts of the valley. Many of those smaller businesses don't have the same opportunity to find space in the valley, he said.
Harsch plans to break ground in early 2017 on light industrial and small bay warehouse space measuring 185,000 square feet in the Henderson Commerce Center.
"We're not looking to cater to those looking for 100,000 to 200,000 square feet but catering to smaller users in the marketplace," Ramous said. "We're seeing as much expansion from them than the larger distributors coming into town."
ProLogis completed a 232,000-square-foot project that is the new home of Core-Mark International, which relocated in the valley to Henderson this summer. The foods distributor employs more than 230 people.
Other developers have followed suit to meet the growing demand in Henderson. Panattoni Development Co. broke ground this summer at its Henderson Freeway Crossing project in which it will construct six buildings totaling 455,000 square feet to provide space for companies looking to relocate to east Henderson.
Panattoni is building a 482,300-square-foot industrial building on a 28-acre parcel near the Henderson Executive Airport. It has room on the site to build another four buildings measuring about 800,000 square feet.
Both are considered speculative projects with a cost of about $35 million each and expected to be completed by the end of the year in east Henderson and early 2017 on the west Henderson site, said Doug Roberts, a partner with Panattoni. These are the first speculative projects done in Henderson by Panattoni in a decade, he said.
Local companies prefer east Henderson, and regional and national companies have more desire for the west Henderson locale, he said.
"You have a pretty low vacancy rate in that part of the valley with good housing around it and access to the freeway and a city in Henderson that's easy to work with and understand what they want," Roberts said. "We thought with the proximity to Southern California and Henderson Airport you can attract distribution companies that want to be close to the Southern California ports."
While there's a strong demand for industrial space, the same can't be said for office, Gordon said. Henderson has a 23 percent vacancy rate, which is higher than the valleywide average of 21 percent. Retail vacancy has outperformed the valleywide average of 8.7 percent.
"I would describe retail as recovered, but there are still some spaces in the retail sector that may stay vacant and may have to find some reuses for the big boxes," Ramous said.
Henderson is getting more retail in 2017 with the construction of a Costco on St. Rose Parkway.
Scott Muelrath, president and CEO of the Henderson Chamber of Commerce, said all the signs are "pointing up and heading in the right direction" in looking at the city's economy. The speculative industrial development is not only bringing new businesses to Henderson and expanding others, but it's helping local small businesses, he said.
"I think those type of tenants that end up in those facilities provide key jobs for our community," Muelrath said. "Then there's the ripple effect of small businesses to service those companies moving in. We're excited about the ripple effect."