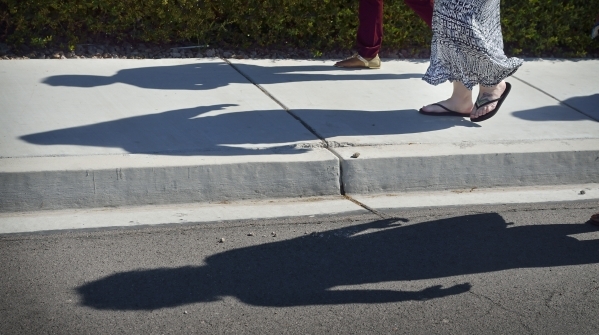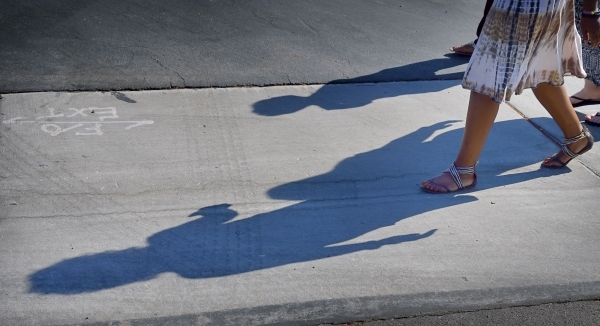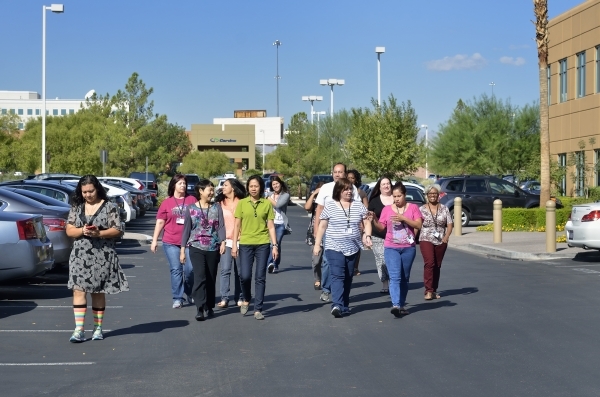 Keeping employees healthy pays dividends for HealthCare Partners Nevada.
Not only are employees feeling good, but they're motivated in their work, and both factors translate into keeping healthy patients of the medical network.
It starts with a wellness program called Vitality, developed by a South African company and implemented more than a year ago by HealthCare Partners. It could be a model that other Southern Nevada companies use to promote wellness among their employees.
"It's one of the benefits provided to teammates to help them gain awareness of what it takes to be healthy as well as maintain it," said Angela Scurry, director of human resources with HealthCare Partners Nevada. "The goal behind it is (that) healthy employees will be engaged employees. We're a health care environment, so we want to make sure our teammates are healthy as well, because that's what we're providing to our patients."
Vitality is a rewards program and a tool that let's employees set their exercise fitness goals and track their progress. It also gives them the opportunity to accumulate points based on whether they achieve certain exercise goals and even if they watch educational messages on nutrition and health issues.
Employees can exchange those points for rewards such gift cards and hotel vouchers. They can even apply them to their favorite charity.
Employees set up a profile and do a health risk assessment to start the process, Scurry said.
"It designs a program for you to help you lose weight and make sure your blood pressure is under control," Scurry said. "If diabetes is an issue, it helps you understand what you can do to help work through that process as well."
Scurry said she accumulates rewards by going to the gym. She triggers an app when she arrives at the gym and must spend at least 30 minutes there to add points.
Points are also earned by viewing educational material and even shopping for fruit and vegetables by swiping a card when the purchase is made, Scurry said. The points are added to a bank starting with a bronze level and progressing to silver, gold and platinum at the highest level.
Participants also gain points by taking part in various charity walks and company competitions, including races and a volleyball tournament.
Even spouses and children under the employee's medical plan can participate in the program.
"Keeping the family engaged in the workplace is another way to keep you engaged as well," Scurry said. "That creates happiness within yourself."
That's a key that makes the program beneficial for patients, Scurry said. Healthy employees are satisfied working for the organization and will pass that on to patients. They will have a better awareness of their responsibilities and how to present themselves to people and how to handle themselves in the workplace.
"If a person is ill, just like a patient, we may not be the happiest people," Scurry said. "But if we're doing well and if we feel good about ourselves and what we're accomplishing in our lives and making sure we stay healthy as we get older as well, I think people will be more engaged. That's what we're looking at. It's how we can keep our teammates engaged in a different way than just through pay and job performance."
They will pass on the enthusiasm of being a healthy advocate and how they feel about exercise, Scurry said. They can emphasize how important it is to get a physical and lab work done on a regular basis and what that means for their health.
HealthCare Partners has more than 300 primary care providers and more than 1,700 specialists and 100 primary care locations in Southern Nevada.
Tracy Wakefield, the medical director of the outpatient primary care clinic, said there's even a healthy competition among centers for weight loss or participating in volunteer walks.
Employees are on the front lines, and by getting them to focus on their own health, they will pass that on to patients, Wakefield said. That can range from disease prevention to mental health, physical activity and adherence to a good diet.
"It reflects our idea that we not only want to be the provider of choice but the employer of choice," Wakefield said. "We want to be good stewards to our employees and promote the same health initiatives that we do with our patients. It's important to all of us. We feel it's just as important for them to maintain their health because it makes for the overall workplace better and attitudes better."
Every employee is different in how they participate in the program, Wakefield said. Some prefer to go to the gym. Others like to walk. She said she plays tennis and submits her league schedule. When she plays, she earns points.
"The nice thing is that it tailors to the individual person," Wakefield said. "Not everybody wants to go to the gym. Not everybody runs. The nice thing is you can get credit for the things you enjoy doing and that goes toward your points for whatever you desire to redeem for. We've always been involved with walking. We've had competitions in the offices with weight loss. This is probably the most formal thing we've had, and that is really nice because we can track the number of enrollees. We can see the progression as a company we're having."
Wakefield said it's difficult to track illness and quantify how much it helps, but it's definitely a point of conversation among people in the office. People talk about what they do and how many points they've earned. It's great that people can do the program at their own pace and have access to information that gets them in the mind frame of being aware of their own health needs and tracking it, she said.
"It can make a big difference when people change lifestyles," Wakefield said. "I think also I would rather have people take time off to go on nice vacations than (be) out ill. That would be my dream idea. Improving the health at any workplace is going to improve morale. When someone is sick and someone is out, it's hard on everyone. It's always nice to have good attendance, and healthy habits promote that in the workforce."
Las Vegas resident Charlotte Tillman said she notices a difference in how she's treated by nurses and doctors and the office staff compared to other practices she's gone to in the past. Tillman suffers from diabetes, hypertension and heart-related issues.
Tillman, 59, who said she goes to the doctor about every three months, said staff members are responsive to her whenever she calls with a problem from an injury or pain. She said she will never forget the counseling she received from the staff to keep her calm and reassured when she had a breast biopsy. It ended up being benign, but she called it a frightening experience.
Tillman said it hasn't stopped there. She said she's struggled with her weight and has been encouraged by the staff to try different programs to lose some pounds.
"It's a different setting," Tillman said. "The other doctors in the past didn't even know my name. They take time to know your name and talk to you. It's like your family. It's not like you're a number going to the doctor's office. They ask you how you're doing today and is anything new happening."
Wakefield and Scurry stand by the program and urge other companies in Las Vegas to implement it. Wakefield said other companies don't have to be in the health care industry to benefit and praised how it opens the dialogue of healthy habits.
Many patients already bring in forms for Wakefield to fill out so they can get a better rate on their insurance. That's important, but companies should have something more than that, Wakefield said. People need to do physical activities and be active.
"That has its own benefit in itself rather than a checklist that says, 'I went to the doctor and she filled out this form for me,' " Wakefield said. "It doesn't seem like they have to achieve any goals, and I think the nice thing with this is you can set your own personal goals and achieve them. I think in this industry you need to walk the walk and talk the talk. It's important for us to set an example for our patients that it's important to everyone. We happen to be in an industry that promotes health, and I think it's hard to preach to people if you don't incorporate those values as well. I find on a personal level as a physician that to be very important."