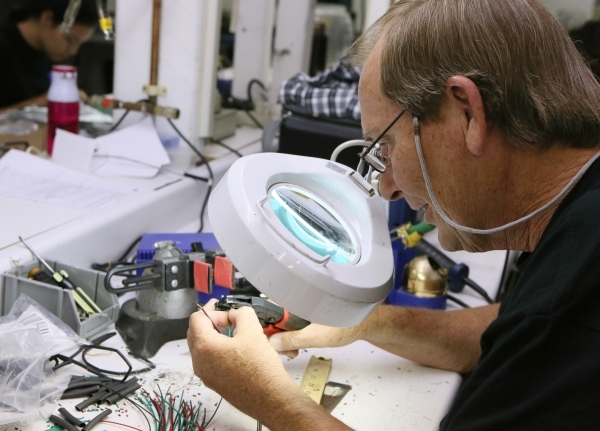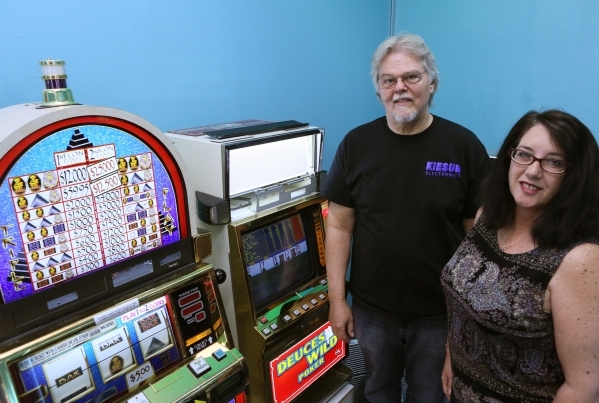 Since 2004, Kiesub Electronics has been a pioneer in developing and expanding LED products that provide an energy-efficient and cost-effective way to turn on the lights.
Because of Kiesub Electronics commitment to replace fluorescent and incandescent lighting with environmentally friendly LED technology, it has been awarded a Las Vegas Business Press Green Leaders Award in the small business category.
Kiesub Electronics developed LED edge-lit crosshatch diffusion panels to illuminate slot machines, and casinos in all of Southern Nevada. Boyd Gaming has made major commitment to using LED panels to replace fluorescents behind the top and lower glass graphics and in other areas on the machines. So far, Boyd has completed the installation at Suncoast, and the LED panels are now being installed at Sam's Town, Gold Coast, The Orleans, Main Street, Fremont and California casinos, according to Kiesub's nomination.
"€œA lot has changed over the last eight years, and LEDs are a lot more common,"€ said Margie White, Kiesub'€™s marketing manager. "They are being used in so many different industries. At that time, we were just getting started with our panels for slot machines, but now there are so many other uses. It'€™s exciting for us because this is what we do, and now we are being validated and honored for it. This is pretty exciting for us.─
Boyd Gaming is one of Kiesub'€™s major clients, but the company declined to comment for this article.
Kiesub has developed unique products using a technology called edge lighting. These super-thin LED panels can be cut to any shape and size to provide energy-efficient light sources with a 50,000-hour lifespan, which equals more than five years of life over 24-hour, seven-day-a-week usage. The thin panels make it easy to replace the fluorescents in slot machines with Kiesub's edge lighting, according to Mike Johnsen, Kiesub'€™s director of manufacturing.
To date, Kiesub has manufactured, developed and sold more than 8,000 edge lighting units, totaling more than 85,000 original LED solutions, Johnsen said.
One of the reasons the casinos are replacing fluorescent bulbs with LED panels is to cut down on energy costs. Johnsen said the energy savings by switching to LED panels in the slot machines equals the amount of power it takes to power more than 100 typical homes.
According to U.S. Energy Information Administration, the average annual electricity consumption for a U.S. residential utility customer in 2013 was 10,908-kilowatt hours, an average of 909 kWh per month.
"€œOur success in LED lighting was originally driven by the replacement or retrofit approach to the industry,"€ Johnsen said. "€œIncandescent and fluorescent lamps consume an enormous amount of energy compared to LED replacements. With a 50-70 percent energy savings, LEDs benefit the industry financially and when it comes to environmental issues from waste contamination when fluorescent and incandescent lamps are disposed in land-fills."€
These LED panels are also helping extend the life of slot machines, saving a bit of "Old Vegas" charm. Johnsen said many of the slot machines that are being retrofitted with the edge lighting are 20-30 years old.
He said a new machine could cost $15,000 to $20,000. However, retrofitting a machine costs less than $100, down from $200 per machine two to three years ago.
"€œCasino management realizes customers actually prefer the older and more simple machines,"€ Johnsen said. "€œStudies have shown that casino patrons migrate to the traditional machines because of the simplicity. So, the trend is to give the old, tired, dingy-looking units a facelift.
"€œOnce panels and other LED lights are installed in the old machines, it dramatically changes the appearance of the machine. It quite literally makes that old machine look '€˜like new'€™ for a fraction of the cost of buying a new machine."€
Ed Garelick, Kiesub'€™s operations manager, said the most important aspect of this change for the casinos is the aesthetics these LED panels provide.
"If you go into the casinos and play those machines, you'€™ll know when their light bulbs are out because half of them don'€™t work,"€ he said. "€œAs a matter of fact, some casinos have made the decision just to take the bulb out, and half of them are not lit at all.
"Even the heat off the panels is less than fluorescent bulbs, so they can actually save on air conditioning,"€ he added.
White said the LED panels could also help save on components for the slot machines.
"€œThey are not breaking down from the heat,"€ she said. "€œYou can touch a slot machine and feel the heat from a fluorescent bulb. If you touch one with a LED panel, there is not heat."€
Kiesub has completed designs for new products used in LED lighting solutions for OEM slot manufacturers, but Johnsen doesn'€™t see the retrofitting portion of the business going away anytime soon.
"€œWe used to think it was going to die out in a couple of years,"€ Johnsen said. "€œHowever, the casinos are retaining old machines, and we don'€™t see a change in sight for that. It may fade away 10 years from now, maybe not because there are so many people who prefer those old machines."€
Kiesub has also developed larger panels to illuminate walls and signage at the Purple Zebra lounge at The Linq and a bar at the Golden Nugget. Kiesub also worked on the lighting of Mick Jagger and his iconic tongue for the Rolling Stones slot machine, designed by Supercolor for slot machine manufacturer Aristocrat.
"€œWe are also working on a poster with an edge-lit panel that will be going into the casinos for their marketing signs,"€ White said. "They had three fluorescent tubes, and were not that exciting. But when you put an LED panel behind it, you can see it from across the casino."