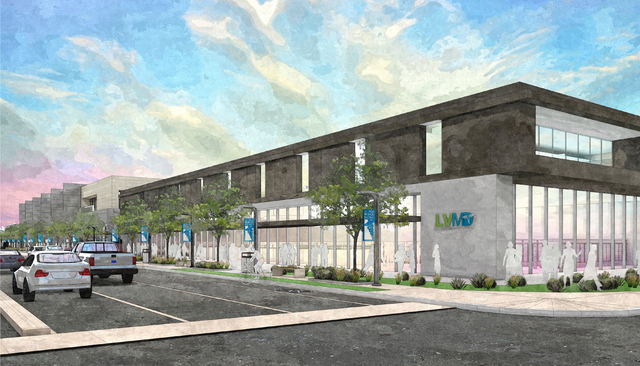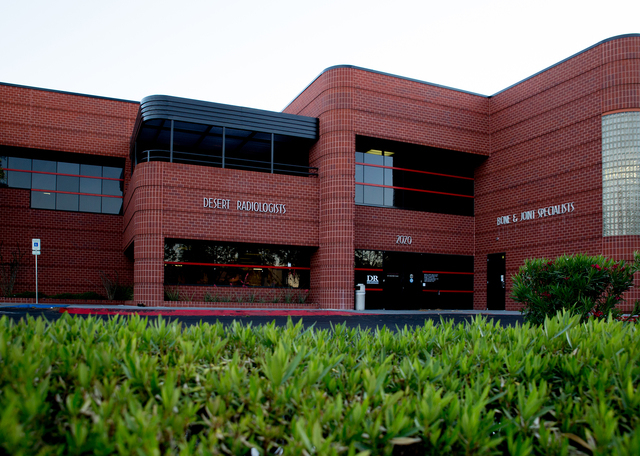 The future is now for the Las Vegas Medical District.
The Las Vegas City Council has approved an updated master plan for the district that provides a vision and framework for the 674 acres that extends from downtown to a corridor along Charleston Boulevard. That will set the stage for development of UNLV's medical school, luring medical uses, and building out the district with complementary uses of retail and housing.
"The original medical district, as we defined it in the past, was a couple hundred acres between Charleston, Alta, MLK and Rancho," said Scott Adams, Las Vegas deputy city manager. "But we are now redefining the medical district as something much bigger going down Charleston to Valley View, up MLK to the 95 and even overlaying parts of it the Pacific Park area. That's to recognize that over time, as it builds out, it's probably going to need more space so we can grow it but mitigate the impact of that growth on surrounding neighborhoods."
The plan calls for the expansion of medical institutions within the district such as UMC and Valley Hospital Medical Center and the siting of the medical school at the former Southern Nevada Health District property, Adams said.
The plan talks about the importance of enhancing the area aesthetically and giving the medical school a true campus setting, Adams said. The city is in the midst of design and development to rebuild Shadow Lane with new streetscaping to create an "attractive spine" through the heart of the medical district, he added.
"It's a big district and has a big future economic impact, and we are really kind of excited," Adams said. "There's an old saying that you plan your work and work your plan. We have done the plan and now we have to work the plan. It's a comprehensive document that creates a vision of where we want to go."
Increased density
One focus will be regulatory in nature since the plan calls for greater density in the district, Adams said. That means larger buildings and requires the city to revise its urban development regulations to accommodate those densities – and includes retail – yet does nothing to harm any nearby neighborhoods, Adams said.
"There are a couple of strong neighborhoods to the south and west and northwest of the district that we don't want to intrude into," Adams said. "The plan makes sure we taper densities as you approach those neighborhoods and the uses are sympathetic to the neighborhoods. We need to channel the higher densities in the core of the district and up those commercial corridors so we don't negatively impact the neighborhoods."
One of the concerns is parking and how that affects those inside and outside the district. With the job growth and increase in visitors, there's a need for up to 40,000 new parking spaces.
Adams said the master plan covers parking and where it can be located. The next step is to determine where the first parking garage will be built and how that affects all the other parking within the district, he said.
"We did a preliminary analysis of parking that showed we're in balance right now and understand once we start constructing other buildings, like a medical school, we have to start looking at building parking," Adams said.
There's still work to be done on those issues.
"We are in the weeds on that in terms of where does our first garage go, who is going to use it, and how it is managed and all that good stuff," Adams said.
Building community
Another big focus will be on what new businesses the city can attract to the area to support the medical district that complement the existing institutions. Adams said. It's about providing uses that make it a place to visit, work and live, he added.
"Residential is a big piece of that," Adams said. "It's about providing residential opportunities to the medical students and for employees and retail uses. One thing we heard a lot from the stakeholders in developing the plan is that it placed importance on retail, restaurants and places that people can go to during a day and make it a more special place. There's a need for facilities like day care and fitness centers.
"If we are going to have a medical school, there's a need for more open space like a commons and a community center space where students, faculty and visitors can go to like a student union at a major college campus."
Adams said the plan envisions the district as a hub of health care within the region as well as an academic center with a high degree of specialization. If there's one of anything in the region, it should be located in the medical district, he said.
That means that when the valley one day has its first freestanding children's medical center, it should be in the medical district, Adams said. It means being a hub for research and having lab space for that work to be conducted. Even where those services exist, there's always a need for more oncology and cancer treatment care and neuroscience, and the valley is underserved in mental health care, he said.
"There is a children's hospital functioning within UMC but one of the things that doesn't exist in Las Vegas is a freestanding children's hospital, which a lot of major cities have," Adams said. "It speaks a lot of what the public sector does to support the growth and development of the medical district. The other piece of that is what the city would do strategically is get involved in the business development and attracting more business and medical-related uses into the area."
While neuroscience is part of downtown with the Cleveland Clinic Lou Ruvo Center for Brain Health, Adams said Valley Hospital has neurological suites and is recognized as a major center for neurosurgery.
"Mental health is a big issue," Adams said, "and there's not enough of that."
"There's even a tie between mental health and some of the social problems in downtown and the region, like homelessness. There are options like orthopedics and cardiology even though we already have those uses. We're looking at — as academic health functions grow in this district with the medical school — how is that going to spin out new facilities and opportunities."
Economic impact
A fully developed medical district will be important to the economy, Adams said. Combining a medical school with other medical uses will create high-paying jobs and diversify the economy so it doesn't rely on gaming and entertainment, he said. It also elevates health care in the region because 25 percent of people know someone who has left the valley for treatment, he added.
"The joke is McCarran is our best health care facility but by providing a higher quality of care through academic medicine and creating a large center of excellence with lots of new specialties focusing on health care that's not being provided comprehensively in the region, we really keep our residents here," Adams said.
"One of the things we have been doing that's a companion to the master planning process is marketing and brand strategy for the medical district. We're leaking badly in terms of people meeting their health-care needs, not in Las Vegas but somewhere else. They perceive the quality of care isn't there and that is the other piece of this. It's meeting the human needs of health care in our region."