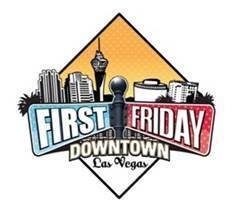 First Friday has moved from an idea to an event to a corporation and now to a stable nonprofit organization with a bright future, organizers say.
Earlier this month, the First Friday Foundation acquired all assets and intellectual property of First Friday Las Vegas, LLC, which owns and operates the arts and culture festival held on the first Friday of every month in downtown Las Vegas.
Executive Director Joey Vanas said the move means the organization has officially obtained 501(c)3 status.
"We've had both entities in existence and we're just now are at the point where we're ready to make the full transition into 501(c)3 and put together a proper board of representatives who are true representatives of the city," Vanas said.
"Now it will really be a much larger group of people who will carry us into the future to make it better and ensure it will live much longer than us, beyond one particular group of people who have been carrying the torch."
As part of the transition to the First Friday Foundation, First Friday Las Vegas, LLC will donate all physical assets, intellectual property, along with $100,000 to the nonprofit entity to assist with future First Fridays.
Initial board members of the First Friday Foundation include First Friday Founder Cindy Funkhouser, Las Vegas City Councilman Bob Coffin and North Las Vegas Economic and Business Development Director Gina Gavan.
"A lot of things will change in terms of the organization that is doing it because we all have ideas on things we should do," Vanas said. "We have about 16 people as of now who will be voting and help decide what will change and how. The intent is for us to have a wider influence and be able to grow the reach and scope of this thing."
Vanas said First Friday is much more than a monthly event.
"Though it's anchored on an event experience, it's a day where our entire city comes together to celebrate art and creative culture in Las Vegas," he said.
Vanas added that he'd like to add more activities across downtown along with additional programming.
"I'd like to see more things happening in more downtown areas so it's more well-rounded and there are more options so different groups will migrate towards what their interests are," he said.
"Over the years, it's grown in scope and programming as we've added a kids' zone and green street, which is focused on ecofriendly activities, so we've added a lot of layers into the programming and educational elements to reach more people."
First Friday draws an average of 20,000 people per month, Vanas said, with a vast majority being locals.
"There's a big demand for authentic experiences and that's exactly what this thing is," he said. "We've created and designed an event that's geared towards locals, which not a lot of things are, in a welcoming and open environment."
With the board of directors in place, First Friday Foundation will focus on increasing programming and exploring funding sources and grants, Vanas said.
"It takes a lot of people coming together and it's a never ending process because it's every month," he said. "And it's not just the group putting it together, there are 100 other small business owners and artists preparing for it, spending all month doing the work they'll show, as well as 30 plus food trucks preparing their menus, the city working through the permitting process, transportation companies gearing up to shuttle people to the event and our volunteers and labor crews preparing."
Vanas' goal is to keep First Friday growing.
"I hope that it proliferates beyond this group of people and carries forward so the thing can last for not just years to come but decades to come and can be a monthly reminder and celebration of our culture," he said.
"I want the message to continue to grow and spread so people really are impacted by it and have an impact on the creative culture that exists here."