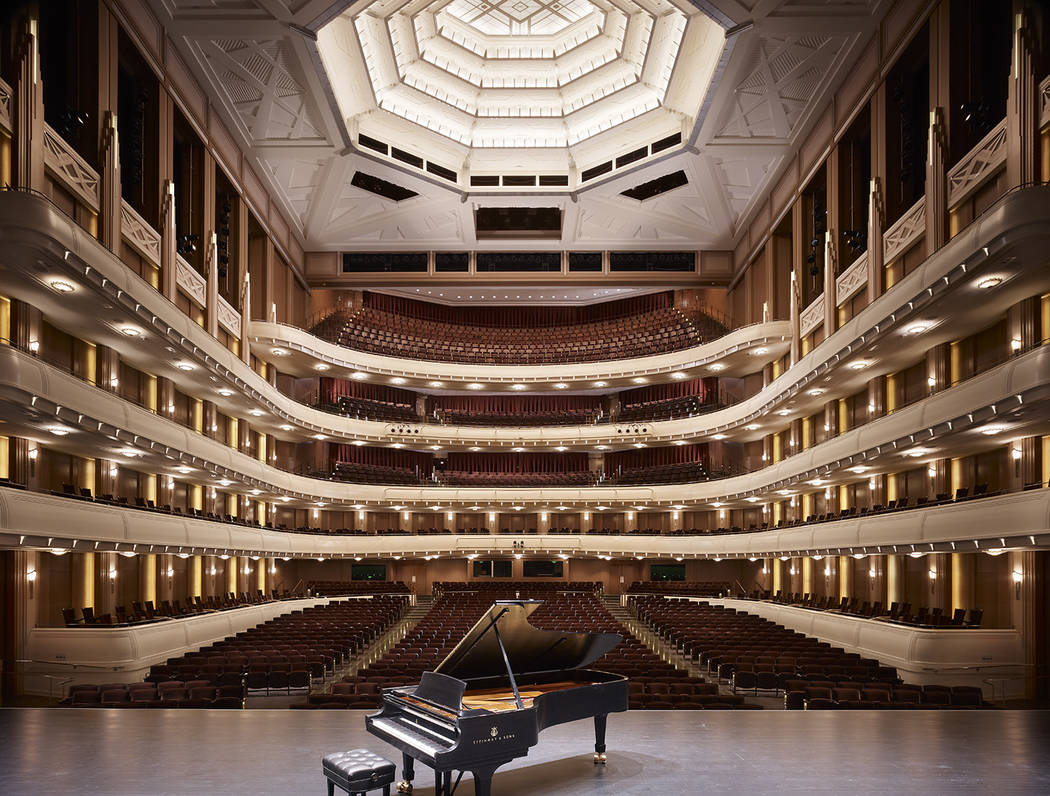 When the Smith Center for the Performing Arts opened in 2012, there was much discussion on opportunities for touring Broadway musicals, architect David Schwarz's architecture (inspired by the art deco of Hoover Dam), and the off-Strip opportunity to experience the arts — essentially, the community's own cultural living room.
Its own championing of educational programs began before the center opened, with Southern Nevada Wolf Trap Early Learning Through the Arts, something that had been introduced at Booker T. Elementary School in 1998. The program with the Kennedy Center's Any Given Child sponsored Ailey II workshops and master classes in dance.
The Smith Center's reach into the community has grown not just in regular performances, but also through its educational programs. In five years, the center has reached more than 350,000 students in the Clark County School District, including home-schoolers and charter school students.
The Smith Center was the second in the nation to partner with Disney Theatrical Group, which offers Disney Musicals in Schools. When musicians come to town to perform at the Smith Center, they're asked if they'd like to give a master class to students in the city. The Center's Nevada High School Musical Theater Awards is a competition recognizing high school theater students and sends the winners to New York City to perform on Broadway.
"It's a continuous journey," said Candy Schneider, the Smith Center's vice president for education. "We've added programs each year. For kids, learning is much more than what happens in a classroom. Everything we do is tied to classroom learning, but this is all life experience as well."
Schneider had spent 33 years in the Clark County School District as a teacher and administrator and then assistant director of the School-Community Partnership Program.
Boarding a field trip bus, seeing the building's architecture and performance spaces and then sitting through an arts performance, said Schneider, "it's part of growing up. Everyone should be able to have that opportunity."
Back-to-back matinee performances, paid for by donors — the schools fund the buses — involve anywhere between 26 and 30 buses pulling up at the department consecutively. School matinee attendance, whether children's literature-based or other touring productions, has exceeded more than 300,000 students.
The Smith Center works closely with its resident companies, the Nevada Ballet Theater and the Las Vegas Philharmonic.
While the Smith Center's Camp Broadway is a tuition-based program, its Nevada High School Musical Theater Awards are open to students, who are nominated by other students. Last year, Schneider said, students were in New York for 10 days performing at the Minskoff Theatre and studying musical arts by professionals in the industry.
"We're highly committed to supporting education in this community in every way we can," she said, noting that some of the programs incorporate arts with math, science, language and social studies.
The Smith Center is looking to build up the ranks of its teaching artists and has filed grant requests for that.
Additionally, it's embarking on a partnership with UNLV's School of Medicine that will look at ways arts can be a part of healing. Its new Heart of Education program, regarded as Smith Center president and CEO Myron Martin's pet project, celebrates teachers who go "above and beyond" to reach students.