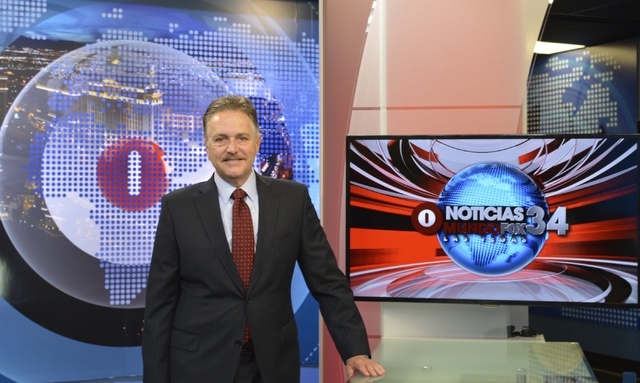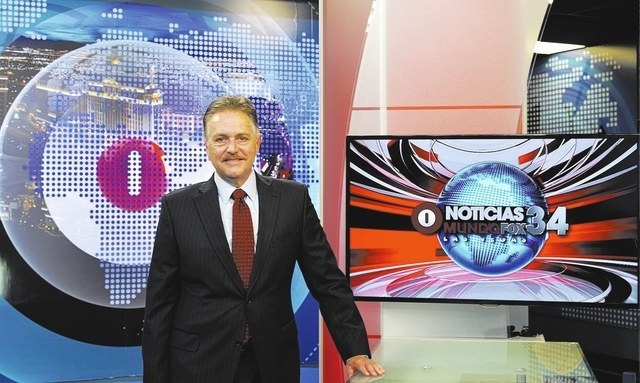 Chris Roman is the president and CEO of KMCC Las Vegas and KYVV San Antonio. Both stations are owned by private equity firm Victory Park Capital and are affiliates of the MundoFOX network.
Roman was born in New York City, of Mexican decent on his father's side. From ages 2 through 12, the family lived in Bogotá, Columbia, before the family returned to New York City.
He graduated from St. John's University in only three years, because, he explained, he was eager to begin working. His first job after picking up his degree in communications was with the Spanish International Network, the predecessor of Univision.
Roman's shared that at an early age he was became interested in the business of television. It wasn't that he wanted to be on television; he wanted to be involved in the business part of television.
Last November, he took over management of two stations that had been relaunched in 2012 as affiliates of the fledgling MundoFox network. While they share a common language, common ownership and a common network, the markets are unique and present both unique challenges and opportunities.
Q. What is the role of MundoFOX as it relates to KMCC &KYVV?
A. The MundoFOX network furnishes us with a robust program schedule. They provide us with programing in entertainment, news, and sports.
We have gone against conventional wisdom. Most television stations when they're first starting out… do not invest the kind of money we have invested without an advertiser base. We chose to go from four employees or associates to 21. We choose to invest a million and half dollars in capital expenses, never mind many of hundreds of thousands more in less than a year for advertising promotion and other marketing.
Q. What is the size of the market Spanish speaking market in Las Vegas?
A. Spanish language television in Las Vegas is about a $22 to 25 million a year market. It's a good healthy business. There are six over-the-air players plus cable channels. Of the six over-the-air… we're in the top three. We're now number two late nights and also number two local news, which has just shocked everybody.
Q. What do you see as the main difference between the two marketplaces, KMCC Las Vegas and KYVV San Antonio?
A. In San Antonio, first the size of the market. San Antonio's Latino population is double what it is here in Las Vegas. But it's also a population that has more tenure there; it's been established for generations. There are some issues of acculturation that differ. Las Vegas' Latino boom occurred in the mid to late '80's and that was growth that was propelled primarily by immigration; not domestic but primarily from Mexico. It's been now about 20 odd years that those immigrants have been here and had kids; fully bilingual, fully bi-cultural but in San Antonio we've had that for many generations.
Q. How would describe your largest audience segments?
A. The largest audience segment for Spanish language television tends to be in the 25-49-year-old segment. It's a combination of Spanish language dominant and somewhat bilingual Latinos. That's the core as we discovered. We had approached the market focused initially on the first adopters. The first adopters tend to be more bilingual than Spanish language dominant, more adventurous … people who like to try things.
The people we first attracted, those first adopters, tended to be more bilingual people, tenured people, more affluent. Now, they're important but they're only a third of the audience. We wanted to secure them because they also would become surrogates. They're fast and furious with social media. They are people who talk to groups of people who listen, who lead businesses, who lead organizations, who are engaged in a variety of activities. Once we had that base, we started to focus on that core audience.
Q. What keeps the audience coming back?
A. The beauty and success of Telemundo and Univision for generations is that they have been able to capture a segment and keep it loyally. A lot of it also due to the way we do our programing. Our programing is strict; that is Monday through Friday at 7 p.m. you know there's going to be soap opera — novellas the staple of Spanish TV. And these are fabulous stories, great production, beautiful artists and stories generally told very very well and they just hook you and you cannot leave.
Q. Who are advertisers looking to reach?
A. Latino consumers are significant customers for many different sectors. Like in wireless; Latino consumers are absolutely the single best market for wireless. We exceed the usage patterns of most any other segment in terms of consuming data, text, and voice. We spend more money on the apparatus you need for it. Latinos rely on that more than other consumers. So obviously they are targeted by the likes of AT&T, Verizon, T-Mobile, Sprint.
Q. What is the most popular and most important program?
A. Our local news has been truly a cut-through program that's not only furnished great service to our community, another voice, another treatment of news, and we do news a little bit differently than the legacy networks — Telemundo and Univision. But, that has created an identity for us; one that's very appealing. And, that draws people to our station because it's fresh, it's every weekday, and it's local, local, local.
Q. How are you able to manage KMCC Las Vegas and KYVV San Antonio at the same time being that they are so far apart?
A. In any endeavor, it all begins and ends with the people. I am blessed that my partners who recruited me to run this enterprise gave me the funding to be able to recruit exceptionally good people from the start. Again, I can't emphasis enough that without an established advertiser base this truly in investment spending and believe in our business and how our community will respond. I have great associates here. I have an exceptional team in San Antonio. Good people always rise to the occasion. I end up sending the bulk of my time in Las Vegas.