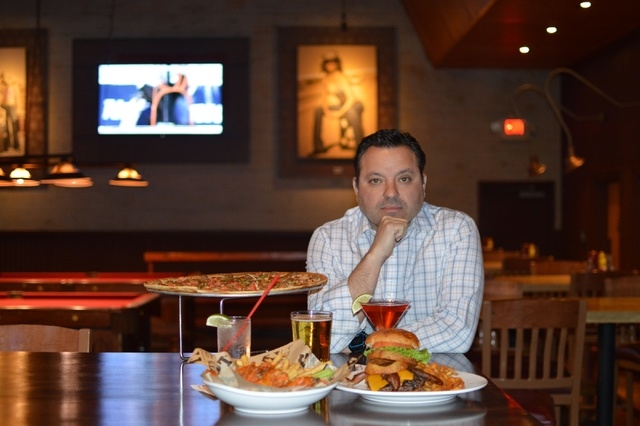 Joe Romano took a circuitous route to becoming vice president of operations for PT's Pub, PT's Place, PT's Gold, and Sierra Gold.
He went to culinary school in New York City and embarked on a career that has taken him across the country. Along the way, he has worked for Michael Mina in San Francisco and Charlie Trotter in Chicago.
He moved to Vegas in 1999 (with his wife Megan of Chocolate &Spice Bakery) and launched Aureole at Mandalay Bay alongside Charlie Palmer. Nowadays, he oversees the menu at all PT's, Sierra Gold and Sean Patrick's locations throughout Nevada.
The first thing Romano wants to make clear is that the PT's brand is truly a neighborhood location where you will see the same faces everyday. He wants to end the misconception that PT's brand is corporate; noting that PT's has only one location in Reno, all the others are in Southern Nevada. He says "we're just a really good solid neighborhood establishment."
Q. When you started out in the industry, you did a restaurant tour. How did that come about?
A. I was in New York … working for Charlie Palmer. Charlie wanted me to be his sous chef. We decide together that it was best if I left for four months and then came back. The idea was to come back to be the executive sous chef for Charlie. Taking a few months off and then coming back fresh. It was a great experience because I got to see 20 or 25 different restaurants and brew houses that I worked in, that I got to see how they conducted business on a day-to-day basis.
Q. What did you learn while touring dining establishments?
A. I really thought I was going to see a lot of culinary and in turn I really wasn't truly impressed by the culinary aspect of it all, but more along the lines of how each and every chef operated their kitchens, operated their restaurants, how they managed their team. I think that experience really molded me into what my philosophies are to be a good leader. I think it's being firm, fair, and consistent. Everybody doesn't like you but at the end of the day, the majority of the people respect how you operate because you are firm, fair, and consistent.
Q. What are the challenges of incorporating fine dining into a pub style restaurants?
A. It's more challenging to cook pub tavern style food than it is fine dining. If you take a look at two plates sitting together, simple cheeseburger and fries. There's two components on the plate. There's a cheeseburger and there's fries, that's it. If the fries come out cold, 50 percent of your meal's ruined. When you talk about fine dining you could have up to four or five ingredients on a plate. So if the sauce of the dish comes out cold, your experience isn't really ruined or dampened that much compared to 50 percent of your meal being unsatisfying. So it's actually harder.
Q. In what ways are you working to make PT Gold a go-to destination for both pub style and fine dining?
A. I think just our overall experience. If you take a look around this place, it's got incredible TVs; five 70-inch TVs in this area alone. The artwork is modern. The ambiance of the taverns have a rustic feel to them. They're comfortable. First and foremost, your environment is number one. If you don't have a good environment, people aren't going to want to stay. Number two, food and beverage. Our food and beverage offerings price point is very reasonable. At the end of the day, our prices constantly rise but it's still a great value. I think what PT's does on a whole is extraordinary — putting the right people in the right locations and providing a great warm comfortable guest experience.
Q. How is the chef's job different from that of a chef at a typical pub or fine dining restaurant?
A. The basis of the job is the same. You're still leading people. You're still creating menus and dishes and costing of ingredients. You still have a flow to keep up. I think what the major difference between a fine dining and a tavern setting is fine dining is typically lunch and dinner or just dinner. You have set hours in which you open and close. So, your pressure period is maybe six hours a day, seven hours a day.
If you're open for dinner, let's say you're open from 5 to 11, you really don't get business until 7 o'clock. From 7 to 10 is when you're really busy so your stress level increases during that three hour time frame. In a tavern environment, we're 24/7. We have locations that do great breakfast business, and then it rolls into a good lunch, then it rolls into happy hour, then it rolls into graveyard happy hour. The big challenge is to operate these things 24 hours a day.
Q. What dishes have you developed?
A. We took that aspect of it very serious. We said if we're going to be a tavern, there's probably three or four things you gotta have the best of, right? The wings are one of them. We took a lot of time to develop that product. Some people say 'we use fresh wings,' well the fresh raw wing doesn't produce the best wing. We went to a chicken company and we took about three months to develop the perfect wing. Our wings are cooked through steam. What happens is they're steamed, cooked, and the skin, any fat around the skin is steamed off and melts away. So the wing itself is very tender; it's moist. When you fry them, the finished product is our wings are crispy on the outside and just really tender and juicy on the inside.
Q. What dish would you say defines the PT's Brand?
A. Our pizza, is very unique. They're fresh dough balls and we press the dough really thin. The philosophy is that when we cook the pizza, you get a nice crispy shell of a pizza. The crust is really crispy. You have all the components on top so it's not a classic New York style pizza where it's really heavy; our pizza's a little bit lighter, a little bit crispier. The ingredients we use are very flavorful. I think that sets us apart.
Another item that probably sets us apart is the Philly cheesesteak. Our Philly meat comes from Philadelphia; it's shaved ribeye. Our bread comes from Philadelphia. We use the traditional roll style; we use classic Philly meat. It's high quality stuff. I think that sets us apart as well.