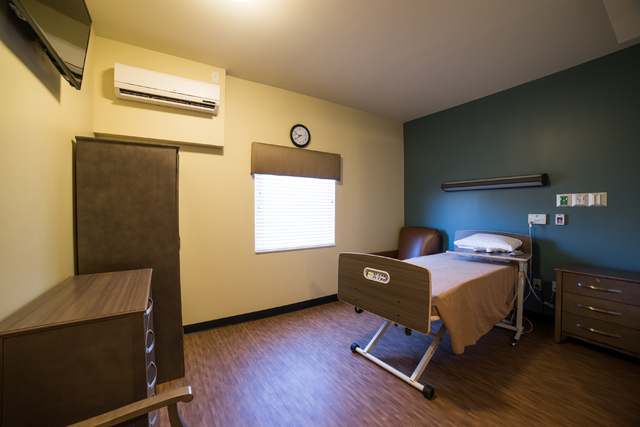 New Las Vegas medical facilities dealing with mental health and rehabilitation are expected to open by the end of March and one addressing memory care has started construction.
It's part of the broad trend of health-care construction throughout the valley in which hospitals are undertaking major expansions and renovations and specialized health-care companies are expanding their reach to meet a growing demand.
Seven Hills Hospital is adding two, 20-bed units to bring its capacity to 134 beds for inpatient services. The expansion will allow about 2,000 inpatient admissions a year, said Dr. Robert Turner, the hospital's chief executive officer. The hospital had 5,000 admissions last year, he said.
"This gives us some growth opportunity," Turner said. "We have done a prior 36-bed expansion which opened two years ago in March 2014 and by the end of the 2014 those new 36 beds were 90 percent occupied."
Among the factors driving a significant increase in demand is the Affordable Care Act. It has grown the number of people who are now eligible for Medicaid and able to obtain services at psychiatric hospitals, Turner said.
The Affordable Care Act also has increased the number of insured who have access to outpatient and inpatient care, he said.
"Our volume for that kind of population has grown 30 percent, which is a big portion of our business right now," Turner said of Medicaid expansion. "The other big driver is there are fewer uninsured people, and we're seeing folks that needed treatment in the past but could not access it because they did not have the benefit who are now able to access treatment with the Affordable Care Act."
Seven Hills Hospital provides treatment for substance abuse and psychiatric services on its campus on an inpatient and outpatient basis. A 6,000 square-foot outpatient center, which is double the size of the existing facility, is scheduled to open by mid-April.
Growth field
"The demand continues to grow," Turner said. "Access can be a problem, even though mental health can be pretty common. One in five Americans have a mental illness and only half get any treatment at all. Mental illness is very treatable, and we have a good success rate. But the first step in solving untreated mental illness is having adequate capacity for people. This will give us that on the inpatient and outpatient side and room to grow for years to come."
Programs for day treatment have patients stay at the hospital for six hours per day but not overnight. Those who are in an in-patient program stay for six days, on average, Turner said.
Valley Hospital has already opened 48 beds at its psychiatric ward as part of a valley-wide effort that will reduce the number of people waiting in emergency rooms before they're treated for mental illness.
"There has been a lot of growth and lot of expansion just in the last couple of years," Turner said. "Several of the other facilities have done expansions too but the demand continues to grow along with the capacity. In the years to come, more resources will be needed and it won't be more than a few years before we're doing another expansion."
The problems with substance abuse focus on a large increase in opiate and heroin abuse that has required the need for detox and inpatient treatment, Turner said.
"The emergency rooms are seeing a big increase in overdoses with the opiates and heroin, and we get two-thirds of our business from the ERs of other hospitals," Turner said. "Most of the medical surgical hospitals in town don't have their own psych units."
Turner said the range of patients his hospital gets is across the board but the No. 1 reason people are admitted is because of suicidal behavior. Many have made a serious suicide attempt prior to admission, he said.
The opening of the inpatient and outpatient facilities will result in 80 to 90 jobs for nurses and therapists, Turner said.
Another Kindred site
In addition to the Seven Hills expansion, one other major opening is scheduled for March — Kindred Healthcare is opening a transitional care and rehabilitation center at Russell Road and Rainbow Boulevard next to Spring Valley Hospital.
The 160-bed center will specialize in intensive short-term rehabilitation therapy that includes cardiac, pulmonary and orthopedic rehabilitation. It will have 200 employees.
Kindred already operates three transitional care hospitals in Las Vegas. The others are located near Decatur Boulevard and Sahara Avenue, near Eastern Avenue and Flamingo Road and another inside St. Rose Dominican Hospital's Rose DeLima campus.
The centers are bridges to help patients make the transition from the hospital to their home.
Memory care
Framing started in January on a $4 million project of Las Vegas developer Victor Hecker, who is building a 24-bed center to care for those with dementia and Alzheimer's disease.
Hecker, who was the UNLV swim coach in the 1970s, is building a 16,000-square-foot facility at the southwest corner of Elkhorn Road and Jones Boulevard. It's the first of six centers Hecker plans to build in the valley.
"We're in the middle of a silver tsunami right now," Hecker says. "Thousands and thousands of seniors are moving to Las Vegas. What happens when they get older and need care? This is a something that's desperately needed. Some facilities have memory care but they're not devoted to straight memory care like we're doing."
Many with dementia today are at home and cared for by their families who are finding it difficult to work and take care of parents or elderly relatives at the same time. They're looking for alternatives, Hecker said.
The facilities will have caregivers, a registered nurse and focus on programs and activities, including gardening, for those with dementia and memory issues, Hecker said.
"These people want to live a productive life as they get older and start to have problems with their memory," Hecker said. "It's very difficult for a lot of people that have parents that are suffering from these situations. They need care. They will be fed, get their meds and have activities. They will feel more like a person than a sick individual. They can enjoy what they're doing the rest of their lives and be happy and pass away comfortably."