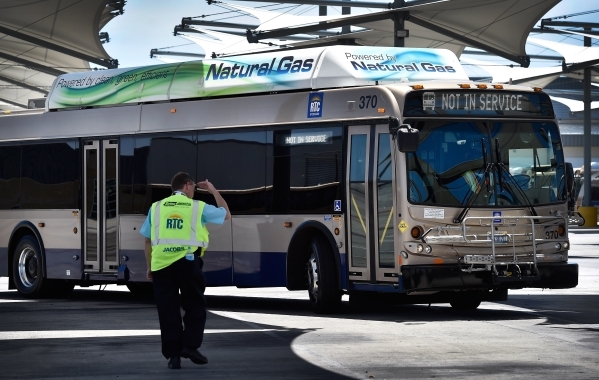 Green initiatives are inherent to the culture at the Regional Transportation Commission of Southern Nevada, according to David Swallow, senior director of Engineering and Technology.
"We'€™ve always had the idea of promoting sustainability from a transportation side and educating the community so they can make informed choices to ride a bike, walk or carpool," he said. "€œWe have the opportunity to cut down on congestion so there aren'€™t as many cars on road."
The RTC'€™s latest commitment to reducing its carbon footprint is converting its entire fleet of diesel-powered buses into compressed natural gas (CNG), which costs one-third as much as diesel fuel.
Operating cost per mile for CNG vehicles is 65 cents, compared to $1.50 for diesel-powered vehicles. The RTC also will receive approximately $800,000 in fuel tax credits from the federal government each year.
The RTC first introduced nearly 100 CNG paratransit buses in 1999. Today, 40 percent of the paratransit fleet and 27 percent of fixed-route buses are CNG-powered.
"€œWe'€™re transitioning to CNG because it'€™s one of the most impactful choices on both the environment and cost,"€ Swallow said. "We already have a sizable fleet of CNG vehicles and we have about 300 vehicles either at our facility or waiting to be delivered that will be integrated into the overall fleet."€
Swallow said the RTC is working toward having 100 percent of its bus fleet converted to CNG by 2020.
In addition to CNG buses, the RTC, which has owned and operated a public mass transit system in Southern Nevada since 1983, uses solar power at many of its bus shelters throughout Clark County.
"€œThey each have their own solar power system to provide light at night,"€ Swallow said. "€œWe'€™re not using any power on the grid."
The transit authority, traffic management and transportation planning agency also has a Club Ride program in which people across Clark County can sign up to find a carpool partner. The program has about 30,000 participants, Swallow said.
"€œResidents have the opportunity to cut down on congestion while building relationships in the community,"€ he said. "€œIt'€™s all about having people make choices to ride transit or use other options to commute."€
In the future, Swallow said the RTC will manage its resources in order to minimize any negative impact on the environment.
"€œWe'€™re going to keep looking at how much fuel we'€™re consuming, its impact and, if one fuel works better than others, we'll transition our entire fleet,"€ he said. "€œWe'€™ll also continue to look at our bus shelters and facilities so they'€™re designed to be energy efficient and use locally sourced materials. We're trying to make sure the decisions we make the most sense economically."€
Swallow added that the company will always promote alternative transportation.
"As citizens and members of the community we have responsibility to be mindful of resources,"€ he said. "We encourage everyone to ride their bikes or take transit, not every day, but try to keep choices in mind because the community is part of the solution."€