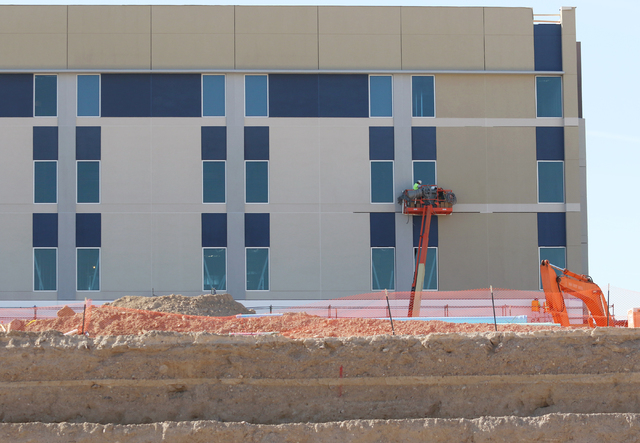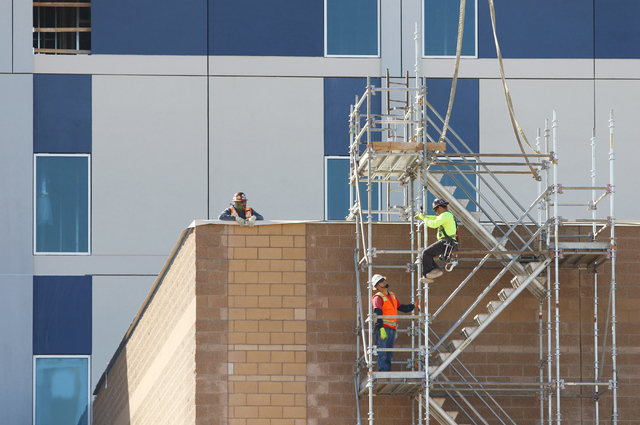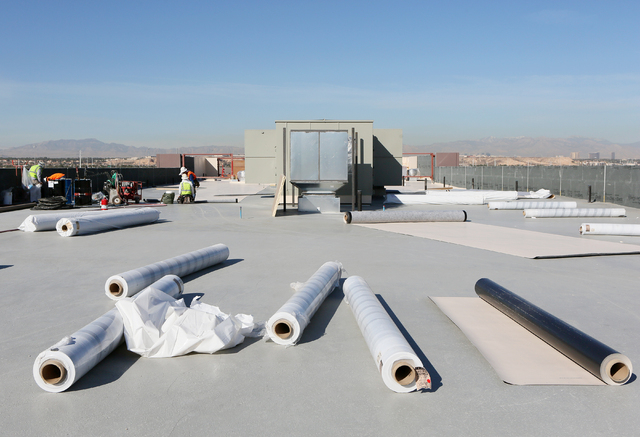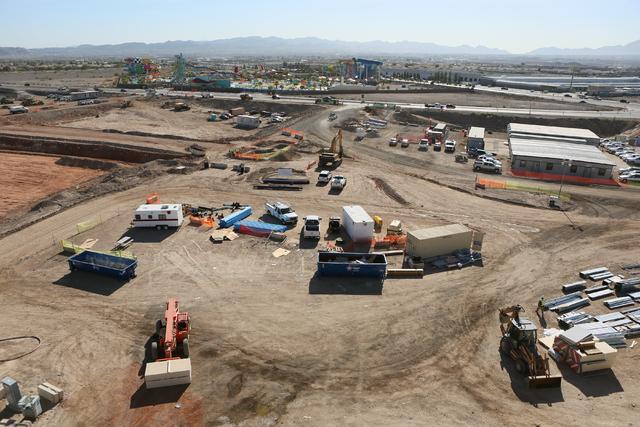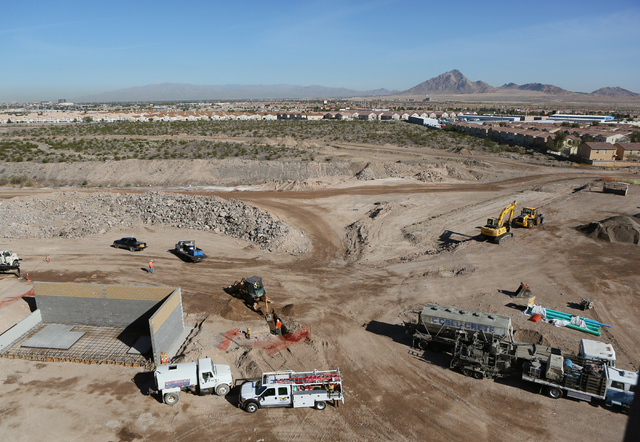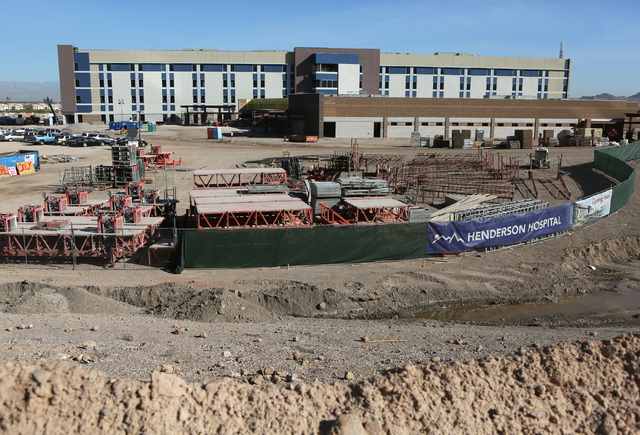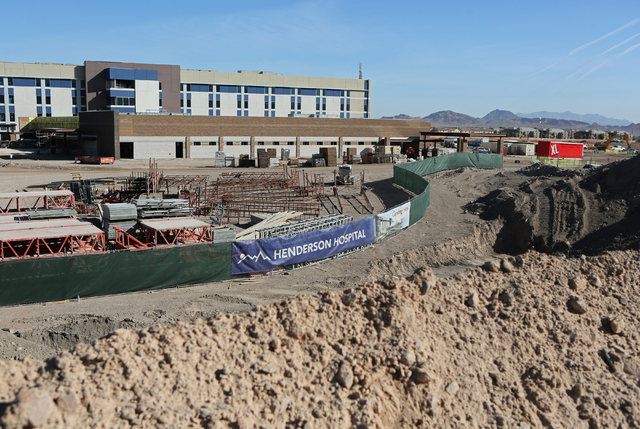 An integrated health village in Henderson is taking shape and a hospital is on track to open in October.
Known as Union Village, the $1.2 billion, 170-acre planned community at the northeast corner of U.S. Highway 95 at Galleria Drive and Russell Road will feature Henderson Hospital, a 142-bed acute-care facility that will be part of Valley Health System.
The full-service facility will include surgery, women's and children's services and cardiology.
It's all integrated into a master plan that covers not only health care, but housing, retail and entertainment.
"The progress of the hospital has been amazing," Union Village project co-founder Gary Holland said. "It's going to be very cool to have it up and operational in October. Everybody asked if the project was real and once the hospital construction began, it made a lot of difference."
Planning and negotiations are underway for construction to start on the rest of the project.
Besides the hospital, plans call for a 125-bed skilled nursing facility, a 45-bed long-term care hospital and 300 units for assisted living, independent living and for memory care.
"We had a major investment group out of Boston doing our debt and equity for the project, and we met with our senior village partner," said Holland, who expects more construction to start by year's end.
Union Village has sold 10 acres to Las Vegas Athletic Club for a 95,000- square-foot gym on the site.
"They're a good partner and one of the first ones in with the hospital," Holland said. "The fact that we sold land to them helped with our cash flow in moving the other projects forward. We think down the road we will have some potential integration with them for the things that we are doing on the medical side. One of the things that was really appealing to us is it speaks to health and wellness, which is the overriding theme at Union Village."
The project's goal is to attract those people to visit other on-campus sites and make it a destination. That means stopping at retail stores and restaurants.
"We're just starting to ramp up on that, and if we get a portion of those people to stay on the campus every day, it's really going to the overall theme of the village," Holland said.
A deal with a residential builder is close, he said, and that will include upscale family apartments and perhaps senior apartments.
In planning is a pavilion that will feature eastern and western medical specialties — acupuncture, acupressure and yoga, among others — as part of a broader medical tourism strategy.
"We're starting to line up people who want to lease space in it," Holland said. "We had a three-hour meeting with a group that wants to come in and lease a lot of square footage for wellness applications. We have another group that wants to bring all of their business to Union Village."
Holland said the group reached out to contacts in China and Vietnam and plans an overseas focus group to determine what type of eastern medicine they want on campus to make it a medical tourism destination.
The concept started at 40,000 square feet, grew to 50,000 and now is likely to be 60,000 square feet, Holland said. There may be need for a second phase.
Valley Hospital has interest in outpatient facilities and the campus may have a pharmacy, too, he said.
"We have a lot of moving parts to it, and we're trying to take the wellness thing from concept to model," Holland said.
"We're building it out and finding a lot of people who are very proactive in reaching out to us and want to be a part of the process and project. It's getting a lot of traction and taking on a life of its own now. We didn't realize it would be this popular this early. We're not ready to announce what those treatments might be and who operators might be. That is still on the drawing board. But suffice to say there is a tremendous amount of interest and this will be something special."