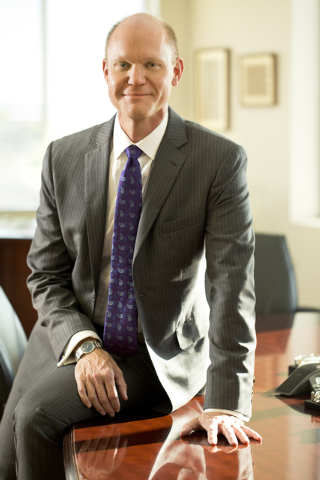 Many people have heard the refrain about never letting a good crisis go to waste. Nevada's leaders seized the opportunity of the Great Recession to overhaul the way we develop economically. With the economy on the upswing again, we need to sustain our momentum in 2015 to truly achieve economic diversification and a prosperous future for all Southern Nevadans.
This year, Southern Nevadans will need to capitalize on the nascent economic recovery by making strategic investments for the future. First and foremost, that means coalescing around a plan to improve our struggling public schools. Public schools prepare our future workforce, and the quality of a region's workforce is a top concern for businesses studying whether they should do business here.
It is embarrassing when an international business executive seeking to do business in the Las Vegas region comes into my office and worryingly shows me a Review-Journal headline stating our education system ranks near last in the nation. Later, we learned that we lost that opportunity for more jobs.
We will win opportunities like that when we get behind the leadership of Gov. Brian Sandoval and the Nevada Legislature to pass a comprehensive plan to fix our public education system.
That said, all the forecasts I have seen predict a continuing economic recovery. At the Las Vegas Global Economic Alliance we know we are going to see a healthy number of businesses relocating to or expanding in the Las Vegas Valley.
We will see more private commercial and industrial groundbreakings. But, as we have outlined in 2014, we need to see more large industrial buildings in our market. Some developers should be applauded for breaking ground on new, large industrial developments, but we see large, Fortune 500 companies skip Southern Nevada because supply does not meet demand for existing large industrial space here.
Meanwhile, this region is going to see conversations about infrastructure become louder and more challenging. This community will eventually need to address the fact that Las Vegas is the only major Mountain West metropolitan region without a fixed rail transit system.
Southern Nevadans will need to expand its convention center just as our competitors in Phoenix and Orlando, Fla., are doing. We will need to support projects that will ensure our water sustainability for decades to come.
To live up to the rhetoric of economic diversification to transform our economy, Southern Nevada business organizations, economic development professionals, and community partners will need to come together in 2015 like never before.
Some will say we cannot afford to do all of this. At risk of losing our competitive advantages, we cannot afford not to.