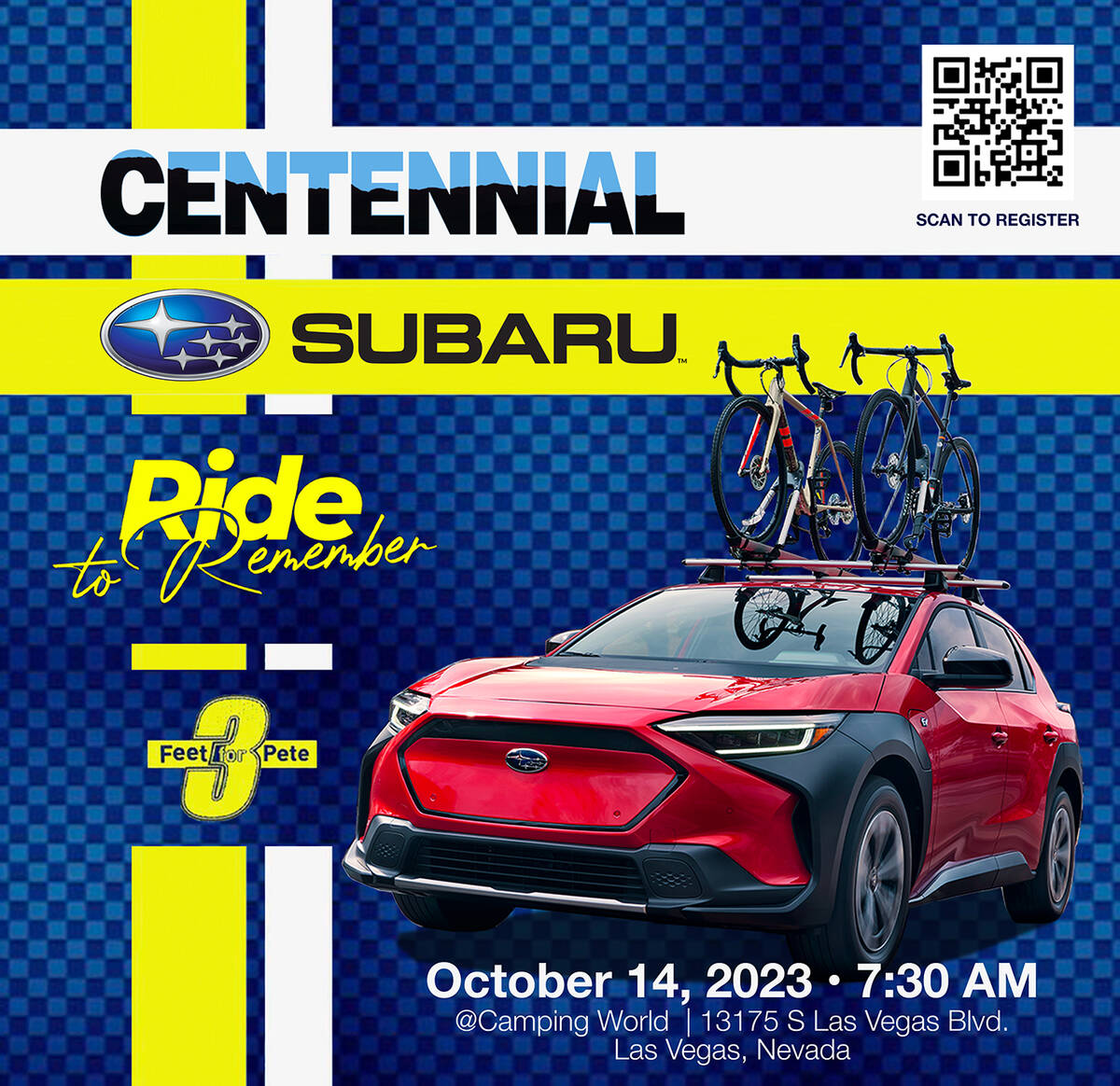 Las Vegas Centennial SUBARU is sponsoring a "Ride to Remember" cycling event Oct. 14 in conjunction with "3 Feet for Pete," a Southern Nevada memorial honoring Pete Makowski, a cyclist who was killed in 2013 when he was struck by a gravel truck.
Cyclists are scheduled to meet at 6:30 a.m. at Camping World on Las Vegas Boulevard South. Waves of 50 riders begin leaving at 7 a.m. and proceed south on Las Vegas Boulevard to Jean, before turning around and heading back. The round-trip ride is approximately 28 miles.
The entry fee is $25 per person. All proceeds go toward funding the annual event and raising awareness of Nevada's 3-feet law that states that motorists passing a bicyclist must move into an adjacent lane to the left, if possible. It unable to do so, a motorist must pass within a minimum of 3 feet of space between their vehicle and the bicyclist.
Road closures will be enforced during the ride with support from Las Vegas Metropolitan Police, the Nevada Highway Patrol and the Bureau of Land Management. This is not a race, competition or training ride. The goal of the event is to promote cycling safety and bring together the cycling community as a whole. Helmets are required, and any type of bike is eligible. The ride will have a controlled pace of 12 to 14 mph.
"Centennial SUBARU is proud to sponsor Ride to Remember to increase road safety in Southern Nevada," General Manager Ryon Walters said. "3 Feet for Pete is a wonderful memorial to not only honor Pete Makowski, but to shine a spotlight on sharing the road with bicyclists and to promote both safe driving and cycling habits. Ride to Remember also fits well with Centennial SUBARU's Love Promise initiative."
Centennial SUBARU was recently honored with SUBARU's Love Promise 2023 Community Commitment Award for outstanding commitment to the Southern Nevada community. SUBARU Corporation and SUBARU of America, Inc., recognized the retailer for its support of local community with time, resources and love.
For more information and to register for Ride to Remember, go to threefeetforpete.com.
Centennial SUBARU's parent company is Ascent Automotive Group (AAG), a platform comprised of various retailer stores located across America with a focus on next-level customer service and care. AAG is also the parent company of Lexus of Las Vegas and Lexus of Henderson.