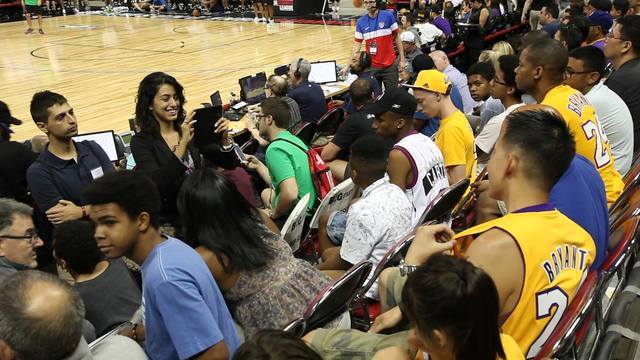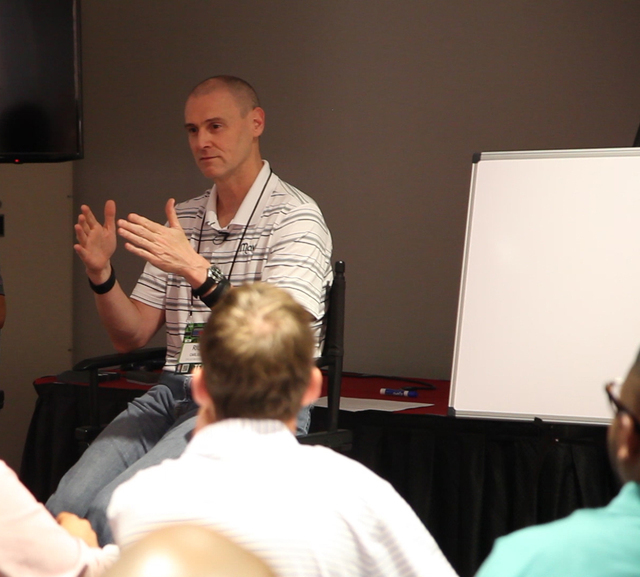 The NBA Summer League is known for developing future stars on the court, but it is also building a reputation for developing future stars for the business operations side of professional sports.
For the second year, the Sports Business Classroom is being held in Las Vegas to coincide with the Samsung NBA Summer League. The program, which will run July 8-13, is designed to help those looking to break into sports business.
The six-day Business of Basketball program will let attendees train and interact with top executives while working in team video, scouting and analytics; social media and public relations and broadcast production and distribution. The two-day executive session is designed to teach league and team personnel, agents and accredited media to analyze the league's salary cap.
Business of Basketball program participants who are specializing in the league salary cap will learn shoulder-to-shoulder with industry personnel enrolled in the Executive Session. Larry Coon, the information technology director at University of California, Irvine, will teach both the Business of Basketball salary cap discipline and the executive session.
Coon, who has taught computer science courses, specializing in database theory, is a lifelong National Basketball Association fan and has been featured in The New York Times, the Los Angeles Times and Sports Illustrated. He leveraged his working knowledge of the league's salary cap and trade rules to organize the Salary Cap FAQ, his bio on the website at cbafaq.com says.
He makes regular media appearances including television (such as ESPN's "Outside the Lines"), radio and podcasts.
Coon said the classes aim to give students an immersive, hands-on look at sports business. Students in the scouting class will break down Summer League game film. Students in the social media tract will work with players to create social media campaigns. Broadcast tract students will work the games' video and radio broadcasts.
Coon compares the Sports Business Classroom's first few days to general education classes in college.
"What we are doing here is giving everybody a little bit of everything in the first few days," he said. "In the salary cap portion, we even call it Salary Cap 101-401. Everybody is getting a bit of that experience. When it comes time to choose their major, they will really dive deep into the subjects."
Coon has two sessions for his salary cap class. The executive session is for junior executives or others with NBA front offices jobs who are looking to move to a better job. Another session is for agents and media members who are trying to better understand the salary cap.
There are only 30 NBA teams and the jobs with them are few. Coon said it helps to know someone in the team's front office, plays in the NBA, or have a parent who is an NBA executive.
"If you talk to Mark Cuban (owner of the NBA's Dallas Mavericks), he says people come to him all the time asking 'what do I do to get a job in the front office'," Coon said. "He says, 'Don't – don't even try.' This is one of those high-profile things where every entry-level job, there are 1,000 guys who want that job. You are competing with so many people just for a job where you are getting coffee or making airport runs to start."
Albert Hall, an NBA Summer League co-founder and a Sports Business Classroom presenter, said there are no clear-cut paths, such as a law degree or a masters o business administration, to get a job with an NBA team. He said teams are, "looking for guys who get the job done."
"I don't know the exact sizes of front offices and the teams, but in every given organization has 100-plus people they would employ on the team side," Hall said. "When you start factoring in sales, marketing, ticketing, obviously basketball operations, and broadcast, it adds up very quick. There are a lot of jobs in the industry, when you think about sports, not just basketball. If you think about it overall, each franchise tends to employ quite a large staff."
Coon said the Sports Business Classroom helps students stand out by providing networking opportunities during the summer league — many of the instructors work for NBA and National Football League teams. The program also helps students perfect their elevator pitch to team executives.
The program also aims to help students who are already working for pro teams advance their careers.
Hall, who worked in the Seattle SuperSonics' front office from 1993 to 1998, said people are starting to move around different organizations for bigger and better opportunities, partly because of analytics and specialization.
This is different from Hall's time with the Sonics as former players or coaches filled many positions in the front office.
"It has become more specialized, but at the same time, teams are looking to fill roles with guys who are coming up or guys who are moving from organization to organization" Hall said.
"I say this as an outsider because I don't work in any team's front office. I do know several in front offices, and it's a very connected network.
"They tend to know everything about each other. They are good friends and their families are good friends. They know what specialty certain people have, and when they have a void, they generally have a good idea of who they will go after."