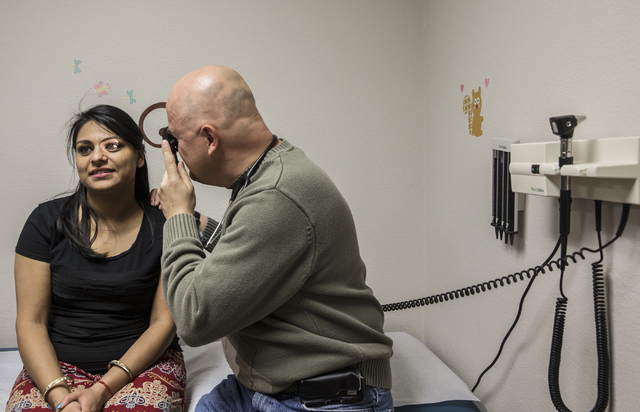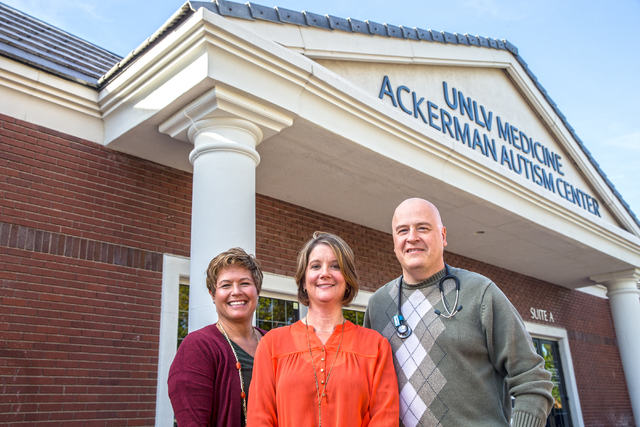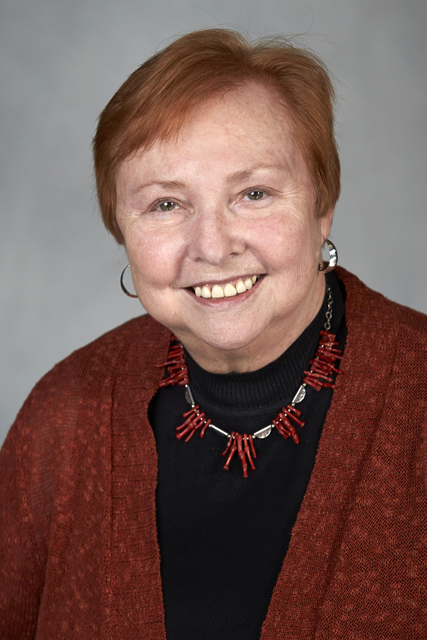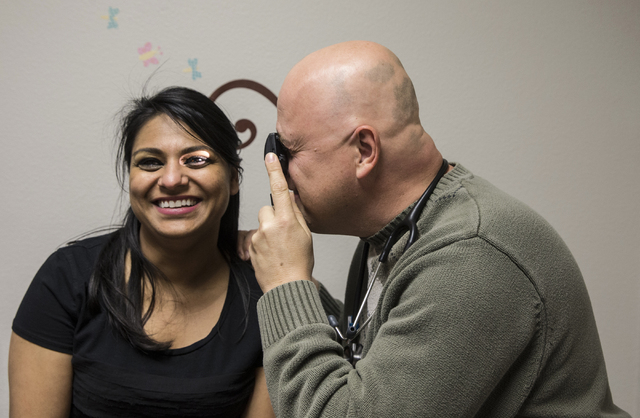 The University of Nevada, Las Vegas School of Medicine has gotten the official go-ahead to start classes in July, but Nevada children are already benefiting from it.
The school started sifting through applications during the first week of November to select its first class after it was recently granted preliminary accreditation.
In October, the UNLV Medicine Ackerman Center for Autism and Neurodevelopment Solutions celebrated its grand opening to accept patients beyond those with Medicaid. It's the first center in Nevada and one of a few in the nation to offer a full complement of autism and neurodevelopmental care, including diagnostics, treatment, behavioral support and transition planning, in one place.
In essence, it's the first ball to drop for the medical school and a dream starting to become a reality, said Barbara Atkinson, founding dean of UNLV's new medical school. In July, the school takes over the practices of all of the doctors now practicing as part of the University of Nevada, Reno School of Medicine.
"This is a test of the first kind of practice. It's the first time we really started patient care," Atkinson said. "We're already starting to have pediatric residents in the clinic, and psychiatry residents are doing some of the treatment. We will ultimately have medical students there, so this will be a real educational program for residents and for students."
Starting next summer, UNLV School of Medicine takes over internal medicine, surgery and trauma residency programs at University Medical Center and OB-GYN programs at Sunrise Hospital and UMC and other residencies managed by the UNR School of Medicine, Atkinson said.
Everybody is excited, even though change can be challenging and viewed with uncertainty, said Deborah Kuhls, a UMC trauma surgeon, chief of critical care in the surgery department and professor of surgery at the UNR School of Medicine. The UNLV medical school has said all of the faculty are welcome, she said.
"For faculty like myself, even though we have always had outreach to the community, I think it will be much more significant since everyone will live in Southern Nevada and be in touch with what is going on in our community and what the needs are," Kuhls said. "I see all the clinical departments expanding when the school is set up. There will be career development for faculty so we can retain people who go to medical school and residency programs here. There will be more potential for them to stay in Nevada."
What the transition means is the leadership will focus solely on the needs in Southern Nevada in terms of recruitment of students and meeting faculty's needs, Kuhls said. Since everyone will be based in Southern Nevada rather than Reno, if there's a marketing need, for example, Kuhls said, they can meet with people rather than on a telephone call or video conferencing. That kind of interaction is important, she added.
Kuhls said the impact of launching the medical school is profound for people in middle school, high school or pursuing undergraduate degrees. If they're interested in medicine, it's great for them to get some early exposure to what it means to be a physician, she said.
"We're like the 50th of 50 states in physicians per capita, so there's a lot of need to add more physicians throughout the state, including Southern Nevada, where the need is the greatest," Kuhls said. "It will allow for us in the long run to provide better health care for the citizens of Southern Nevada. That's what we're all about. There will be enough physicians in enough specialties that people won't have to go outside of Nevada for their health care. The public will be convinced we have great health care in Southern Nevada. Sometimes the public perception is different from what we perceive as physicians, but it's a win-win all around."
In opening the UNLV Medicine Ackerman Center for Autism and Neurodevelopment Solutions, UNLV partnered with the Grant a Gift Autism Foundation that raised the funds to renovate and furnish the facility at 630 S. Rancho Drive. The foundation also pays for the center's diagnosis and treatment of children whose families cannot afford the services on their own.
Atkinson said autism is one of the fastest-growing developmental disorders in the U.S., affecting one in 68 children, including one in 42 boys. More than 4,750 young Clark County residents are affected, and the center has had more than 600 patient visits so far, she said.
Previously, many children were just not getting treated or were identified in school and put in special classes. They weren't getting the kind of behavioral therapy that they really need, Atkinson said.
In his last budget, Gov. Brian Sandoval put in tens of millions of dollars for behavioral therapy for children with autism and autism spectrum disorders, Atkinson said. The money's been there for treatment, but there weren't enough cases being diagnosed to use it, she said.
The Ackerman Center is now ready to take anyone who needs diagnosis and treatment, after initially focusing on Medicaid patients who had long been bypassed for care, Atkinson said. They need a variety of treatment, from behavioral therapy to physical therapy to speech and occupational therapy. The more care they can get early, the better off children are in the end, she said.
"This is a huge asset for the community," Atkinson said. "There were a few other places either to get treatment or diagnosis, but there wasn't another place to go where you could get both. The hope is, if kids are treated when they are young, they are mainstreamed and essentially normal after treatment. There are some that are more severely disabled than that, but if you start treatment early, they are better than they were before."
The center serves as a model for the first clinical enterprise for the UNLV School of Medicine, which will improve not only the university but also the economy and health care of Las Vegas, she said. Comprehensive care models are something the community desperately needs, she said.
"I've heard so many stories about families here who had to leave the city to access specialists, and when they don't have the financial means to do so, they can suffer on long wait lists. The School of Medicine aims to fix that in our community no matter the specialty."