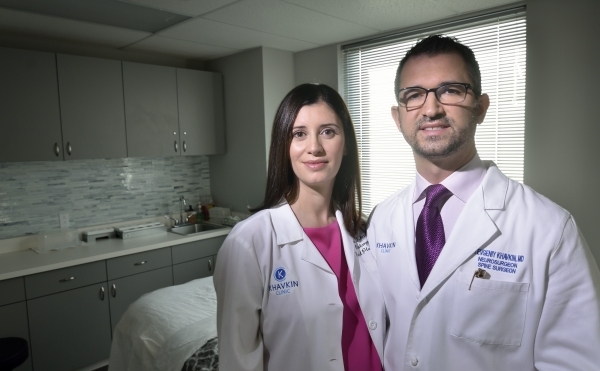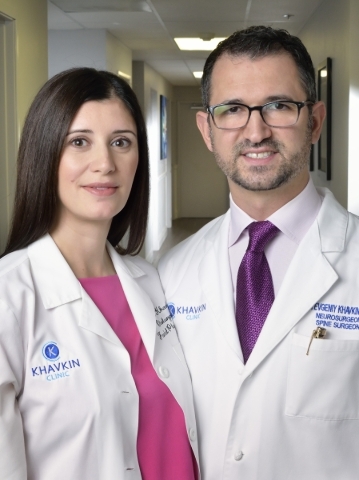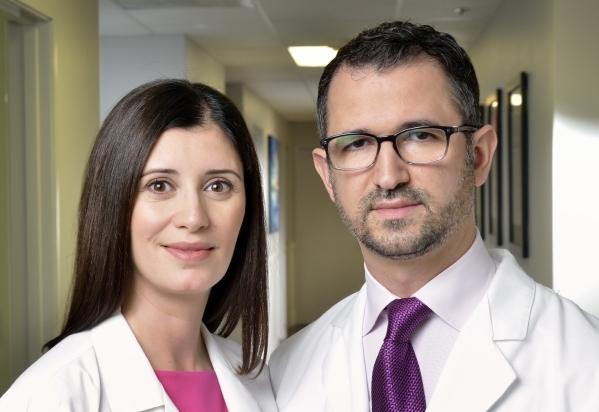 They're a burgeoning Las Vegas medical power couple — Russian style.
Meet Drs. Yevgeniy and Jeannie Khavkin.
Remember their names. They've got their hands in many projects across the Valley — from hospital boards to nonprofits. And they're on their way to building their own surgical center.
She's the shy and quiet plastic surgeon, and he's the outgoing, constantly on the move and talkative neurosurgeon. In the style of TV's Doogie Howser, he embarked on his medical career as a teenager, only this case in Moscow.
Opposites in personality but similar in backgrounds with mothers who were pediatric doctors and who's families left Russia in the 1990s because of the discrimination they felt because of their Jewish roots.
The couple moved to Las Vegas in 2010 and are making their mark on the medical community. They combined their practices two years ago under the name Khavkin Clinic and continue to expand.
They recently bought five acres in the southwest valley near IKEA with plans for their clinic and a surgery center that will not only serve valley residents but a growing medical tourism practice.
Jeannie, in her subdued and reflective style, doesn't know what to make of all of the talk about how they've become a power couple. "We have been called that and I'm not sure what it's supposed to feel like," she said. "We're just lucky to do what we do in Las Vegas and have the professional opportunity to work together."
She's pregnant with the couple's third child, due in March, this time a daughter to go along with sons Elliot and Noah.
Jeannie's story
A part of a doctor power couple in America wasn't something she envisioned growing up in Belarus, now a republic but once part of the Soviet Union. She knew she wanted to be a doctor at an early age. Her mother worked as a neo-natal care specialist and Jeannie was influenced by her grandmother who worked as a physician too.
"When my mom treated newborns, I followed her on hospital rounds to see her patients," Jeannie said. "I absolutely wanted to be a doctor. I even thought about pediatric medicine but that changed when I went to medical school."
Her family came to the United States in 1990 when the Soviet Union opened its borders and allowed them to leave. Jeannie was 15 at the time and she and her parents jumped at the opportunity, moving to Chicago where her brother had been living.
"It wasn't about their careers because they were in their 50s, but it was that there would be more opportunities for us," Jeannie said.
She graduated from Northwestern and attended Rush Medical College before doing her residency at the University of Illinois at Chicago and a fellowship in Canada.
"When I was in college, I got interested in neuroscience," Jeannie said. "I have always loved the brain and was fascinated by it. I thought I would do something along those lines and when I went to medical school I got interested in surgery. I ended up in ear nose and throat surgery and fell in love with it. Once in residency, I was fortunate to have mentors in facial plastic surgery."
Jeannie, one of the few female plastic surgeons in Nevada, does surgical and nonsurgical procedures on the face and neck. That includes rhinoplasty, facelifts, neck lifts, eyelid and forehead lifts, scar revision and skin cancer reconstructive surgery. She does Botox, Dysport, injectable fillers, microdermabrasion and other skin treatments.
"My mentor was incredibly gifted in rhinoplasty, and you have to think structure and function and form and aesthetics," Jeannie said. "There's a lot of artistry that goes into that as well. I have never seen it anywhere else in the field of medicine."
Yevgeniy's story
Her husband, Yevgeniy, who at 41 is one year older than Jeannie, grew up in Moscow, the son of a mother who was a pediatric surgeon and a father who was a musician in the Moscow Symphony Orchestra. His brother, a cardiac surgeon, who defected to the United States in the late 1980s and applied for political asylum.
That prompted repercussions for the family who sought to leave Russia and did so in 1994. They headed to Chicago where Yevgeniy's brother had relocated.
Having started medical school in Russia at age 16, Yevgeniy was able to transfer to the University of Chicago School of Medicine. After graduating from a neurosurgery residency at the University of Chicago, he completed a complex spine fellowship at John Hopkins University where presidential candidate Ben Carson was the director of pediatric neurosurgery.
"I always wanted to be a surgeon," he said. "Once you decide a field, you pick one that fascinates you the most. I have always been fascinated with the nervous system and brain-spine interaction."
Yevgeniy went to Northwestern University where he was director of neurosurgery spine services. It was there the Chicago Tribune did a feature story on him as the Russian Doogie Howser, the television character who became a doctor as a teen.
In 2010, Yevgeniy decided he wanted to practice in Las Vegas and when Jeannie finished her fellowship in Canada, they got married and relocated here.
"I was disenchanted with the weather and academic practice," Yevgeniy said. "I did not want to continue working for a big university. I wanted to create something. I enjoyed the teaching part and still teach students and residents courses here and abroad. It was more to create something and build an organization."
Yevgeniy joined a practice when he relocated to Las Vegas and the Khavkins joined forces to open their own clinic in 2013. It's a multi-specialty practice that combines neurosurgery/spine, facial plastics/ear nose and throat, anesthesia, and cardiology. Other specialties are under consideration to be added.
Yevgeniy said most of his focus is on spine surgery by dealing with those who have back and neck problems and often times need surgeries to relieve pain and improve their lives. That makes it rewarding and gratifying because there are successful outcomes and patients are ecstatic.
Yevgeniy is chairman of the Department of Surgery at Southern Hills Hospital; director of Spine and Neurosurgery Service at Spring Valley Hospital and director of Spine and Neurosurgery Service Centennial Hills Hospital.
Jeannie and Yevgeniy were living in Chicago when they met through his parents who knew someone that started the process.
"It was in a Russian Jewish way — they gave me her phone number but didn't tell her I would be calling," Yevgeniy said. "I called and she asked who is this and how do you have my phone number. She started Googling me to see what I look like and she if I was telling the truth that I was a doctor."
Jeannie acknowledges the differences between the couple and how she is introverted and he's outgoing but how they have a similar background and have the same values and love of family.
"She can be on a flight from here to London for 10 hours and sit next to someone and never talk to them," Yevgeniy said. "When we go out, I can sit next to people at dinner and talk with them. She would never consider doing that but she accepts that and loves me doing that. Everybody is different. The main reason I went into medicine is because I loved people. I enjoy meeting new people. They call me the mayor of (the subdivision) where we live on the west side. I'm like a politician who enjoys interacting with people."
A family affair
Jeannie said that's how they make their relationship work. They can't both be the same personality, and it's true that opposites attract, she said. And when it comes to working together, Jeannie said it's "really fun" and she enjoys doing combined surgeries with Yevgeniy.
"It's very different to work with someone you know so well and trust," Jeannie said. "He has amazing surgical skills and a lot of confidence. You can't ask for a better assistant than when he helps me."
Yevgeniy said it's great to work with her and beyond that they also work with his brother, Albert, an anesthesiologist who is part of the practice. That makes it special, he said.
Both are involved in charitable endeavors. She is a board member of Smiles for Survivors, a local foundation that provides oral rehabilitation to breast cancer survivors. She also donates time to Helping Hands Surgical Care, an organization that facilitates surgeries for underinsured and uninsured patients.
Yevgeniy is involved in international humanitarian work, contributing to improving medical care in Eastern European countries. He's gone to Russia to work at orphanages helping those with orthopedic and neurological problems.
All of that goes into making them a Las Vegas medical power couple.
Yevgeniy said it's not about a title but it must mean something.
"I think what it comes down to is what type of impact you have on other people's lives," Yevgeniy said. "That's a true power couple. In that sense, I do believe that we're not just a power couple but a power practice. We're fortunate to be in a position to make a huge impact on people's lives on a daily basis."
Khavkins look toward medical tourism
Medical tourism is a growing part of the Las Vegas economy, and Drs. Jeannie and Yevgeniy Khavkin want to be at the forefront.
The couple, who opened the Khavkin Clinic in 2013, are planning for its expansion with the construction of a multi-specialty facility that primarily serves Southern Nevada. But part of their focus is on medical tourism.
They have acquired land in the southwest valley for a 60,000-square-foot clinic and surgery center.
Some 10 percent of the practice relies on medical tourism, and that figure continues to grow. Patients come from Russia, Canada, Mexico, South America, China and Eastern Europe.
"Most people in this country have insurance, and they go locally for care," Yevgeniy said. "Las Vegas' reputation is such that it is the capital of hospitality, entertainment and shopping but few people in this country think of it as a place to go for medical care. It's very different internationally. It's very highly respected and people like to come here because our medical care is regarded as the best in the world."
Yevgeniy said the international patients are people who can afford to travel abroad for medical care and who pay with cash. They consider such places as the Mayo Clinic, Cleveland Clinic and John Hopkins, but people want an experience when they travel, he said.
"Those facilities are wonderful, but they're not in the most attractive parts of the country. You're talking Rochester, Baltimore and Cleveland. They're not some place to go visit. Vegas is a whole different level. A lot of people come here for excellent medical care and a great experience. They enjoy their time here because they come with their families."
Yevgeniy said the practice hopes to start construction within a couple of years but doesn't have a timetable. He called it an exciting project that's part of the trend that's taking hold in Las Vegas' medical community.
"I have gotten to know a lot of great physicians over the years, and some of the best I've ever worked with are right here in town," Yevgeniy said. "Recently more and more greatly trained physicians are coming here to stay and open practices and deliver great care. That's exciting."
Yevgeniy said he is still bothered by the stories he heard when he moved to Las Vegas. People joked that the place to go for the best medical care is McCarran International Airport.
"That's not a joke you want to hear as a physician," Yevgeniy said. "The perception is changing. More and more people who live here and used to travel elsewhere for care are staying in town and getting great care. It's not just in my field, but all fields in medicine."