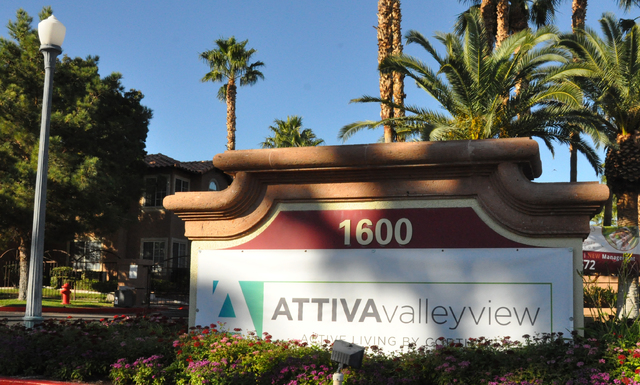 Atlanta-based Cortland Partners is the new owner of three senior living communities previously owned and managed by Destinations Living.
The ownership of Destinations Living — a collection of eight gated-communities throughout the Las Vegas valley — sold seven of its properties in late October, according to the Clark County Recorder's office. AG Mortgage Investment Trust Inc. is associated with all seven Limited-Liability Companies listed as the property sellers.
Destinations Valley View, 1600 S. Valley View Blvd, Sandhill, 3210 S. Sandhill Road, and Winterhaven, 3300 N. Winterhaven Ave., are now managed by Cortland and are named Attiva — which is the Italian word for active. The combined price of the three properties is about $48 million, according to county records.
"What we do is acquire quality properties that are in need of interior rennovation and we do that work," said Cortland director of investments Michael Hartman. New flooring, amenities, granite counter tops, new appliances. We focus on really improving the living spaces for our residents."
The company owns and manages nearly 35,000 apartment residences in seven states, principally in the southeastern U.S. "We are not just a managment company," explained Hartman. "We own these properties and take good care of them. These are our four properties in the Las Vegas area. We are definitely interested in expanding further in this region."
The communities Destinations Pebble, 1450 E. Pebble Road; Spring Valley, 3925 S. Jones Blvd.; Alexander, 3949 W. Alexander Road; and Pueblo, 8600 Scholar Lane, were sold to individual LLCs that share a Washington D.C. address associated with The Carlyle Group, global private equity and investment firm based in New York. County records show the collective purchase price for the four properties to be about $171 million.
Destinations Oakey, 3900 W. Oakey Blvd., did not change ownership. The property's website does indicate, however, that the facility celebrated its grand opening on Nov. 3. The facility is designed for residents in need of assisted-living services, unlike the other properties, which are only age restricted apartment complexes.
The one and two-bedroom rental communities cater to people 55 and over. Pools, fitness centers, clubhouses, picnic areas and community gardens are among the promoted amenities.
Representatives from The Carlyle Group, AG Mortgage Investment Trust and Destinations Living did not respond by press time to Business Press requests to participate in this story.