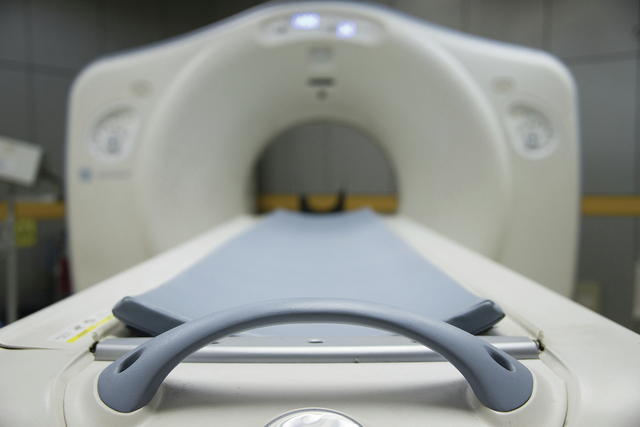 Patients with heart problems may be able to undergo an MRI scan soon, thanks to a groundbreaking study that includes Dr. Dhiraj Narula, a cardiologist with HealthCare Partners in Las Vegas.
Medtronic chose Narula and HealthCare Partners to particpate in a study of the Evera MRI implantable cardioverter-defibrillator system, a new technology that, once approved by the Food and Drug Administration, will allow cardiology patients to undergo an MRI. Narula was the first cardiologist in the West to implant the device.
The study aims to confirm the Evera MRI ICD's safety and effectiveness of in the clinical MRI environment. An MRI is used to produce detailed images of organs and internal structures by using strong magnetic fields and radio waves. The magnetic fields can cause implantable cardioverter-defibrillators, pacemakers and other implanted medical devices containing metal to malfunction or heat up, according to a release from the University of North Carolina Center for Heart and Vascular Care, which also participated in the study.
Once approved, the device will allow cardiologists to use the MRI to image soft tissue and better identify problems facing patients with ICDs, which help keep patients with heart problems alive during a heart attack, Narula said.
"So the conundrum for us was we placed these devices in patients, but following that, they couldn't be admitted to the MRI scan room," Narula said. "So, if they ever came up with a problem that needed that scan, we ended up using a work-around or not getting the correct imaging. And in some cases, it makes a huge difference."
Narula recounted the situation facing a patient experiencing double vision. After Narula's initial examination, he referred the patient to an eye doctor. After a CT scan by the eye doctor, there was still no diagnosis made.
"We ended up doing a very specialized protocol for this guy where we actually got the MRI scan done with a lot of backup and risk from the pacemaker," Narula said. "It turned out he had a tumor behind the eye that needed to be treated. If the pacemaker had been MRI compatible, the diagnosis could have been made right away, but it took a lot of intervention and effort on our part to try and get the appropriate scan done, including me literally standing right outside the MRI suite while he was getting the scan done. We ended up putting a lot of resources into getting this done for him because we knew he needed the scan done to find the right diagnosis."
Situations such as the patient experiencing double vision prompted Narula to join the Medtronic study on an MRI-compatible ICD. Narula was chosen to participate in the study partly because of HealthCare Partners investment in its research infrastructure. Narula's research team includes nursing supervisor Roxanne Aranas and research nurses Christie Abano and Malou Dumo. HealthCare Partners was only one of 40 locations worldwide selected for the study.
"HealthCare Partners has made the investment in research infrastructure, which doesn't come cheap," Narula said. "It's expensive to start, and like you always lose money. So, if making money is your goal, this is not the place to be necessarily. If improving care is your goal, this is a good place to invest. So, HealthCare Partners made the investment in setting up a research infrastructure and having the skill sets available. We also had a background of successfully completing many studies before. It's not the only study we've done or are going to do. We are currently running other studies that are pretty cutting-edge stuff."
Narula also needed patients who need the device. Nine of his patients were implanted with the ICD, which was designed to take out any components that could potentially be affected by an MRI. Five of his patients underwent an MRI without any problems.
"Anyone who participated in the study agreed to come back and get an MRI if needed as part of the study. If they didn't need an MRI, they would actually subject themselves to the MRI to prove that it worked. The way the study was designed was that all the patients got the device, and half would get the MRI. We also did further testing on the device afterward to show or compare to the ones who got the MRI to those who did not get the MRI. Essentially, what the FDA wanted to see was if the device worked. …
"All of this was discussed and disclosed to the patients ahead of time, and essentially for patients enrolled in the study, the potential positive was they might get a device that could be proven to be compatible with MRIs."
Narula's results seem to be indicative of the study, which has been approved for a continued access study by the FDA. Narula said this means that the original study sites can have continued access to the device. The FDA approval process is extensive.
"Under a second clinical study, it is not so much a randomized study, but it is an ongoing protocol to follow these patients," Narula said. "Very shortly, we should have it available again to our patients in Las Vegas. Until the FDA approves it for general release, it will be available only here."