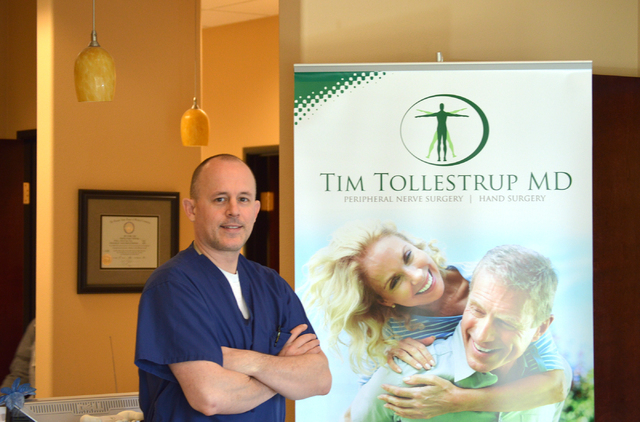 When it comes to treating nerve injuries, local surgeon Timothy Tollestrup may change how doctors deal with pain.
Tollestrup, a sole practitioner who has an office in Henderson, specializes in the peripheral nervous system, which encompasses all of the nerves in the human body outside of the skull and bony spine. The peripheral nervous system sends signals to the brain, which is how people experience pain.
He said he can pinpoint the source of a patient's pain by identifying damaged, pinched or stretched nerves and eliminating the actual cause of the pain without keeping patients on painkillers.
"Peripheral nerve surgery is a new field of surgery in this town," he said. "About 99 percent of doctors, unless they've met me, would have no idea about this. The peripheral nervous system is very complicated, and the peripheral nerves can have a lot of variations from person to person, especially the smaller the nerve gets. Two people with pain in the same area may not be dealing with the same nerve or the same configuration of nerves, and that is one of the challenges of this field.
"It comes down to knowing the anatomy where you know the most likely configuration of the nerves, and what are the secondary, third and fourth options. This field is really exciting and offers solutions to different chronic pain problems where there were none before."
Tollestrup explained he is one of the few doctors who deal with the peripheral nervous system because doctors are not really taught anything about the peripheral nervous system in medical school.
Tollestrup said he is the only peripheral nerve specialist practicing west of the Mississippi River. He does most of his surgeries within Dignity Health's St. Rose hospitals.
He earned his medical and master of public health degrees from the University of Utah. He completed his residency in general and trauma surgery at St. Louis University Hospital; a fellowship in hand, reconstructive and microsurgery at Baylor College of Medicine; and another fellowship in peripheral nerve surgery at the Dellon Institute of Peripheral Nerve Surgery. He said Dr. Lee Dellon pioneered the field of peripheral nerve surgery.
As more American workers are required to work on computers, a common work-related injury among office workers is carpal tunnel syndrome. Carpal tunnel syndrome occurs when the median nerve, which runs from the forearm into the palm of the hand, becomes pressed or squeezed at the wrist, according to the National Institute of Neurological Disorders and Stroke.
Other office workers also suffer from cubital tunnel syndrome, which is the second most common peripheral nerve injury. It is most common in patients whose work involves protracted periods of elbow flexion, such as holding a telephone, according to the U.S. National Library of Medicine National Institutes of Health.
These types of peripheral nerve injuries received a lot of publicity 20 years ago, but the media coverage surrounding these injuries seems to have subsided. However, Tollestrup said the injury is still common, despite the awareness of taking breaks from the computer keyboard and using braces and ergonomically designed keypads and mouse pads.
"It's still a really big deal. I don't know if incidents of carpal tunnel has really changed that much," Tollestrup said. "There is more awareness these days, with ergonomic things to try and mitigate the chances of injury. At the same time, there are a lot more people using computers and mouses. People have gotten used to it so it's not much of a topic anymore, but it's still the most common diagnosed compression neuropathy in the human body, which is a fancy doctor term for pinched nerve."
When Tollestrup treats a carpal tunnel or cubital tunnel injury, he decompresses the nerve, and after the surgery heals, the patients are able to return to a life without pain in the affected areas, he said.
And it's not just office-related work injuries that affect the peripheral nervous system.
Tollestrup recounts cases where he helped a firefighter return to work after injuring his brachial plexus after a fall in a burning house. The brachial plexus is a complex web of nerves that sends signals from the spinal cord to the shoulder, arm and hand.
Another patient was suffering from piriformis syndrome after an automobile accident. Piriformis syndrome is a compression of the sciatic nerve. Another patient suffered from severe headaches for more than two years after being hit in the head on a job site. When repairing his original injury, the surgeon sewed into the patient's supraorbital nerve.
In each of these cases, a simple surgical procedure relieved the pain. In the case of the headache patient, Tollestrup blocked his supraorbital nerve in clinic, and the patient sat up saying he didn't have any pain. Later, Tollestrup took the patient into the operating room, made a simple incision, found the nerve and disconnected it.
Shaun Plummer, 35, is one of Tollestrup's satisfied patients. Plummer, a bartender, suffered piriformis syndrome after a snowboarding accident five years ago.
He described the pain as being "really bad on my left side, with shooting pain that settled in the middle of my [buttocks] down to my hamstring. The pain was deep inside my leg. It was a very weird, abstract kind of pain."
After seeing other doctors and not having any success relieving the pain, Plummer was referred to Tollestrup by the father of one of his high school friends. The friend's father is a neurosurgeon and was familiar with Tollestrup's practice. Tollestrup, who has only recently started a marketing program with The Firm, gets most of his patients this way, either through word-of-mouth or doctor referrals.