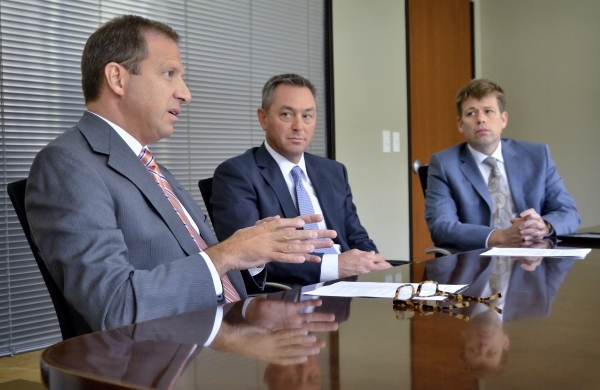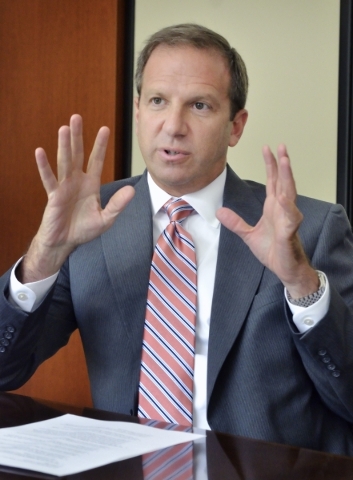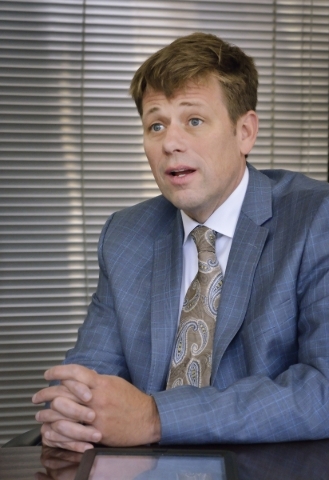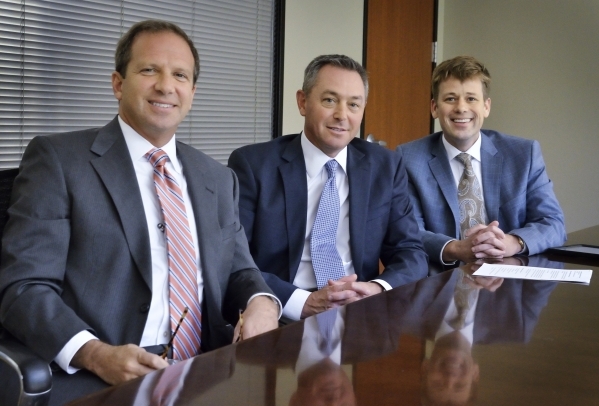 Does size matter? Is bigger really better?
In today's health care world, patients are demanding the latest technology and newest equipment with the best foreseeable outcomes. For hospitals to meet patients' depth-of-care expectations, the answer seems to be: yes, size does matter.
The Business Press recently sat down with the three CEOs of Sunrise Health System — Todd Sklamberg of Sunrise and Sunrise Children's hospitals; Chris Mowan of Mountain View Hospital, and Adam Rudd of Southern Hills Hospital — to discuss the changing hospital landscape in Southern Nevada.
All three hospitals are part of the Hospital Corp. of America. Founded in 1968, the Nashville-based company is comprised of 165 hospitals and 115 freestanding surgery centers in 20 states and England. Approximately four to five percent of all in-patient care delivered in the country today is provided by HCA facilities, according to the company website.
In the Valley, only the non-profits UMC and Boulder City Hospital fit the definition of independent full-service hospitals without large corporate ties.
So, are independently owned and operated hospitals a thing of the past?
"I think so," Sklamberg said. "(It's hard for a single hospital) to be everything to everybody. We are able to leverage the collective strength of the health system."
Mowan agreed. "Unless you are a specialized hospital delivering some specialized care in the health care sector, it's very difficult to survive without a system."
In addition to the financial challenges, hospitals need to be experts in a wide range of subjects, not all of them medical in nature.
"You just have to keep up with the technology and the regulations and everything else," Rudd said. "I think that's the benefit that we have — not only do we have our three hospitals but we have the corporate."
Mowan added: "I think it's a tremendous advantage to have the best practices that are demonstrated in one area of the country and share those within the organization. That's what we do at HCA — that's our model."
With three hospitals in the Valley, there are synergies.
"We work very collaboratively in terms of patients receiving the right care at the right place at the right time," Sklamberg said.
That's especially true for children and for those with life-threatening injuries, Mowan explained.
"We do send our children, if they need to be admitted, to Sunrise Children's hospital because of the great care they give. If we get a trauma patient, we send them to Sunrise."
Rudd pointed to a unique program at Southern Hills.
"We have a RISE program (Respect, Inspire, Strengthen, Empower, a psychological behavioral health program with a 14-bed specialty unit serving patients ages 55 and older.)
"For us, being a smaller hospital (with) these guys behind us makes me a lot more powerful in the community. Because if you come to Southern Hills, it's not as big but with a phone call, I can get you anything you need," Rudd said.
According to a January, 2014, fact sheet released by the Henry Kaiser Family Foundation, after Nevada decided to implement the Affordable Care Act (ACA) Medicaid expansion, nearly seven in 10 (69 percent) uninsured non-elderly people in the state became eligible for financial assistance to gain coverage through either Medicaid or the ACA Marketplaces. The Kaiser Foundation, a leader in health policy analysis, further reports that nearly half (49 percent) of uninsured Nevadans were eligible for either Medicaid or Children's Health Insurance Program (CHIP) as of 2014. The number of Clark County children without health insurance now stands at 7.8 percent, according to the 2014-2015 Kindergarten Health Survey compiled by UNLV's Nevada Institute for Children's Research and Policy.
"With Medicaid expansion, we now have another 300,000 to 325,000 enrollees that have access to care and access to much needed services," Sklamberg said. "There's not the infrastructure in place within the state to provide that care."
Among the concerns is a shortage of doctors in the Valley.
In a study released by the Association of American Medical Colleges (AAMC) last March, the nation will face a shortage of between 46,000-90,000 physicians. According to the AAMC 2013 bi-annual State Physician Workforce Snapshot report, Nevada had 5,361 total active physicians with only 1,916 actively practicing primary care physicians. And 25 percent of those physicians were age 60 and older in 2012.
Even though Nevada is churning out plenty of medical school graduates — and the new UNLV medical school promises to swell the ranks — only approximately 37 percent of these graduates stayed in Nevada for their residency training in 2012 because of the lack of residency opportunities. Nevada ranked 47th in the nation for residency and fellowship programs in primary care.
The newly insured "are having a hard time getting their access to primary care so they are seeking that care in all the emergency rooms throughout the valley," Mowan said. "So this will create an opportunity for patients to get their care in a more appropriate environment which is primary care."
"Nevada is ranked almost at the bottom of physicians per capita so we're going to embark upon a primary care strategy," said Mountain View's Mowan. "We start July, 2016, with an internal medicine and surgery residency program, then we are going to look for about 2017 to start family medicine and potentially emergency and possibly OB-GYN."
It's a good start, Sklamberg said. "So what Mountain View is doing under Chris' leadership is not just filling residency spots but it becomes a pipeline for physicians to stay in this community, long term."
Besides doctor shortages, all hospitals and health care providers are now challenged by a new federally mandated system of medical code changes which impacts how hospitals and doctors are reimbursed for services.
On Oct. 1, a seismic mandated coding change took place for government and private insurers. The number of codes for inpatient hospital procedures expanded from 4,000 to 87,000.
In a New York Times article, Robert Pear reported, "Some doctors and hospitals already are obtaining lines of credit because they fear the transition to the new system will cause cash-flow problems."
So is the Sunrise Health System ready?
"We're as ready as we're going to be," Mowan said. "We are providing education to our physicians because they are really the ones who have to carry the water for this thing. It's a big change — we'll learn as we go. We've got a lot of help and that's part of the benefit of being an organization as large as HCA. We've invested a lot of time in IT and infrastructure."
That infrastructure matters, Rudd said: "We've got support behind us where we can just run the hospital and take care of patients, which is what's most important."
The power of corporate support also is on display as Sunrise Health System invests in cutting-edge medical equipment, imaging technology and hospital building expansions.
Mountain View Hospital recently announced a $90 million expansion project which will include the addition of 64 beds, the expansion of the emergency department, women's services, and an upgrade of the neonatal intensive care unit. A new medical office building situated on 8.2 acres adjacent to the hospital will include a 225-seat auditorium which will host community outreach programs and continuing education.
And that commitment to growth may help convince some of those new doctors to stay in Las Vegas.