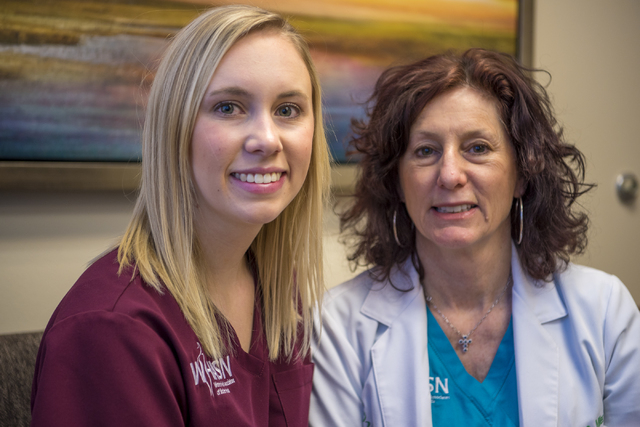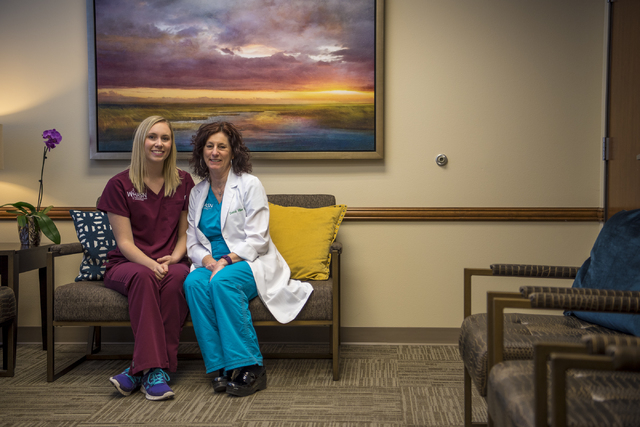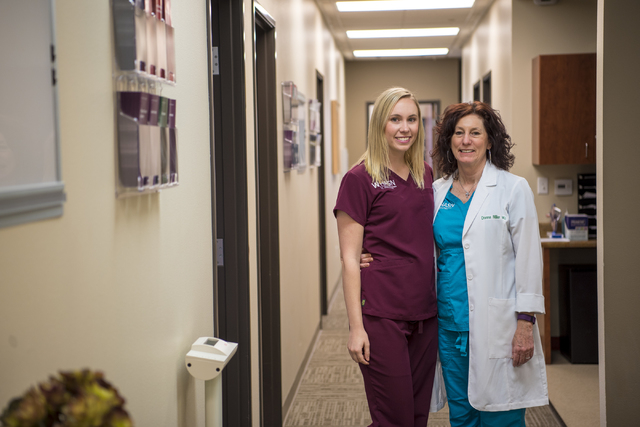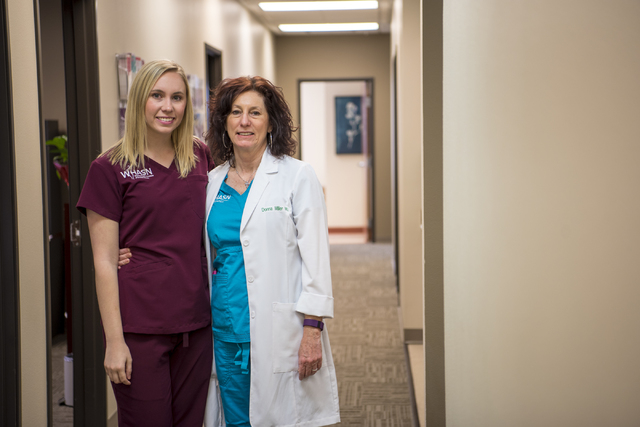 Every day is Mother's Day for Donna Miller and Callie Miller.
The mother and daughter have been able to build a new relationship as co-workers at the Women's Health Associates of Southern Nevada, where Donna serves as chief medical officer and Callie works as office manager.
"We always keep it professional. It is a balance because Callie is my daughter, but she is also my office manager who runs things and makes decisions at work," says Donna Miller. "You have to have the proper balance at home to make it work at work, because I am not 'Mom' at work, I am Dr. Miller."
Dr. Miller is a well-respected obstetrician and gynecologist in the Las Vegas Valley. She is married to another doctor, Randy Miller, who works as an Emergency Department physician in Summerlin and runs a weight-loss clinic in Henderson.
"Callie is used to the chaotic lifestyle of doctors," says Donna Miller. "That helps a lot both at home and at the job."
Growing up the child of two doctors, Callie Miller spent much of her youth performing administrative duties in medical offices, so when she graduated from the University of Oregon in December with degrees in marine biology and psychology, she already had the necessary skills to manage the office.
In her position as office manager, she handles patient check-in, incoming phone calls and over a dozen different administrative duties.
"I started working everywhere my mother has been since I was nine or 10 years old," says Callie Miller. "All of the different tasks I learned through the years I have taken with me in my career in Nevada and Oregon. Now I am back to use those skills every day at the medical office."
She returned to Nevada in December to be closer to family and reconnect with the warm desert climate. While she is still deciding if medical school is in her future, she is enjoying the process of reconnecting with her mother while adding valuable professional experiences to her resume.
"Our relationship continues to get better every day and it is nice to know someone at work," says Callie Miller. "Everyone there has been working together for years, so it was nice to slide right in since I knew a lot of the people. We do not talk about work at home at night, so that helps maintain the boundaries even more."
It is a boundary that is easier to maintain after Callie led her parents through a trip in Europe a couple of years ago. Their ability to follow their daughter's lead in a foreign country and follow her instincts and guidance was a perfect foreshadowing of the trust needed to name her to the office manager position.
"I did not have to make the decisions, and she is definitely more technologically savvy than me, so we put our trust in her and she rewarded us for our trust," says Donna Miller. "The entire experience in Europe helped me see her in a different light."
Those five weeks in Europe marked a turning position in Callie Miller's maturity and transition to adulthood.
"It was a great experience, one that I will never forget; I think about it every day," says Callie. "I went through small towns and big cities like Prague, and I learned so much that you cannot learn in a classroom."
As the only daughter in the family, Donna Miller now cherishes the woman-to-woman relationship she has with Callie.
"Our work situation has helped because we have not spent much time together since she has been an adult," says Donna Miller. "The work environment can be very intense since we are in a medical setting, but this entire experience and opportunity has been a real gift."
Dr. Miller has been in practice in Las Vegas since 2000. The reputation she has built is a source of pride every day for Callie as comes to the office. Callie Miller graduated from Coronado High School before attending college in Oregon.
"I enjoy working in the office and adding on to what I have already done for the last dozen or so years," she says.
Callie Miller helped her mother launch her new office on Jan. 1, when all of that previous experience came in handy to set up administrative and operations processes and protocol.
"She helped set up the new computer system, and her knowledge has also helped with insurance, jobs and benefits," says Dr. Miller.
The ability to bond with her daughter professionally has brought Donna Miller's career full circle. After working in the fashion industry in New York City and in the legal field in Washington, D.C., she was educated in medicine in Seattle and El Paso, Texas, before coming to Las Vegas.
Now her profession has allowed her to build a new bond with her daughter and take her mothering skills to a new level, while reaping the benefits every day, not just on Mother's Day.
"I realize that she is now an adult and I let her make her own decisions, including at our medical office," says Donna Miller. "As a parent you have to remember to back off and give your child some space; there is no need to micromanage them as an adult. Doing things 'my way or the highway' does not work, it only pushes them away, so listen and enjoy the benefits of an adult-to-adult relationship with your child."