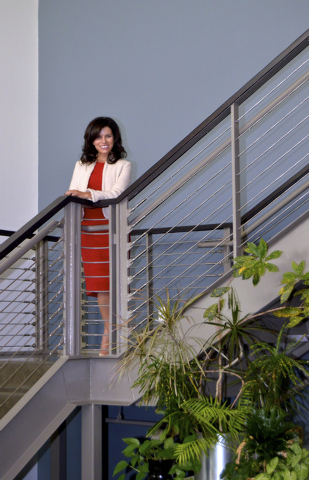 Katie Lever wears many different hats because of her various roles with a number of organizations.
She was born and raised in British Columbia; she received her undergraduate degree from the University of British Columbia. She went to law school in Windsor, Ontario.
Her "day job" is general counsel for Scientific Games Corp., which recently purchased Bally Technologies.
She is president of the International Association of Gaming Advisors. The organization once was known as the International Association of Gaming Attorneys, she said. "We are celebrating our 35th year. A few years ago we changed our name to better reflect our core membership as well as the direction of the organization."
She's also a member of the American Gaming Association.
And Lever volunteers her time and was selected to head this year's American Heart Association Go Red for Women luncheon.
Q. What is the focus of the IAGA?
A. The organization focuses on giving advice and providing direction in the gaming industry. We have membership from around the world and our membership includes gaming attorneys, gaming advisers, financial advisers, educators, advocates throughout the gaming industry.
Our conference focuses on providing incredibly relevant and timely advice.
We also provide education; we provide advocacy; we speak to the gaming industry. So we're not just about attorneys anymore; we're about the entire gaming industry.
We focus on bringing together the industry. We put on professionally run seminars. We have one primary conference that is held either in June or October of each year. This year it will be June 2-5 in Vancouver, (British Columbia). And then we will put on a couple other conferences throughout the year.
We'll have cocktail parties, we'll put together different events throughout the world. We bring together all of our membership and people beyond our membership in a way that they can get together with different people throughout the gaming industry who you would otherwise never meet.
Q. American Gaming Association — what is your relationship/role as a member?
A. Global Gaming Women was started three years ago. I was on the steering committee. Global Gaming Women was really started and designed as a way of bring women in the gaming industry together; helping them find connection through mentorship, through education, we have a scholarship fund. Our purpose and our voice is to find a way in the industry to connect to each other.
(We) find different ways for women to either self-promote, help with promotion, help with education in the industry, (and) find different ways that we can help. We have a really active scholarship fund that we are now starting to give out scholarships that help woman rise up through our industry.
Q. As chairwoman of the American Heart Association Go Red for Women Luncheon on Feb. 27, can you share when and how you came into this role and what are your duties?
A. I agreed to do this about a year ago. My role as chair is to ensure that we exceed our fundraising target and to bring all my passion and commitment to this role and to work with our incredibly committed team. We have an executive committee which is made up of equally dedicated equally passionate women from other corporations as well as our own, throughout the valley. We have a huge group of committed volunteers.
Q. How do you balance so many positions?
A. I have great team and I think a lot of organization and a lot of discipline. It's actually really easy to find time to do things when you're really passionate about them. IAGA is something that I've always been really committed to and Go Red for Woman is another thing that I find so easy to find the time for because it's something I'm so passionate about.
Q. With this being the 10th anniversary can you share some of the special plans for this year's luncheon?
A. So, this year being the 10th anniversary, one of the things we are so excited about is on Feb. 6 we are turning the Strip red. That is our kickoff event. We have a ton of commitment from our Strip and downtown properties; they are supporting us in different ways.
For the luncheon itself, we have a health and wellness expo; we have a silent auction, with a lot of support from our local vendors. We have emcee Claudia Mason, who is a survivor herself as well as being and incredibly gorgeous supermodel. And then we have a guest speaker, Dr. Courtney Warren.
Q. What is the cost of tickets? Can the public purchase tickets to attend?
A. Tickets are available. They are $200 a seat; tables start at $2,500, and sponsorship starts at $5,000. We absolutely welcome everybody to attend. It's going to be an absolutely incredible day. The luncheon usually brings in excess of $300,000 and that is also our goal.
Q. What are some important facts people may not know about woman and heart disease?
A. This disease (affects) everybody. Statistically, 1 in 4 woman are going to die from heart disease. It's only been three years that the (Federal Drug Administration) testing has require testing of drugs on women differently from men. They way that we (women) respond to drugs is so different from the way men do.