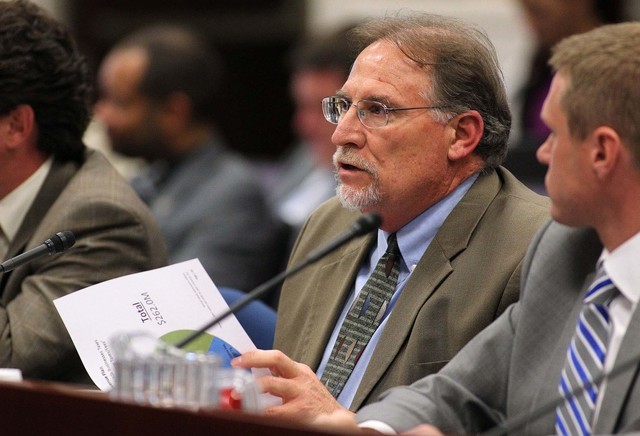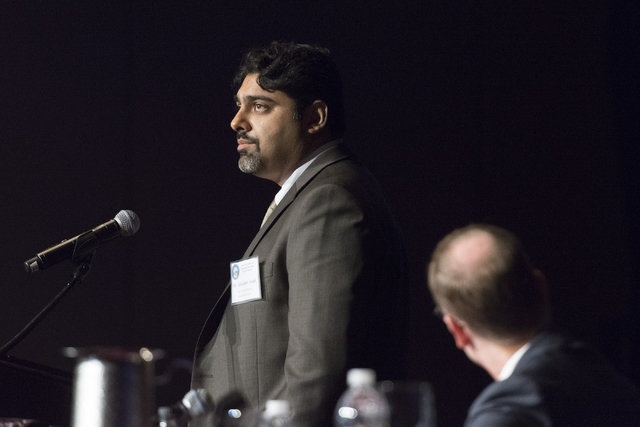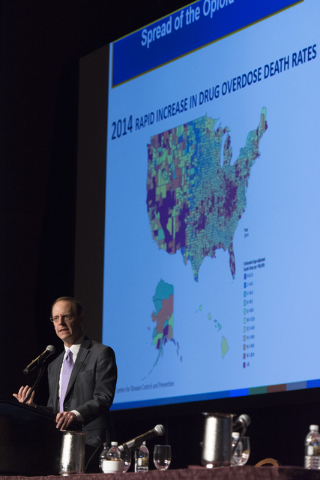 A potential flash point is looming between doctors and state lawmakers and advocates pushing for solutions to deal with Nevada's prescription drug abuse problem that results in one overdose death a day.
After a two-day summit Aug. 31 and Sept. 1 at the MGM Grand, doctors are raising concerns that they'll be unfairly targeted criminally or with the potential loss of their license for prescribing opiates to patients to deal with their pain. Doctors fear that if the patient develops an addiction or overdoses under their care, the blame will fall on them based on recommendations they see coming out of the summit called by Gov. Brian Sandoval.
The recommendations will be discussed over the next several months with doctors, organizations and other stakeholders to determine a plan of action for the 2017 Nevada Legislature. Those recommendations include getting treatment for addicted patients, improved access to Naloxone when someone overdoses to prevent a death, and potential time limits and other restrictions on painkillers doctors prescribe.
One of the recommendations from the 400 health care professionals, law enforcement and politicians centers on identifying doctors who over-prescribe opiates. Arizona uses a report card issued on a quarterly basis for the purpose of grading doctors. While Arizona has no consequences in its report card for scoring poorly, summit members suggested Nevada doctors be held accountable in some fashion.
"Having an outcome related to that report was considered critical," said Kelly Marschall, a principal with Social Entrepreneurs Inc. who outlined the recommendation at the conclusion of the summit.
One recommendation outlined more monitoring of doctors under the Prescription Drug Monitoring Program, a database of patients that physicians access to make sure they're not doctor shopping for prescription narcotics. Another suggestion was similar to a federal law that would make it easier to prosecute providers for wrongdoing.
"There was a good appetite in the room for looking at adding enhancement for providers who were knowingly and intentionally over-prescribing," said Sarah Boxx, a principal at Social Entrepreneurs said.
The facilitators asked audience members if they supported the slew of recommendations put forward, and many stood up to show that backing. But as the meeting was about to wrap up, some doctors stepped up to voice opposition.
Vance Alm, a Las Vegas family medical practitioner, said it appeared to him that the recommendations are in response to an arrest of a Reno doctor earlier this year. He's referring to charges against Dr. Robert Rand who's accused of writing prescriptions for pain pills to patients who didn't need them, including one who died from an overdose.
"Don't attack the basic prescriber because he's trying to do his job," Alm said. "Don't turn us into criminals because we might try to provide more pain medication because that's what is needed. Look at the real problems and not do a knee-jerk reaction, which is a thing politics always does to what's a perceived problem. The real problem is the increased deaths. The real problem is the decreased access to medicine. We're going to work on this, but don't call us criminals for doing our job."
Alm said guidelines make sense but feared they would be too strict and that physicians shouldn't be told how to practice medicine. Doctors already face that from insurance companies or a group they belong to and doesn't need that from government as well. Doctors were told 20 years ago that they weren't providing enough pain medication to patients and "probably have done a disservice" because of it, but Alm said the summit is going in the wrong direction.
"You have to look at we're doing the job we were told to do," Alm said. "I'm trying to heal people and decrease their pain. That's what I have tried to do."
Don Havins, associate dean and professor at Touro University and incoming president of the Nevada State Medical Association, told the summit the way to deal with the problem is not by punishing or making prescription laws because most physicians are doing what they think is right.
Havins said the recommendations from the Centers for Disease Control and Prevention are a good starting point but fears penalization of doctors. Those recommendations focus on the use of opioids in treating chronic pain lasting longer than three months or past the time of normal tissue healing outside of active cancer treatment, palliative care and end-of-life care.
"We can do it by education and by peer consultation and by learning more," Havins said. "In 1999, the Board of Medical Examiners had a regulation that said that you must order an adequate amount of controlled substances to control a patient's pain. That was law and if you were in violation you could have your license revoked. The pendulum has swung the other way and rightfully so, but the way to get out of it is to educate. I think the CDC guidelines are a good starting point, but to use them as a club is a mistake."
Marschall responded to the criticism by saying it's important to honor the work that's been done during the summit and not "get stuck at one spot." She said the takeaways from the summit aren't about criminalization but having data and using it to make decisions about allocating resources to address the crisis.
It's not just about overdoses, but it extends to addiction, Marschall said. It's also about public awareness and education of all of the stakeholders.
"If the takeaway is that we're going to criminalize the physicians instead of the addicts, we're just trading one problem for another," Marschall said.
Afterward, Catherine O'Mara executive director of the Nevada State Medical Association, said that there weren't many Nevada physicians on panels that came up with the recommendations. O'Mara, who sat on one panel, said when state leaders get into the details of the proposals, they should reach out to physicians and hear their positions.
"If physicians are acting improperly then we support disciplining those physicians, but if they are acting properly in the standard of care, and they deviate from that standard for a clinical reason, there's no reason to go after them and create fear and stop physicians from doing what they think is right for their patients," O'Mara said.
Also in attendance, Daniel Burkhead, founder of Innovative Pain Care Center and co-chair of the Physicians Opioid Task Force that will make recommendations to lawmakers on how to address the prescription drug problem, said there was "an underlying current that seemed to implicate over-prescriptions as the heart of the problem."
Burkhead countered that's not the case, but that doesn't excuse the "renegade physician who's trying to make money by doing legalized drug dealing." Law enforcement can address those doctors, he said.
"I am concerned about the messaging of it, and we're already seeing a lot of physicians cut out their prescriptions of opiates," Burkhead said. "We want to make sure it's done in a rational and clinical matter and not with fear as a motivator — a fear of being arrested or being in trouble or hauled in front of the (medical) board."
Gov. Sandoval's cabinet attended the summit and Chief of Staff Mike Willden said the conversations will continue over the next several months with an eye for the legislative session. He said doctors will be involved in those conversations.
"It's not an easy solution." Willden said. "It's a complex issue that's been going on a lot of years, and I think we can get it fixed and do a lot better here in Nevada."
Burkhead said "a lot of the drive" of the prescription problem is patients who want to get high. They seek out physicians that may be "less scrupulous" in terms of their prescriptions, he said.
"It's an awkward statement to make as a physician that the patients deserve culpability in this situation," Burkhead said. "But the reality is they do because there are a number of patients who want to visit their doctor so they can have a legalized way of getting high."