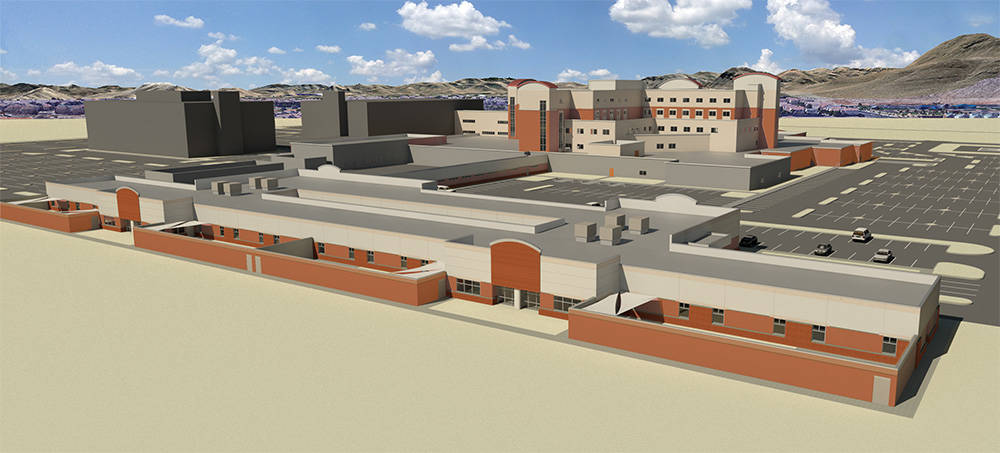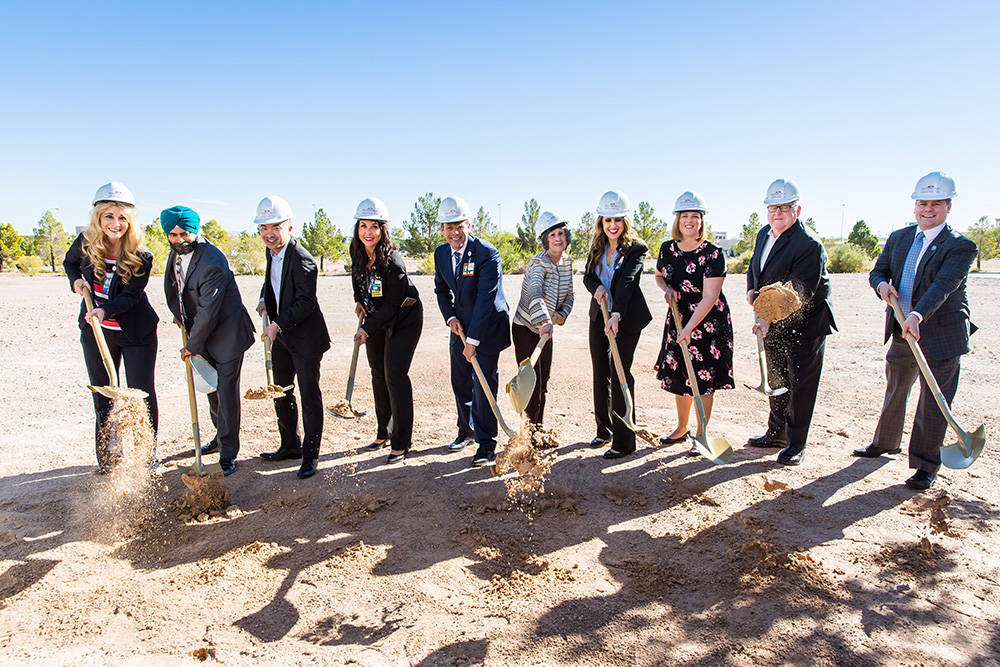 Southern Hills Hospital and Medical Center, part of the Sunrise Health System at 9300 W. Sunset Road broke ground on the Behavioral Health Center at Southern Hills Hospital, a new 80-bed psychiatric center. It is expected to be completed in a year.
Adam Rudd, chief executive officer of Southern Hills Hospital and Medical Center, was joined by Clark County Commissioner Susan Brager, District F; Nevada State Sen. Becky Harris, District 9; Nevada State Assemblyman Steve Yeager, District 9, and Assemblywoman Ellen Spiegel, District 20, in a brief ceremony that marked the beginning of construction of the project.
Spanning 43,350 square feet, the new Behavioral Health Center will treat patients as young as 13. It will feature cutting-edge patient tracking and safety systems. This includes real time-location systems, laser curtains in the adolescent unit between beds, alarms on top of the doors to detect weight and other anti-ligature/ligature prevention technology. The center is being built at a cost of approximately $26 million.
"The Behavioral Health Center at Southern Hills Hospital addresses the critical need for new mental health resources in Southern Nevada," Rudd said. "Presently, behavioral health patients are often treated in an emergency room and remain in the ER (emergency room) environment until a hospital bed is available. With this new unit dedicated to behavior health treatment, our patients will experience a more efficient and appropriate continuum of care, addressing their specific needs throughout their hospital stay."
"This new center will go a long way in meeting the critical need in our community of helping those with mental health issues," Brager said. "Not only is this center a direct benefit to patients, it is a great resource for families and caretakers and the community at large. We commend the leadership of Southern Hills Hospital and Medical Center for their plan to develop a large and top-notch Behavioral Health Center right here in Southern Nevada."
The new center represents an expansion of Southern Hills' existing psychiatric services and adds 40 adult beds, 20 adolescent beds and 20 geriatric beds. Four outdoor recreation areas, specifically for psychiatric patients, will offer enhanced opportunities to receive therapy in an outdoor environment. Additionally, the hospital's Graduate Medical Education (GME) program will begin offering a psychiatry residency in 2018, timed with the opening of the new facility.
In 2012, Southern Hills created RISE (Respect, Inspire, Strengthen, Empower) Behavioral Health services for its 14-bed inpatient unit for seniors that was expanded in 2014 to include outpatient services and is certified for its Alzheimer's disease program by The Joint Commission. When the new Behavioral Health Center opens, the RISE unit will transfer to the new center, with the geriatric psychiatric program retaining its name as RISE Behavioral Health.