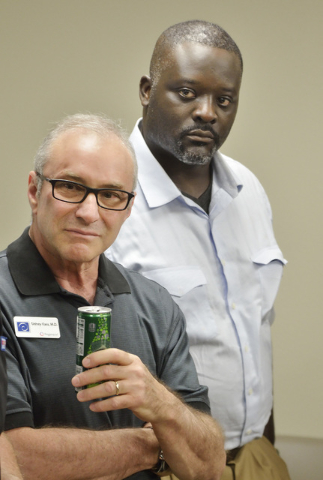 A Colorado-based health care company that offers nonsurgical procedures for orthopedic disorders has opened a clinic in Southern Nevada as part of a larger focus on medical tourism.
Regenexx opened its doors May 31 in Henderson where it provides stem cell and blood platelet procedures. It's the first corporate-owned clinic outside of Colorado for the company, which licenses its procedures to about 40 other clinics around the country.
The procedures are used for joint injuries and degenerative joint conditions, such as osteoarthritis and avascular necrosis. The stem cell procedures utilize a patient's own stem cells or blood platelets to help heal damaged tissues, tendons, ligaments, cartilage, spinal disc or bone, said company spokesman Mark Testa.
Many Las Vegas residents traveled to Colorado for the procedures and rather than license doctors to offer the procedures in Las Vegas, the company decided to open its own clinic here, Testa said. Not only will it capture Las Vegas residents but people from around the country, he said.
"Las Vegas was a place where we had a lot of interest," Testa said. "People were traveling from Las Vegas to Colorado but we also know it's a great destination. The procedure takes five to seven days and if we put them in a nice place and give them some things to do while they're going through the procedures, it makes it even better for patients. They can go to a show. They can go to a casino. They can lay out by the pool."
Especially during winter, traveling to a destination like Las Vegas is very attractive, Testa said. Southern Nevada is growing as a locale for medical tourism, he said.
"We want to be on the cutting edge of that," Testa said. "Medical tourism is growing. We will keep it in the United States. People are going out of the United States for things they can get here."
The Henderson clinic is headed by Dr. Sidney Kass who holds a doctor of medicine from Georgetown University. He moved to Las Vegas from Minnesota to open the clinic and had previously worked for a Regenexx affiliate.
"The demographic of Las Vegas is McCarran Airport," Kass said. "People come to Las Vegas from all over the world. They can even have their family here when they're having their procedures. In Minnesota or Colorado where you have the procedure done, you can still slip on the ice. The weather is perfect for it here. You can get people out ambulating right away and doing stuff."
Testa said Regenexx was the first to develop the stem cell procedure in the U.S. in 2005 and has subsequently licensed the technology to clinics across the country and trained doctors to perform the procedure.
"Our No. 1 condition we treat is knee osteoarthritis," Testa said. "We treat torn ACLs, rotator cuff tears, back pain and anything you would have surgery for. We're disrupting the whole orthopedic surgery specialty by replacing surgery with stem cell procedures."
In the stem cell procedure, the doctor removes bone marrow, which is then concentrated in the lab and injected with a needle back into the tear or injured area, Testa said. A patent is pending for the procedure that Testa said it is able to concentrate platelets higher than others can perform.
"I like to say you limp in and walk out," Testa said. "There's no down time. There is no anesthesia. It takes about 30, 40 or 50 minutes. It depends on what you get done."
The stem cell procedure is a three-injection process, Testa said. On Monday, for example, you get an inflammatory to your rotator cuff. On Wednesday, you have the bone marrow drawn in the morning and reinjected back in the afternoon. On Friday, you get an injection of platelets.
In addition to the stem cell procedure, Regenexx offers blood platelets procedures to help with soft tissue injuries compared to the stem cell procedure that's used for bigger tears and osteoarthritis, he said. Blood is removed from the patient and platelets are concentrated to aid in the healing, Testa said. It's done the same day.
The blood platelet procedure costs about $1,200 and the stem cell procedure runs $6,000 to $7,000, Testa said.
Knee and hip replacements cost $20,000 to $40,000, Kass said. While insurance covers surgery, Kass said insurance doesn't cover the stem cell or blood platelet procedures because they're considered experimental.
These are patients looking for an alternative, Testa said.
"That is the No. 1 reason people come to us," Testa said. "They are looking for surgery alternatives. They don't want surgery. They are super active and want to remain active or they had a bad experience with one surgery already and don't want another one."
Kass said not everyone needs a knee or hip replaced. Surgery can have complications and the replacements don't last forever, he said. It may also not alleviate the pain, he said.
"I tell patients I can't guarantee the success rate of this," Kass said of stem cell procedures. "We can't rebuild all of the tissue. We can't do that yet. With most patients the majority of their pain is gone, and they are at least able to get back to their activity. It's an alternative for those who want to do it."