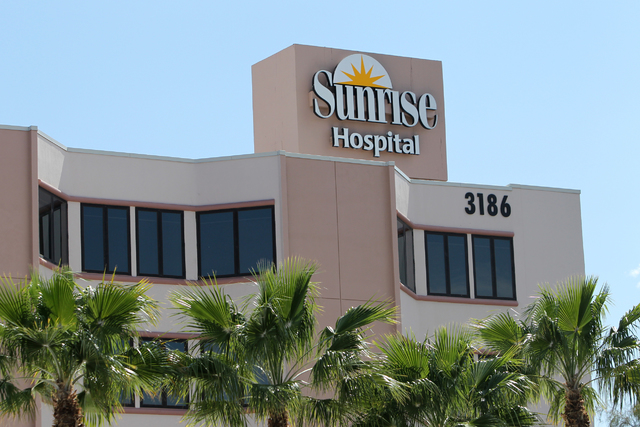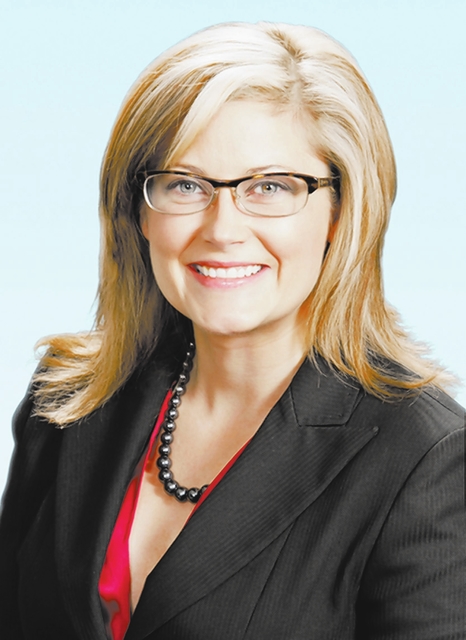 Sunrise Hospital, on Las Vegas' east side, could soon join the list of valley hospital expansions. Tens of millions of dollars have been poured into several facilities, including Mountain View Hospital and St. Rose Dominican's Siena Campus. In addition, the new Henderson Hospital, owned by Valley Health System, is nearing completion.
Clark County's Zoning Commission approved plans for a new five-story tower on Sunrise Hospital's campus at its Sept. 7 meeting.
"We view the Zoning Commission vote this week as an affirmation that we are moving in the right direction," Fran Jacques, vice president of marketing at Sunrise Hospital and Medical Group said in an email.
Final approval to start construction on the planned 190,000-square-foot structure still requires issuance of building permits, which had not been applied for as of this writing.
The new structure, just north of the existing hospital building and east of the parking garage closest to Maryland Parkway, will house more acute-care services, including a new adult emergency department with 75 treatment spaces, a new lobby that will serve as the main entrance to hospital, and new public and ambulance drop-off areas.
The second floor of the new building will house 36 new ICU patient rooms, along with associated support spaces and a connection to the second floor of the existing hospital. The third floor will contain 36 medical-surgical rooms and support spaces, along with a future connection to the existing hospital building, documents state.
The top floors will be left as open space until additional patient beds are needed. When the upper floors are built out, 144 beds will be added to the 690 in Sunrise's existing hospital.
This expansion adds to several projects going on in the Las Vegas region.
"Most of the ERs are at capacity, which is why you've seen almost all of the development that's happened in medical office just on campus and ER expansion or renovations," said Stacy Scheer, a senior associate at Collier's Healthcare Properties Group.
One of those major additions includes 96 beds at Dignity Health's St. Rose Dominican-Siena campus in Henderson, at a cost of $160 million, according to a press release from Dignity Health.
The majority of the new 220,000-square-foot space was completed near the end of 2015. Along with doubling the size of the hospital's emergency department, the five-story building also included six new operating suites, an expanded admitting area, expanded areas for nutrition services, radiology, lab, pharmacy and other new offerings.
Despite these large-scale projects, issues still loom for the Silver State.
"Siena's Dominican Tower expansion did help with ER volumes, but there is still a long way to go," Katie Ryan, a spokeswoman at St. Rose-Siena, said.
Ryan pointed to the F Nevada received from the American College of Emergency Physicians in access to emergency care. That is coupled with the shortage of primary care physicians, she added.
Dignity has taken further action in recent months to improve access in emergency care and primary care, said Ryan.
This includes plans to build four "neighborhood hospitals," in areas where there is little access to emergency care—all scheduled to come online in 2017.
Dignity is also expanding its primary care options. In 2017, the group will open its first Dignity Health Medical Pavilion, near Union Village. Primary care options will also be available at the planned "neighborhood hospital" campuses.
Other expansion projects in the area include Mountain View Hospital's $90 million, multi-phase project, scheduled for completion in 2017. This will add 64 beds and expand and renovate the hospital's Women's Services area, expand its emergency department, add a medical office building and a new neonatal intensive care unit.
Back in Henderson, the 142-bed Henderson Hospital is finishing up construction near U.S. Highway 95 and Galleria Drive.
According to Gretchen Papez, director of public and media relations for the Valley Health System, the furniture, fixtures and equipment, along with the facility's artwork, was installed around mid-September.
Orientation for the majority of employees is set to start this month and a community open house is planned for Oct. 22, from 11 a.m. to 1 p.m., Papez said.
In other areas around town, Spring Valley Hospital expanded its maternity ward and medical and surgical inpatient capacity in mid-2016.
Scheer sees much of the recent expansion resulting in part from newly insured Nevadans that now have coverage under the Affordable Care Act, but also the aging population that is bringing in increased demand for hospital services.
The potential to see growth in real estate use is also there, experts say.
"Anytime a hospital is expanding, it helps the surrounding area," said Bruce Follmer, a senior associate in the medical office properties division at CBRE.
Follmer is expecting the expansion to help the existing medical office spaces in Sunrise's general region.