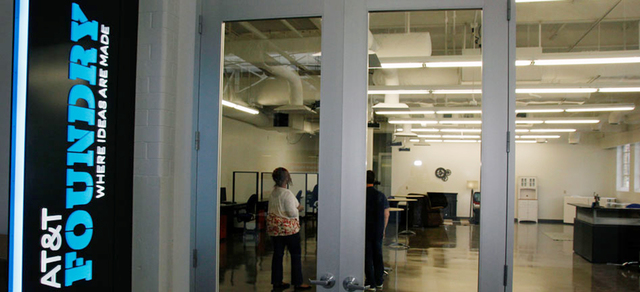 There was a moment of levity at the AT&T Developer Summit Jan. 3 and 4 when a team of young developers tackled the problem of contemporary office culture through a program that identifies and shames the office employee who takes the last cup of coffee and neglects to make a new pot. Well-executed and resonating with the audience voting in real time, it lost to the more sobering Mend Me app designed to help patients dealing with wrist mobility issues with the help of a physical therapy glove.
It was the second health care win of the day at the Developer Summit held at The Palms, following a $20,000 win for Waypoint, a team of designers who created the augmented reality application that uses a HoloLens headset for non-pharmacist health care workers needing to quickly and accurately locate and fill prescriptions.
The contest, part of AT&T's Virtual Reality/Augmented Reality Challenge, gave health care technology even more prominence at the Summit where industry leaders, developers and content creators huddled to share information and emerging technology just days before the opening of the Consumer Electronics Show. With technology responsible for sweeping transformations in health care from equipment and research to diagnostics, data, treatment and follow-up care, developers are tapping in.
As was noted during the keynotes, augmented reality, artificial intelligence and virtual reality are not "simply buzzwords" but programs integrated with health care. In addition to smart cities, self-driving cars, entertainment and agriculture, the potential in health care technology seems limitless. Waypoint beat out 67 entries for the win at AT&T's first VR/AR Challenge, using IoT and open-source connections and demonstrated its solution to prescription-related emergencies and deaths within the health care industry through WaypointRX. The augmented reality experience receives electronic prescriptions, displays them on a headset that directs users to a prescription location within the pharmacy, then provides a 3-D model of the pill and dosage information before sending the user via a digital pointer to the location of the next prescription.
Waypoint Team member Umar Arshad says his wife is a surgeon and has to rely on medical techs, not pharmacists, to fill prescriptions and provide Federal Drug Administration information on pharmacy errors. The team says that medical techs might fill as many as 150 prescriptions a day, and WaypointRX gives hospital employees and techs the trained knowledge of a pharmacist. With its prize money, Waypoint plans to continue developing its prototype and purchase another Hololens kit.
AT&T also showcased the first product to come out of its Foundry for Connected Health at the Texas Medical Center's Innovation Institute in Houston, Texas, in which the startup Aira designed a program incorporating smart glasses with a video device to assist the blind and visually impaired by having a remote agent watching the wearer's environment and describing it back to the user. AT&T provides wireless connectivity to Aira, whose product promises to help clients navigate urban environments, retail stores and other public arenas.
In a company blog, Chris Penrose, senior vice president, Internet of Things at AT&T, was quoted in a story about the Foundry's June opening that the telecommunications conglomerate had been listening to the health care industry about current challenges, including shortage of doctors and nurses and rising health costs, and Robert Robbins, Texas Medical Center's president and CEO, said that digital health "is the next frontier for innovation as we work to improve the way we take care of patients in our hospitals, ultimately extending that care beyond hospital walls and into patients' daily lives at home."