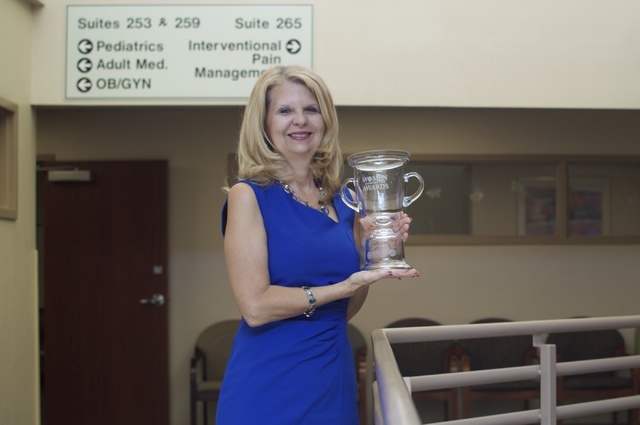 Toni Corbin has served as the vice president of operations for Southwest Medical Associates since January 1999. It's a labor that blends her training with her passion for helping her community.
"Everyone I work with at Southwest Medical has the opportunity to come to work every day and change the lives of our patients," she said. "That's my cornerstone of who I am."
"When I wake up in the morning, I know that it's a privilege for me to have this job."
It's a job she trained for, receiving her master's degree in healthcare administration from Warren National University.
Corbin was recently honored by Nevada chapter of the National Association of Women Business Owners with its Women of Distinction Award in Healthcare. The award recognizes the personal and professional accomplishments of women in various business fields.
She recently became a board member for the nonprofit organization Dress for Success, which helps disadvantaged women seeking work by providing appropriate clothing for job interviews and work.
Corbin also is active in her church and numerous community causes. She was part of the "Mark 10:14 Drive-thru BBQ" community service and fundraising event for Faith Lutheran Middle School and High School; Southwest Medical was the major sponsor.
Q. What does your role as vice president of operations encompass?
A. As part of my role, I am the vice president over primary care, which includes adult medicine … family practice, internal medicine, pediatrics and OB-GYN. In addition to that, I oversee all of our urgent cares, our convenient cares, our Now Clinic.
Today, in Southern Nevada we have 21 clinics that I'm responsible for … and of those 21 clinics, the majority of them are primary care. At those clinics, we have five urgent cares and four convenient care locations.
Q. What number/metric are you always watching, and why is it important?
A. I'm going to have to give you two … because they're so directly related. The first one is access. That's key because we want to make sure that our patients have access to their providers when they need the care, to meet their expectations for care. The second metric that I think is equally as important is our customer service metric. If the patient doesn't have the access, they're not going to be satisfied with their care. Those two are so related and are two key pieces that I look at every day.
Q. How does the increase in the number of people with health coverage affect operations? How do you adapt in order to meet those needs?
A. We're very proactive, anticipating the change in healthcare. What we did at Southwest Medical was move forward with opening several new clinics. So, for example, last year alone we opened five new clinics in one year. That was unprecedented. We were very successful in recruiting doctors. By the end of this year … we will be at about 360 or 365 new healthcare providers within Southwest Medical Associates.
Q. How difficult is it to recruit doctors to come here to Southern Nevada?
A. There are some challenges with recruiting doctors to Southern Nevada. As you know, we're not in the top as far as education; we're not a top-ranking state as far as education is concerned. So that's a challenge for some of the doctors that are coming fresh out of residency. That's one of the first questions they ask. However, Southwest Medical is part of Optum and United Healthcare. We have an excellent compensation and benefit package which is very attractive to our providers.
I think they're also attracted to the infrastructure we've built within this organization and the family feel that we have here. Any provider that's coming straight out of residency knows that they're going to have major support by some very veteran, experienced providers. That will allow them to train and gain the experience and knowledge they need.
Q. What area of operations has the majority of your focus now?
A. Primary care has the majority of my focus today. That is because we've got all these baby-boomers who are aging in to our senior population. We take care of about 40,000 seniors to date. We've got to be able to respond, be flexible and nimble, and change and adapt to meet the needs of healthcare. It's important to me to make sure I have the access available not only for seniors but we take care of a large commercial population of patients. We have another product that we care for as part of our obligation to the health plan which is our Medicaid population; and that's our Smart Choice program. That's typically moms and children.
Q. Why did you choose to join Dress for Success as a board member?
A. It is a passion of mine. The philosophy behind Dress for Success is helping underprivileged women obtain gainful employment. Because I've had all of these opportunities in healthcare my entire life, this just seemed a natural organization that I needed to be part of. I'm able to use my skill set that I've obtained in healthcare to help support the organization.
Q. What are your duties/role as a board member with Dress for Success?
A. The number one core value to being a board member for Dress for Success is to ensure their financial position within their organization. We're a working board; it's not just a decision-making board. So the expectation of the board members … is that you will participate in many of the fundraising events, and you will lead a fundraising event. Last year, I had the honor and privilege of leading their most successful power walk; I was the chairwoman for that event. Southwest Medical was a sponsor for that event because we're all about walking, which is directly related to health and wellness. We partnered with Dress for Success and we put together a power walk. We did something very unique; we didn't compete with everybody who was trying to do their walks and races early in the year and later in the fall … we did an indoor walk. We did our walk at Planet Hollywood, and we had about 500 participants. It was the largest revenue generating power-walk for our local Dress for Success organization.