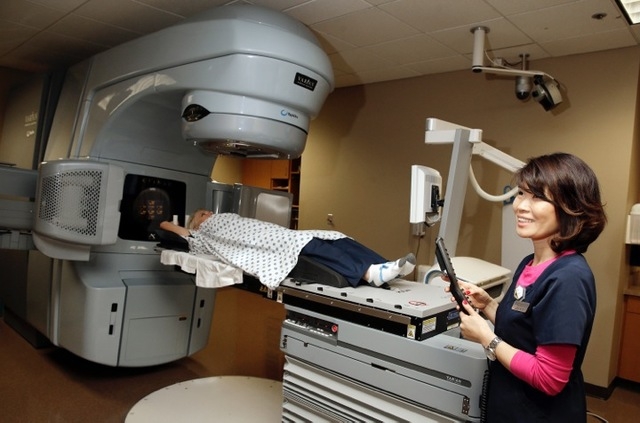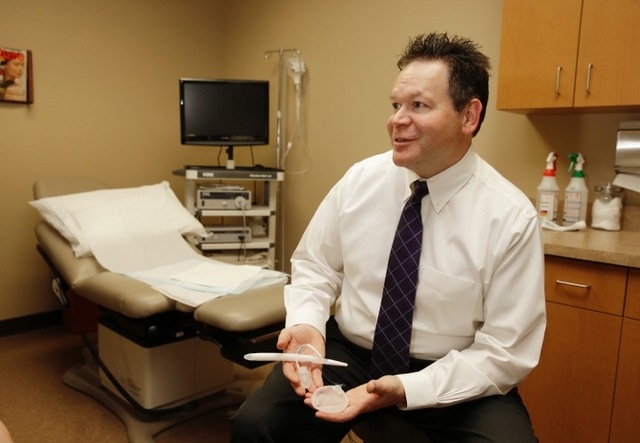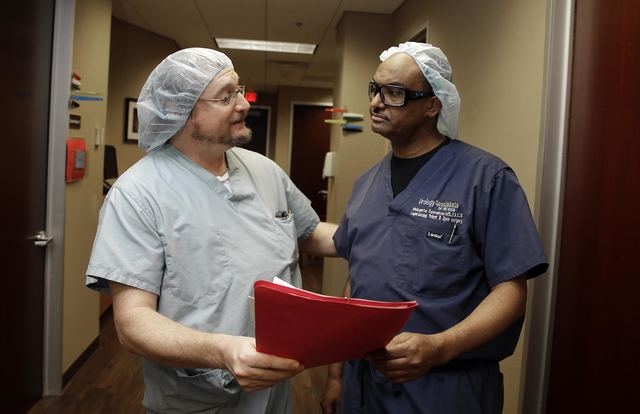 Call it a battle for urologic supremacy.
Las Vegas' three major urology centers — Cleveland Clinic, Las Vegas Urology and Urology Specialists of Nevada — all have enviable technological resources. All have distinguishing services. All proclaim themselves leaders.
But when Cleveland Clinic put up a billboard ad along Interstate 15 proclaiming itself No. 1, it was "game on."
Southern Nevadans might wonder whether there's here enough business to support the three, plus some smaller independent practices spread throughout the valley. The big three say yes.
"We all certainly embrace the concept of competition," says Dr. Mark Leo, operations director for Urology Specialists of Nevada and a clinical assistant professor of surgery at University of Nevada School of Medicine. "The need for good urologic care continues to increase with the increase of our population overall, and in particular the segment population over age 50, which makes up a large percentage of a urologic practice."
Understanding urology
Urology, also known as genitourinary surgery, is the branch of medicine focusing on diseases of the urinary tract system for people of both sexes and the male reproductive organs. The organs under the domain of urology, include the kidneys, adrenal glands, urinary bladders, urethra and the male reproductive organs.
The urinary and reproductive tracts are closely linked and disorders of one often affect the other. Urology combines the management of medical, nonsurgical conditions like urinary tract infections with the management of surgical conditions such as bladder or prostate cancer, kidney stones, traumatic injury and stress incontinence.
Las Vegas' three major urology players all feature advanced technology and all believe the local marketplace is big enough for all three to survive and thrive.
Measuring the market
Cleveland Clinic, which has launched a bold advertising campaign proclaiming itself as the "Nation's No 1 Urology" resource, has earned prestige from a U.S. News &World Report ranking of urology and kidney disease programs. The Cleveland Clinic brand has come a long way since it first started offering services in Las Vegas at Cleveland Clinic Lou Ruvo Center for Brian Health in July 2009.
"Our brand new office is adjacent to Sunrise Hospital and offers the latest equipment for driving studies throughout the field including urinary problems and incontinence issues," says Dr. Eric A. Klein, chairman of the Glickman Urological &Kidney Institute. He also is a staff member in the Taussig Cancer Institute in the Cleveland Clinic, and has been listed in Best Doctors in America annually. "We have four state-of-the-art procedure rooms, from physician offices and exam rooms."
Cleveland Clinic's confidence in the local market has as much to do with its technological resources, as it does with the new facility. It boasts an excellent robotic surgery program and two doctors who perform high-end robotic surgeries. Their target infusion biopsy medical process is also another value proposition against their competitors.
"The target infusion biopsy allows the doctor to target the infected area directly for a much more efficient process," Klein says. "This is the first thing in 25 years that makes patient biopsies more accurate."
Urology Specialists of Nevada is also depending on technology distinguish itself from competitors. It offers the da Vinci robotic method of surgery, which uses small incisions to introduce miniaturized instruments and a high-definition three-dimensional camera. The surgeon sits at the da Vinci console just a few feet from the patient and views a three-dimensional image of the surgery site. The surgeon's hand movements are translated into precise micromovements of the da Vinci instruments.
The da Vinci robotic method is named after master artist Leonardo da Vinci who invented the first crude robot.
"Some of the most innovative technology has been brought to the market by the Urology Specialists of Nevada such as da Vinci robotic surgery, Calypso guidance for radiation therapy and MRI prostate fusion," Leo says. "For this reason, we offer a local advantage to Las Vegas residents, unmatched by any outside facilities."
The Calypso System is a state-of-the-art imaging system to track real-time movement of tumors during radiation therapy. It's an advancement in radiation therapy that helps in treating many cancers, including prostate cancer.
"We pride ourselves that we have doctors from the finest institutes, including Baylor, Duke and USC (the University of Southern California)," Leo says. "The Calypso System development is the most exciting thing that has happened nationwide in this industry in a long time."
Carrying the message
With local urology competition intensifying, Leo has worked aggressively to herald Urology Specialists of Nevada's resources.
In the past six months, he has spoken at the Senior Lifestyle Centers, the Oquendo Center and other local community centers. He has also made several appearances on the "Morning Blend" on KTNV-TV, Channel 13. In his appearances, he's worked to distinguish Urology Specialists of Nevada from Cleveland Clinic and Las Vegas Urology.
Las Vegas Urology's strength its network. It can offer in-patient consultation and surgery in 17 different Southern Nevada medical facilities, including hospitals, surgery centers and a rehabilitation center.
Las Vegas Urology bills itself as Southern Nevada's "premier medical group," and also offers da Vinci robotic surgery. With a dozen services, 10 office procedures and a wide variety of office testing, they round out Las Vegas' well-rounded urology resources.
This leaves patients with choices.
"The demand is going to be there so it is all about having a high comfort level with patients," Leo says. "The quality of treatment being offered is a positive benefit for our patients and for Las Vegas overall."