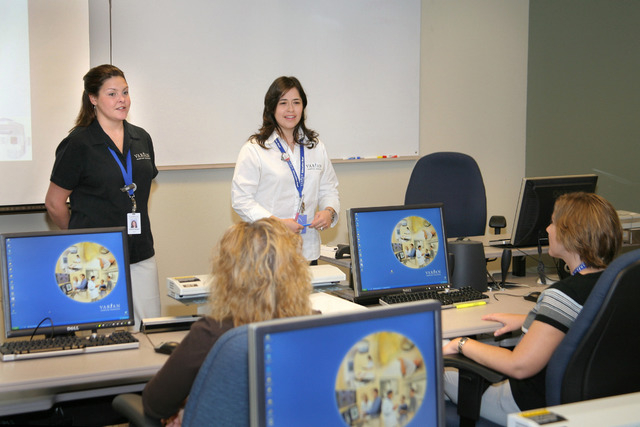 When out-of-town companies look for communities in which to expand their manufacturing, Las Vegas is often in the running. But although the valley has a major university, a state college, private institutions and a sprawling community college, some observers nearly always ask whether the company will be able to find employees with the needed manufacturing skills.
That question's answer lies in the shadow of McCarran Airport with Varian Medical Systems, a world leader in technology for X-ray imaging and the treatment of cancer and security screening.
The company has not only found highly skilled employees but it is using its Las Vegas facilities to train technicians from around the world.
Varian has been in Las Vegas for more than 15 years. It manufactures, tests and ships 10 different models of its Linatron high energy X-ray linear accelerator equipment, used for cargo security and nondestructive testing. The unit can scan the contents of shipping containers in minutes and is in use at cargo screening installations at ports and border crossings worldwide. During the 2015 Super Bowl in Phoenix, Varian equipment was used to scan each delivery vehicle — from bread trucks to semi tractor-trailers — to guard against explosive materials and weapons.
Varian's five-building campus just off Sunset Road occupies more than 214,000 square feet and employs more than 65 engineers, computer programmers and technicians. It is also the company's global distribution center for more than $41 million in parts and equipment inventory, housed within a 20,000-square-foot warehouse. Each item, down to the smallest part, is tracked by a computer system that lets employees find, package and ship the parts with efficiency.
This constant shipping and receiving of parts used in equipment manufacturing and maintenance also provides a steady demand for well-paid independent delivery service drivers. .
Varian's education program gives the Las Vegas economy a hidden boost. Each year, more than 3,400 X-ray operators, oncology practitioners and hospital maintenance personnel from around the world visit Las Vegas to learn how to use Varian technology, including the company's systems for fighting cancer with radiation therapy. The course schedules last from two days to six weeks, depending on the topic.
The effect is an estimated average of 95,000 room nights plus restaurant meals and automobile rental days equating to an approximate $20.5 million annual boost to the local economy.